I can't tell you how excited I am that today I'm only #3daysout from my second competition!! This is always the hardest week mentally, although last week was probably the hardest physically. Most of us that compete have day jobs (and side jobs, in my case), so life keeps going even when you have a competition coming up. This year, that meant a week of work travel leading up to the weekend of my show.
Thankfully, final week of competition prep (often called peak week) is a huge break in workout department! This differs by coach, but for me it went something like this:
Sunday: 60 minutes moderate cardio (I chose cycling)
Monday: 60 minutes moderate cardio (I chose running)
Tuesday: 45 minutes treadmill walk with incline + strength circuit
Wednesday: strength circuit
Thursday: nada
Friday: nothing
Saturday: Show Day!!
Compared to the tough workouts I've been pushing through for the past 5 weeks, this is cake!
The tough part is the nutrition.
This is the week that I want to eat everything in sight. Not because I'm hungry, but because my palate is BORED! It's the only week that I have prescribed meals – which includes a combination of egg whites & oats (breakfasts) or protein powder/fish, sweet potatoes, and asparagus. You can only make those things so many ways. And to make things a bit more challenging this week, I'm actually attending our yearly sales meeting!! You might remember I had just started training for my first competition at last year's sales meeting, so I have a little experience in making this work.
Instead of complaining (although I admit I am doing a bit of that!), I decided to be prepared. I know how to meal prep, I just don't enjoy it. So I came out of retirement for this week only and made everything I needed this weekend.
[Tweet "Tips to travel during #peakweek and make #nutrition work from @FITaspire!"]
Tips for You To Use
1. Know Your Plan Early
I asked for my plan for the week a little earlier than normal, because I knew I needed to prep and leave by Sunday afternoon. Give yourself time to plan your attack without adding too much stress.
2. Prep & Pre-portion
Since I had so much food, I didn't prepare meals during prep (which I used to do). To save space, I stacked the fish in just a few Tupperware bins, using the aluminum foil they baked on to separate into portions in the container. The asparagus was packed into two huge containers. Get the picture? Before each meal, I read my instructions again and assembled what I needed into a few spare tupperware containers I brought along.
3. Extra flavor & utensils
The last thing I did was grab a few toppings I could still use. I brought vanilla, almond, and maple extract to mix into my eggy oats in the morning. I also brought cinnamon for extra sprinkling on the sweet potato and oats. I packed salt for the meals where I add salt this week. And silverware! I brought just a few spoons and forks, washing in between uses in the bathroom sink.
4. Vitamins & Minerals
Don't forget any vitamins & minerals you need! I don't take anything at the beginning of the week, but a few things are added in as we get closer (like dandelion root, potassium, etc). Pack only what you need, but just don't forget them!
5. Be Mentally Prepared!
If you've made it this far, you know how to stick to a plan and get it done.  For me, the hardest part was ignoring all the yummy food, coffee, teas, and candies that were laid out for attendees at all times. I wasn't really hungry where I needed them, they just looked good and I wanted variety! Know what you're going to have a harder time with, so you can get your game face on!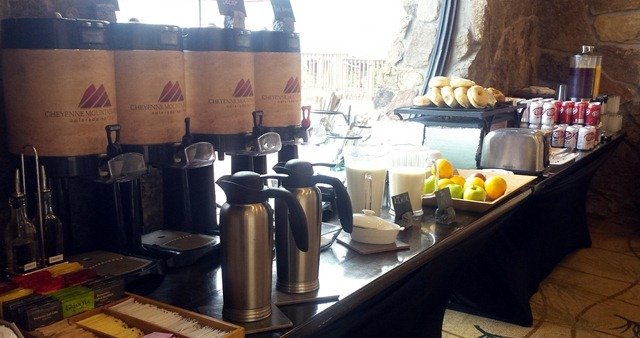 How I applied these tips:
After getting my plan, I entered everything in Plan To Eat and went shopping. We had to visit to grocery stores to get enough asparagus! 
I started by prepping the ingredients that needed cooking the night before. Starting with the fish. I picked out three sets of spices (sweet, spicy, and curry), to  give the cod and tilapia some variety. After coating the fish thoroughly, I set them aside to marinate for about 20 minutes before baking. One the fish were in the oven, I sautéed asparagus on the stovetop in batches, transferring the cooked stalks to large tupperware containers as I went.  Once the fish was finished, I cut the foil around each serving and loaded up more tupperware with all the fish. The finals cooking step was to roast peeled sweet potatoes until they were tender & sweet. This was all the meal prep I had to do – not too bad with such a basic meal plan.
The day of travel, I laid out everything I needed:
Prepped & pre-portioned fish (affiliate)
Roasted sweet potatoes
Cooked Asparagus
Boxes of egg whites
Rolled oats
Protein powder
Vitamins & Minerals
Extra flavor extracts & spices
Silverware
Scale (weighing protein powder & sweet potato)
Kirk helped me load everything in a rolling cooler, packed with frozen ice packs, and into the car. This would have been tougher if I was flying, but I could frozen the cooked food overnight & packed in a suitcase with extra frozen ice packs.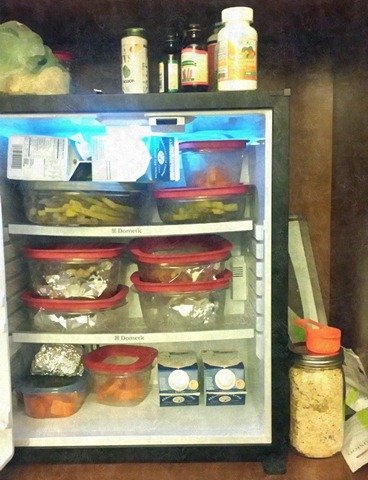 Once at the hotel, I requested a microwave for the room (a $20 surcharge for the whole week) and unloaded my food into the fridge. Each day, I assemble my meals a few at a time, to make sure I had the right food to eat at the right times throughout the day.
So that's it!  There are moments that have been harder this week, but I remind myself that it's really just a few days! I decided to be a lot less social this week, to minimize the temptation and frustration on my part. You do what you have to do.
*******************
Questions for you:
Have you ever traveled the week leading up to a big event?

What's the craziest food you're brought on a trip?