Hello from Vegas!! Did I tell you I was in Vegas this week?
I'm here for our annual sales meeting, so it's a work trip instead of vacation. But the great thing about work in a new city is you have before & after work to enjoy a new location! Runs at 5:30AM are pretty entertaining in Vegas – the number of people still awake & drunk from the night before is fascinating!
As much as I enjoy travel, even for work, a trip on the second week of a new competition diet is a bit of a challenge. Not only am I still figuring out what is tasty to eat, but I'm going to have to do it on the road.
Thankfully, Laura is the master traveler and has some amazing tips already on her blog. I used her tips to get my act together and brought 5 of my 7 daily meals for the full 4 day conference.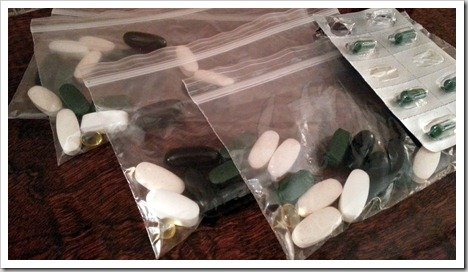 Between my specially-requested refrigerator full of food in tupperware & my baggies of pills (supplements), I'm sure the cleaning crew is having some laughs at my expense. But, I have what I need to remove any excuses to NOT stay on diet during the trip.
Tips for Traveling on Competition Diet
Pick meals that can be made in bulk and divided into individual servings. I prepped all my food on Saturday, before leaving on Sunday afternoon.
Consider meals that can be assembled on-site. One example is overnight TVP oats – I packed the pre-measured ingredients in individual serving baggies & a shelf-stable carton of Almond Milk. At night, assemble & place in the fridge. It's ready to enjoy in the morning!
For days with different macro requirements, label the individual serving baggies. For example, I labeled my baggies with the different protein contents (4 ounces, 4.25 ounces, 3.75 ounces), so I knew what to eat on what day.
Pre-freeze all food that should be refrigerated, so that it will stay cold in your luggage. Add extra frozen gel packs to help keep things cold during transit.
For a longer flights, consider packing a cooler that you can carry-on with all solid foods.
Now for a look at what I ate yesterday, including my prepared travel meals!
********************
Meal 1: I always start with my Aminos & morning supplements. For the most part, I'm still taking the same group that I shared about for LiveFit Trainer, with a few small additions (L-Carnitine & Vitamin D). While downing my aminos, I also ate a variation of Laura's Overnight TVP "Oats".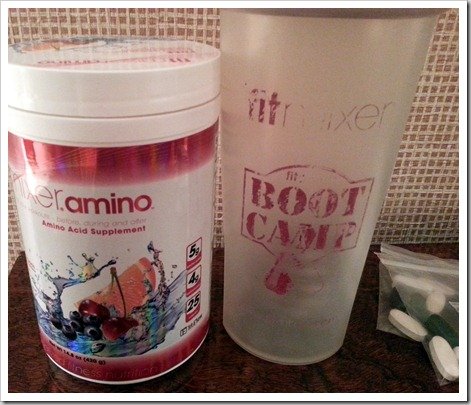 Meal 2: After my workout on Tuesday, I as NOT hungry, but it was time to refuel my body after a good run & strength session. I munched on the Protein Bars (based on Jess' No Bake Peanut Butter Protein Bars) while getting ready for my first work session of the day.
Meal 3: I made 2 other failed recipes on Saturday during food prep before I landed on this simple creation – veggie egg "muffins".
These are simply egg whites, spinach, and frozen southwestern veggie mix. Divide out each day's egg whites & veggies between 3 muffin tins, bake on 375 for about 30 minutes, and store in snack bags for the trip!
Meal 4: Lunch was a photo failure, which I realized several hours after the meal was devoured. Just picture a Gardein Chikn Patty sliced on top of broccolini & stir fried veggie. Simple and exactly what I needed! This was part of our normal lunch at the sales meeting.
Meal 5: Yes, this is a bit weird, but I actually like it! The protein is sliced seitan (being lazy, I used Fieldroast this time, instead of making it) and the veggie is baked eggplant chips. Although baked eggplant chips are a bit soggy after freezing & sitting for several days. Not my best idea.
Meal 6: For dinner, we had a free night and we went for sushi! We found a place in our great sushi restaurant called Mizumi in our hotel. I thought that would pretty easy to portion control and I did pretty well, although I likely had more starch/carbs than planned. Edamame (veggies) & a (amazing) nigiri.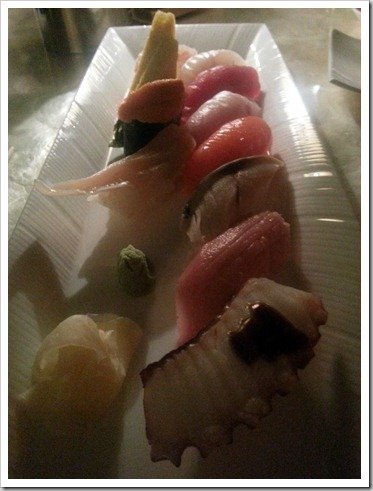 I also ordered a bottle of sparkling wine water to make myself feel "fancy". I have to point out that I've been in Vegas for over two days and haven't had a drop to drink. That's dedication and I'm proud of myself for staying on plan!
Meal 7: I admit it, there was no meal 7 today. We ate later than planned and there was no room for food in my belly.
Not bad for a week of travel in my second week of a competition diet, right?!
*******************
Questions for you:
Have you had to travel with pre-made food before?

Have you been to Vegas?