Last week I talked about how I'm modifying LiveFit Trainer to fit into my schedule. How did I do sticking to my goals?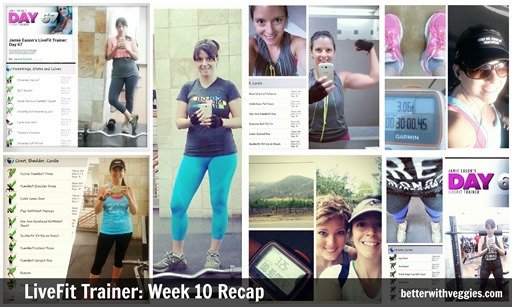 Almost – but not quite. Darn!
If I haven't said it before, this program is split into 2 week blocks. Meaning the workouts are the same for 2 weeks at a time. Last week was the second week of a block, so I knew exactly what to expect.
Strength
As is normal for me, the workouts are a little easier the second time around. Your body expects what's coming just a little bit more. I powered through all the sets of active rest, triple sets, & supersets like it was "normal".
Cardio
Surprisingly, this is still the workout I stumbled on for the second week in a row. I got 2 of my 3 planned runs in. They both felt great, I just struggled to find enough time to fit it that third one. Progress, not perfection, right?  I find that when I'm short on time, I am picking strength over cardio since I started this program. That is certainly a change in attitude for me!
I'm very conscious that I only have 2 weeks of the program left and planning my next step. I originally planned to repeat phase 2 & 3 (which I still may do), but also looking at other options. There's still the thought of training for a bikini competition in my head, but I'm trying to make sure I am really ready to commit to that level.
So for now I'm focusing on finishing this round strong! I know that I'm going to return to running & triathlon training no later than the Spring, but I'm enjoying this change of pace right now. 🙂
********************
Heads up for my regular readers – I've got a great giveaway planned for later this week!! It's from one of my favorite brands, so you might be able to guess what's coming. 🙂
********************
Questions for you:
How was your last week of workouts?

What do YOU think I should do next?