As I've mentioned to several times over the past few days, I was lucky enough to spend the weekend with Laura and Lisa (new friend!) in wine country this weekend. It was a whirlwind of activity to fit in a short period of time, but the company made it amazing!
Lisa, me, & Laura in front of the Del Dotto Venetian Estate
Friday
Although the other two beautiful ladies arrived earlier in the week, I flew in on Friday night and enjoyed a beautiful sunset drive up to Calistoga. And yes, I took pictures while driving over the Golden Gate Bridge. But I promise I was just holding the phone up and pressing the shutter.
Saturday
On Saturday morning, we started our amazing day of wine snobbery tasting at Sullivan in Rutherford. If you follow both Laura & my blogs, you probably know we have picky taste. Can you imagine the two of us wine tasting together? We fully ruined Lisa's ability to accept anything less than the best! 🙂
This winery was the most peaceful setting and we had a great experience at their tasting. My favorite (which I bought) was the 2007 Napa Valley Cabernet, which they originally held because it was overpowering. After aging for a few years, I think it was the best wine of the tasting!
Before we left for our next stop, we had to take a picture by the classic cars that were on the property. I wouldn't have complained about taking home that cherry red corvette!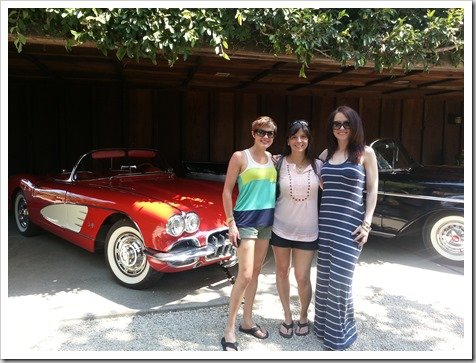 Next up was an unplanned stop at Beau Vigne in Napa. The location was a little different, being in a shopping center instead of on a vineyard. But the wine did not disappoint, with many highly rated by Robert Parker (& Emeril Lagasse!).  I went home with another bottle here, picking out one I knew Kirk would enjoy!
After a lunch break, we went next to Elyse Winery. This is a winery that Laura & Lisa tasted at dinner earlier in the week and immediately added to our itinerary. With such beautiful weather outside, I was happy they allowed us to taste on their patio. Did I mention they had both a dog & cat for entertainment?
Surprisingly, my favorite wines here weren't the most expensive. Miracles do happen!
Our last official stop of the day was at one of my "old" favorites – Del Dotto Vineyards in St Helena! This is winery that Kirk and I discovered on a trip to wine country years ago and I knew I had to share with the girls. Not only is the wine here incredible, but the cave tour & barrel tasting is not to be missed!
The winery is not lighted well for mobile phone cameras, so this is the best I could capture the beautiful cave for you! The chandeliers lighting the cave is made from Murano Glass and all the tiles are imported from Italy. It's Italian extravagance at it's peak – just crazy!
Most of the wine you buy here is futures (things you tasted in barrels that aren't bottled yet), but I did take home a bottle of their delicious Port. I also ordered a bottle of Cabernet that will be shipped when it's bottled – with a long crazy name (referring to the vineyard the grapes come from).
So technically there was another winery we visited after this, but I actually only did half the tasted and didn't purchase. So I'm skipping it for this review.
Sunday
On Sunday morning, we went to my other "old" favorite. Schramsberg is my favorite sparkling wine and the first American sparkling that was served at the White House. Kirk and I have been members at this winery for years and just love it! If we could only be members of one winery, this is the one I would choose.
The tour here is incredible and very different from Del Dotto. They do a great job of explaining how sparkling wine is made, a hand-riddling demonstration, and a tour of the cellars. When you finally sit down to taste the wines, you really appreciate all the work that goes into making such amazing wine!
After this final winery, we had to head back to the airport to fly home. So sad to come to the end of a fun weekend so soon, but I'm so glad that I got to join the fun for even a short time.
*******************
Questions for you:
Do you enjoy wine? What's your favorite (winery or style)?

What was the last day with friends that you enjoyed?