When I trained for my first bikini competition, I was really precise with hitting my macros for every meal. I weighed everything I ate, whether I was at home or eating out. Yep, I carried a scale in my purse.  It was literally the first time I had ever followed a specific nutrition plan and I had no idea how to eyeball portion sizes. It was needed for me to reach my goals.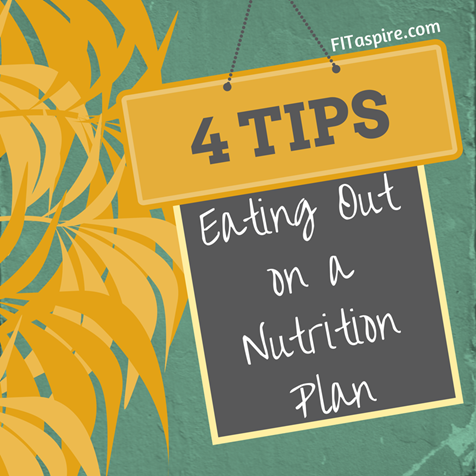 When I started back with Ashley (my trainer) in January, the nutrition plan was one of the things I was a little reluctant about. It's started to feel like a lot of work, so first I quit meal prep. Then I started traveling more for work and didn't want to think about prepping all that food again. But I wanted to stick to my plan and reach my goals.
There had to be an alternative.
I met with Ashley to get her advice and she basically told me to stop stressing.  After weighing everything for months, I knew what 20 ounces of protein looked like for fish (affiliate). Or 3 grams of carbs in asparagus. I knew how much protein was in an egg. I had learned a lot through all that planning and it was time to take it on the road. Other than the final week of prep, eyeballing the servings is good enough.
Know Your Favorites
There are a few foods that I know off the top of my head. It helps to think through the foods you eat most often and learn those when you're home. Others I do a quick google search before ordering. Here are just a few that I know from memory:
4-5 ounces of fish = size of my palm = about 20g of protein
1 egg  = 6 grams of protein
1/2 cup rolled oats = size of my fist = 20g of carbs
1 ounce broccoli = half a fist = 3g of carbs
3 ounces asparagus = 6-10 spears = 3g of carbs
1 tablespoon of nut butter =  10g of fat
2 tablespoons of avocado = 4.5g of fat
Depending on your macros, you can be pretty creative here. On high-carb days, I've googled carbs in waffles and biscuits to enjoy some delicious breakfasts out. Dinner is easy when ordering fish and veggies (just be careful about the oil & toppings). I'll seek out sushi for a low-carb lunch and get a container of sashimi and edamame.
[Tweet "4 Tips to Help You Eat Out on a Nutrition Plan from @FITaspire. #FitFluential #bodybuilding"]
Preview the Menu
So many places have their menu online, so if you have flexibility on where to eat do a little research. Check a few menus and find one that has a meal that is closest to what you need. This can make the evening a lot easier, so you don't have to think about it. I often think about ethnic foods that match my nutrition plan  and have had great success with Sushi (order sashimi), Southern Indian (lots of fish & veggies), and Seafood restaurants.
Ask Questions
Especially with food allergies being common today, servers are comfortable with answering questions these days. Ask what the dish is cooked in (oil or butter?), what is the protein topped with, and how large is the serving? The more you know, the better. If I know the serving is much larger than I want, I'll ask them to box the extra before they bring it out. I have a hard time not cleaning my plate, so this one is a diet trick I stole from many before me. It works!
Make Changes!
Sometimes you'll find exactly what you want on the menu. Other times, you may need to ask or some help from the kitchen. I got really comfortable with this when I ate a plant-based diet and it's a great skill to have! I promise, most places are very accommodating. Find a dish that has the main components you are looking for and tell them what you need.

I hope you read this and thought, "Oh, right. That's not hard at all!". You probably already knew these tips if you thought about it, but I want to give you that extra reminder that I needed to make it happen. Making your nutrition plan a healthy diet that you can actually stick with is important to long-term changes. If it feels like too much work, it's too easy to slide back to bad habits. At least for me!
One additional note – every meal you eat doesn't have to be "on plan". I hope you plan some freedom and fun in your diet. Until the last 5 weeks of my training, I had a cheat meal that I took very literally. Food is supposed to be enjoyed, but finding the balance that works for you is key!
Need help figuring out the right nutrition plan for your goals? Sign up for a free consult to learn more about nutrition coaching options.
*******************
Questions for you:
How good are you at eating healthy when you're out and about?

Do you feel comfortable asking for changes at a restaurant?

Any tips to add?