If you're a shellfish fan, you're probably a fan of steamed mussels. This is one of those dishes that I find myself seeking out on restaurants menus, because it's a dish I haven't ever made at home. Until recently.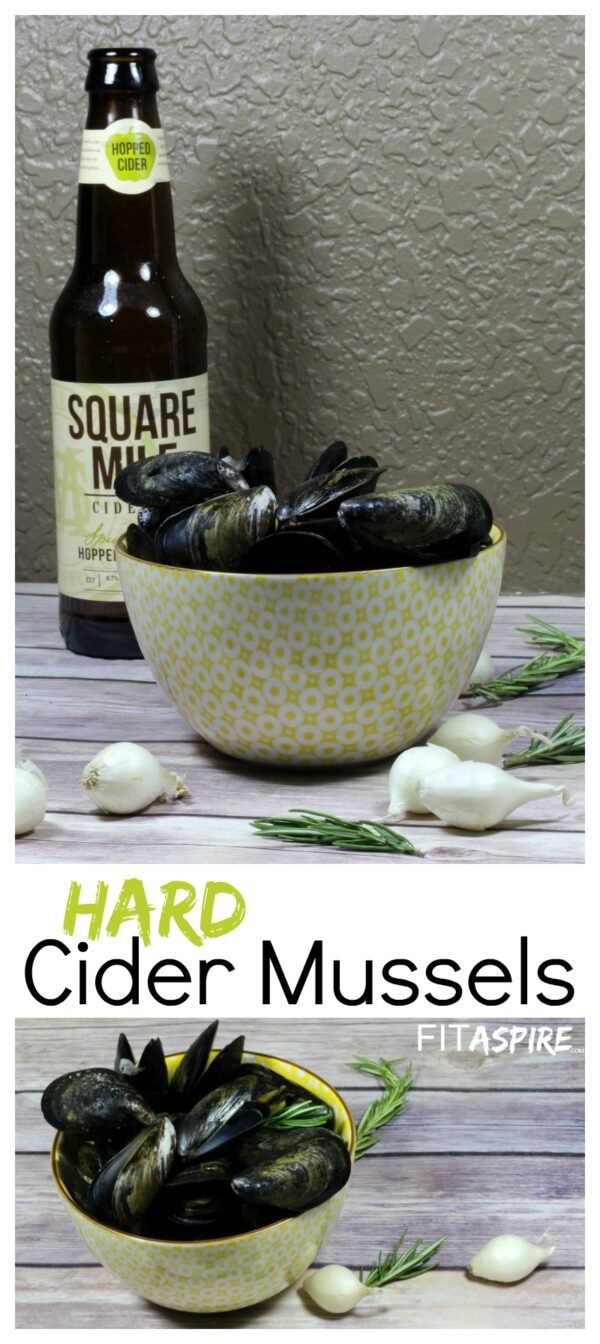 This particular mussels recipe has been on my list to recreate for almost three months. This was inspired by a bowl of mussles we enjoyed at Jax Fish House & Oyster Bar after an evening at the symphony. While most steamed mussels are made in white wine sauce or tomato broth, this one featured a hard cider base!
If you made a face when you read "hard cider", but you've only tasted Angry Orchard or Woodchuck, stick with me! We found good hard cider on our trip to France last summer and sought out similar varieties when returned to the US. A good hard cider is not sweet, but rather has a crisp and clean flavor. That's the style I recommend for this recipe. My personal favorites are made by Colorado Cider Company. 
This recipe is shockingly quick & easy, assuming you start with cleaned mussles (beard removed) – which you can order through Sizzlefish (affiliate). Once you've given this a try, it might become your next last-minute staple for entertaining!
Hard Cider Mussels
Recipe Type
:
entree, appetizer
Author:
Serves:
serves 2 (appetizer) or 1 (entree)
Ingredients
1/4 cup pearl onion, diced or sliced
rosemary leaves from 1 sprig
1 tablespoon extra virgin olive oil
2 bottles hard cider
1 pound mussels
Instructions
In dutch over or deep pot, heat olive oil over medium-high heat. Add onion and rosemarry, saute until onion begins to brown. Add mussels and pour enough cider to cover mussels. Stir to combine and cover. Steam (covered) for 5 minutes. Check mussels to confirm that shells have opened. If you still see a number of closed shells, cover and cook for an additional 2-3 minute s to open.
Divide into two bowls and ladel broth over mussels. Top with fresh cider (if desired) and serve hot!
Ready for a tip to enjoy your mussels like a pro? Eat with your hands! Pull the shells apart and use the half with the mussel inside as a spoon, scoop broth into the shell, and eat the mussel directly off the shell. Perfection!
[Tweet "Making steamed mussels at home is easy! Try this Hard Cider Mussel recipe tonight:"]
Now you're ready to impress guests with freshly steamed mussels at your next dinner — or treat yourself to a healthy, protein-filled dinner!