Over Labor Day weekend, Kirk and I headed out to the backcountry for our biggest adventure of the season – backpacking with 2 nights of camping and a 14er summit attempt. We chose the Blue Lakes (near Telluride), because we wanted a destination a little further from Denver and with gorgeous scenery. I originally discovered this location thanks to instagram photos – the wonders of social media for travel planning!
We added on the challenge of Mt Sneffels after reading that this was a common base camp for many hikers & climbers. It doesn't take much to convince me to tackle a new challenge!
I realized after this trip, that I'm finally feeling comfortable planning these backpacking and camping adventures. When we started backpacking and more camping this year, I felt a bit overwhelmed with information and knowing what to focus on.
Today I'm going to share the basics with you, so you can get out and explore the outdoors a bit more!
Disclosure: Our meals and this post were sponsored by Paleo Meals to Go. While I was compensated (in food!) to write a post about these nutritious meals, all opinions are my own. You can read my disclosure policy here.
Planning a Backpacking (or Camping) Trip
1. Choose & Research Destination
Where have you been dreaming of exploring? Maybe a place within driving distance from home that you haven't seen before? No matter where you live, I bet there is a spot that would be perfect for backpacking or hiking!
Google is a great way to find adventure in your area. Try searching for "camping in [your state]" or "backpacking in [your state]" to get started. I found several local blogs that write trip reports when doing this search, which is a great way to find hidden gems near you. You can also search sites like Backpacking.com and Outdoor Project for curated reports and trip details.
Make sure you look for trips within your current ability levels, especially as you're getting started. Pay attention to both the trail distance and trail type. Our Blue Lakes adventure was 3.8 miles of hiking to get to our camping spot near Middle Blue Lake, but there was some good elevation gain along the way to amp up the difficulty. You might try a workout aimed at getting you ready for outdoor adventures.
Once you've chosen your location, make sure you check out any special regulations you should be aware of. Is there a permit for overnight camping? Fee for parking? Are campfires allowed? Are there special regulations about food storage?
2. Choose Your Gear
Once you have your location picked out, you can start gathering your gear. I like to start from a backpacking checklist, then add my own items over time. If you are backpacking, remember that weight adds up quickly when it's on your back. I aim for 25 pounds in my pack, knowing the weight will increase a bit more when I add water to the bottles. An easy trick to check the weight? Weigh yourself with and without the pack; the difference is your bag weight!
Don't pack anything new without testing it out first. If you buy a new camp stove, light it up on the back porch to be sure you understand how it works (and that the gas you bought is compatible with the stove). Inflate your sleeping pad to make sure you know how it works. And don't forget to test out the tent! If you found that tent in your basement, you might consider hosing it down to see if it's waterproof.
Check the weather where you are headed and plan for the worst. Don't forget warm, dry clothes for after your hike and raingear for unexpected downpours. If you're camping at elevation, this is particularly important as the temperature can be very different when you reach your destination. I like to sleep in a hat and gloves through the summer when camping above 10,000 ft – it can be pretty cold at night! 
You might also consider bringing extras of your most critical gear – like matches & gas for the stove.
[Tweet "Get ready for #backpacking (or camping) with these 5 tips! "]
3. Meal Planning
I look forward to food no matter where I am, it's just a little trickier when I have to carry my whole kitchen on my back! Keep it simple with a camp stove, gas, cooking pot, spork, and coffee cup. We often eat our meals straight out of the bag to save clean-up, although at breakfast we will use the coffee cup for granola.
For liquids, make sure you get a water purifier to keep your water bottle continually full. There are several options to choose from, but we love our ultraviolet light pen. Mountain stream water is something I look forward to on every trip – the best water you'll ever have!
Backpacking food has come a long way from when I was a kid. There are many options to choose from an many of them taste great! For those following a nutrition plan, however, the choices get a little more limited.
For our most recent trip, I was just a month away from my bikini competition. Not the typical scenario for backpacking, but I didn't want to give up my outdoor adventures! When I was searching for backpacking food that was higher in protein and lower in carbs, I found Paleo Meals To Go (which also happens to be a local Colorado business!).
The nutritional stats on this backpacking food is unlike any other I've found. It's great for those with specific nutritional goals (like many athletes) and for those following a Paleo diet. They sponsored lunch & dinner on our trip, so we had the chance to try out all their offerings (including a few not yet released for sale!).
The verdict? Both Kirk and I agreed the Bedrock Beef Chili was our hands-down favorite! It has such great flavor and spice, it was as good (or better) as anything else we have had on the trail. The chicken dishes were good, but they really taste like chicken (a flavor I'm gradually warming up to). I'm still used to covering my chicken with something to hide the flavor. These meals will NOT leave you hungry – they are nutrient dense! Meat and veggies will fill you up much more than many of the other meals I have tried.
[Tweet "Need to try this #Paleo backpacking food! @paleomealstogo"]
No matter what food options you choose, make sure you pack a little extra for an emergency. A good rule of thumb is one extra day of food.
The last consideration for meal planning is any storage restrictions in your area. In the Rocky Mountains, bear canisters are required almost everywhere you go. They take up a chunk of space in your backpack, but are made very light. They also double as a camp chair, when needed!
4. Know the Rules ("Leave No Trace")
I'm not an expert in the Leave No Trace principles yet, but I'm working to learn and respect them as much as I can! The goal of these principles is to minimize our impact on the environment around us, so that people can explore the outdoors for generations to come!
There are 7 principles, but here are some of the highlights:
Minimize Campfire Impacts: Although many of associate camping and campfires, they are not always permitted. Make sure you check the regulations where you camp and skip the fire when they are not allowed. When they are allowed, make sure you use established fire rings and make sure it's completely out (you should be able to stir the coals with your hand) before you leave.
Travel and Camp on Durable Surfaces: When you come to a muddy patch on a trail, you're probably tempted to walk around it off the side of the trail.  Resist that urge and stay on the established trail, so it doesn't spread into a wider space or two trails. When you choose your camp site, make sure you set up at least 200 feet from water in an area that won't disturb the land (not on top of a wildflower field).
Dispose of Waste Properly: You've probably heard "Pack it In, Pack it Out". Remember this includes everything you use, so bring a trash bag and dispose of it when you get back to civilization. as As for the other kind of waste..ahem..when you just have to go number two, it's time to dig a hole. At least 6 inches deep and staying 200 feet away from water (just like your campsite).
Be Considerate of Other Visitors: In general, just be respectful of other campers. They are probably there to get some peace and quiet, although we all want to have some fun too. Just be aware of your noise level and try not to ruin the mood for those around you.
Respect Wildlife: I hope you know enought to leave the wildlife alone when you're in their space. It seems common sense to me, but we've been having a bit of a problem with it in Colorado. Just remember – no selfies with bears!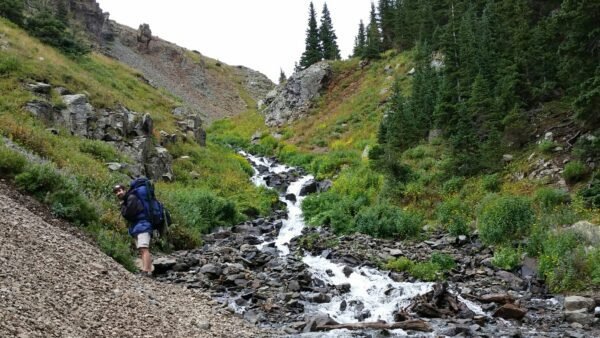 You might also want to check out Heather's (Just a Colorado Gal) post on leave no trace. 
5. Have Fun & Make Memories!
Now that you've done your research, packed what you need, planned your meals, and are ready to respect the rules of the outdoors — it's time to get going and have some fun!
No matter how much planning and preparation you've done, there's bound to be some interesting things you'll encounter along the way. Flooded trails, bridge crossing, windy conditions – stay flexible and ready to adapt your plans along the way. If you're type A (like me), these are great opportunities to learn you just can't control everything.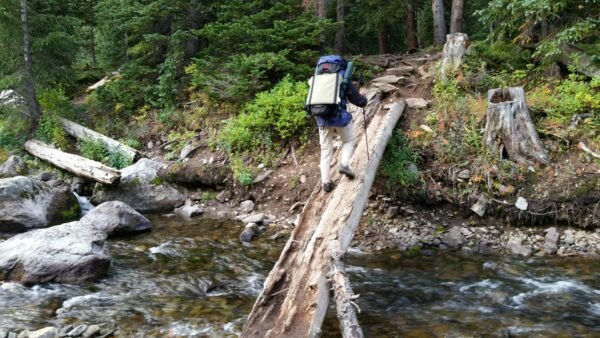 Of course, don't forget your camera to capture all the beautiful sights and experiences along the way. I tend to use my smartphone camera on most trips, but it may be worth bringing the real thing depending on your style.
[Tweet "Get out and explore with these tips for #backpacking! #fitfluential"]
Now it's time to stop reading and start planning. I love every minute I spend in the mountains and I want you to experience that same feeling. I hope this post has inspired you to get ready for your first or next backpacking (or camping) trip!