It's been almost three years since we moved from Georgia to Colorado. I was most excited to move here for the snowboarding, but I've been branching out to more outdoor adventures every year. The first year was all about hiking, culminating in my first 14er. Last year we tackled our first hut trip, woefully unprepared in the spring snow. That trip sparked the purchase of a real outdoor backpack and adding weight to my next two 14ers. This year, we've added fly fishing and backpacking to our list. And I am already hooked!
We originally planned our first trip for Memorial Day weekend, but we postponed all our plans due to all the rain we had in May. With Father's Day weekend free (my family is still in Atlanta), we started planning! Kirk wisely suggested we start with a 1-night trip, to make sure this is something we would really enjoy. I tend to want to jump in with both feet and overdue things. Shocking, I know.
After researching beginner spots within a few hours of Denver, we decided that Rich Creek Trail in the Buffalo Peaks Wilderness was the best spot for our first adventure. The trail is a well-marked loop, just under 12 miles total length, with about 2000 feet of ascent – perfect for beginner-intermediate hiking & backpacking.  We planned to hike halfway on Saturday afternoon, camp overnight, and complete the loop out on Sunday afternoon. We also brought our new fly fishing rods, so we could break in the new equipment and try fishing without a guide.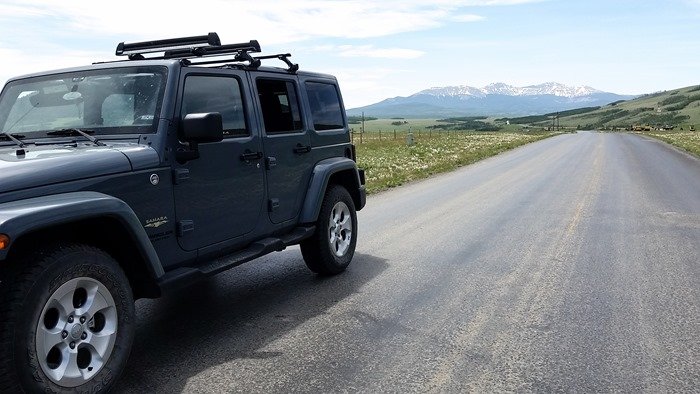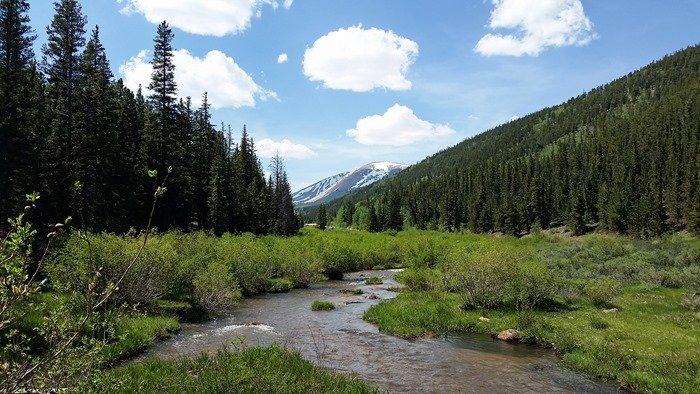 The trip immediately started with a curveball, as the main trailhead was completely flooded when we arrived. The water filled the trail for as far as we could see – at least 16 inches deep. Unsure how far the water spread, we drove to another marked trailhead to find another way in. Although the second trailhead was clear, parking was reserved for those camping onsite, so we headed back to the Rich Creek trailhead to debate our options. We decided to hike along the road for the first mile to reach the Ridgeview Trailhead and hike in from there. The distance ended up being about equal, although obviously not as scenic as hiking through the woods.
We reached the Rich Creek trail after about 1.8 miles without much incident. I was excited to see that all our gear was sitting comfortably in our packs, hiking boots felt great, and my legs were just a bit tired from the climbing (expected after my week of workouts). As we continued the hike out to the meadow, the only surprise was all the water. The "creek" was more of a rushing river and spread onto the trail to create new streams down the trail. It was fairly easy to avoid the water, but we both wondered what things normally look like here.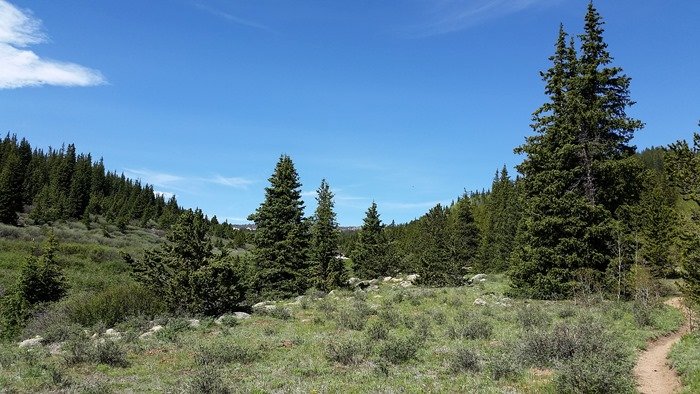 Once we reached the meadow, the water crossings became more difficult. For the next few miles we frequently found the trail completely washed out, with swiftly moving water crossing the trail and overtaking a good deal of the path itself. We weaved our way through brush and trees to find spaces where we could jump across.
At this point, we were hiking along the stream and Kirk suggested we set up our fly fishing rods for a test. We dropped our packs, set up the rods and started casting in a few spots along the river. I admit I felt a bit over my head, trying to remember what our guides taught us about the type of water that was best and looking for fish in the water. After a while, I decided to break for a snack and watched Kirk continue casting. And then I saw him set the line and a rainbow trout fly out of the water – he caught a fish!! Neither of us honestly expected to catch anything, so we weren't completely prepared to store and cook the fish for dinner. We let our little friend go back to swimming and packed up to continue the hike.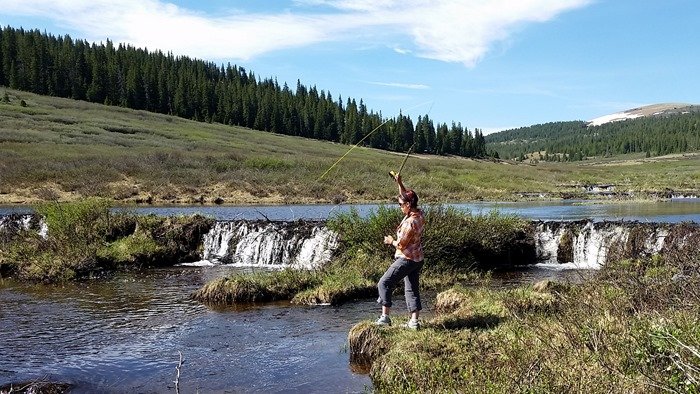 A little over 4.5 miles in, we reached a point that wasn't passable without getting very wet – and we decided there wasn't really a need to push further. The area was gorgeous where we were already, so we could save the full loop for another (drier) trip. We noticed defined camping areas not along the river, so we backtracked just slightly to the nearest area to set up camp for the night.
Many places in the backcountry don't allow open fires, so we bought a camp stove that was recommended by a friend. That little stove made dinner so easy as we boiled water, poured it into the pre-made dinner packets, and allowed it to sit for 9 minutes. Out of laziness, we took turns eating right out of the bag, instead of getting dishes dirty and having to clean anything. The food was better than we both expected – certainly not gourmet, but tasty all the same.
The temperature started to drop pretty quickly after dinner and we weren't prepared to make a fire. With everything so damp around the campsite, we failed at starting one with what we could find, so we decided to climb into our sleeping bags early to read, listen to Mumford & Sons on my phone, and watch the stars come out. It was so peaceful just enjoying the solitude and having nothing to do!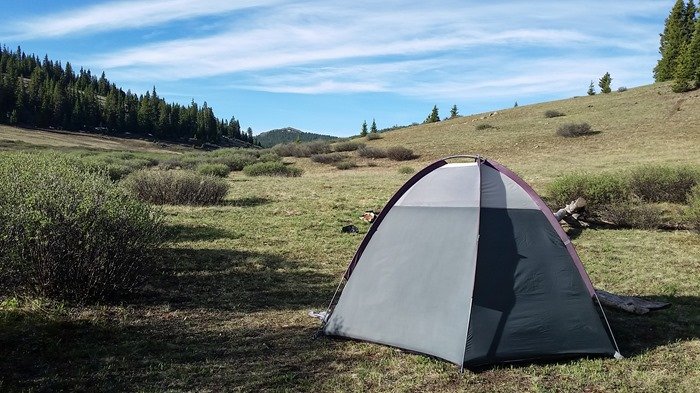 I woke up once during the night when the sky was pitch black and was amazed at all the stars! The top of our tent is mesh, so you can see them without moving and it painted such a gorgeous picture. We both hope we can stay awake a bit longer on the next trip to really enjoy them (and maybe get some start trail pictures).
In the morning, we took our time getting up and relaxed while the sun warmed the air a bit. We packed up the tent and our gear, while cooking up breakfast over the camp stove and getting ready to find our next fishing spot. Our goal was for me to catch a fish, so we both would have had successful first outings. I found a great spot near the base of a beaver dam and started casting. It didn't take long for me to catch a small brown trout, accomplishing our goal! We fished for about an hour before packing up and heading back down the mountain to the car.
We planned to retrace our steps on the way back, avoiding the badly flooded areas of the trail. When we were close to the turn off the main trail, we passed a couple of hikers who had braved the water. The flooded portion of the trail wasn't as deep or long as we feared, so I suggested we give it a try (especially as it would be the final stretch to the Jeep).
The portion of the trail we missed on the hike out was more scenic, but the water was high and rushing fast. I tried to capture the volume of water in the photos above – it was crazy! When we hit the deep water crossing at the end, we braced for the cold and ventured into the cloudy water. It wasn't nearly as deep as we expected, as long as we stayed near the edges and it was kind of fun braving the flood.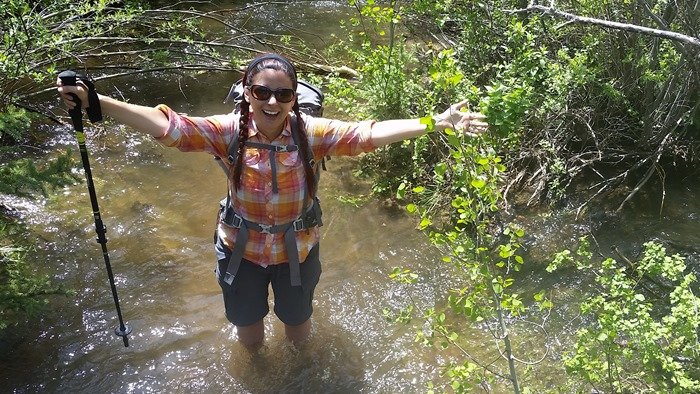 Back at the Jeep, we got back on the road and started the drive back up 285 to South Denver. Just before Kenosha Pass, there was a line of cars on both sides of the road. Then we noticed people out of the cars. And cameras. MOOSE!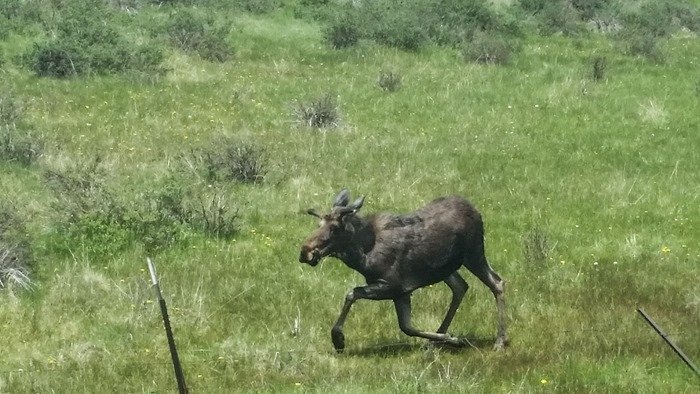 We pulled over quickly and I jumped out of the car with my phone to grab a few pictures. Did  you know they actually kneel on their front legs to eat the grass? It was fascinating to watch and I snapped tons of photos. Kirk captured the winning shot above, as the moose rose up from the ground to quickly disappear back into the woods. We didn't bring the good camera on this trip at all, so all our photos were captured on our Samsung Galaxy S5 phones.
[Tweet "First-time #backpacking in Buffalo Peaks Wilderness. #Colorado #FitFluential"]
And with that, our first backpacking trip officially came to an end. I'm so glad we did a one-night trip, as it left me wanting more! I've already blocked out a few more weekends this summer, to give us the opportunity to build our experience with a few 2-night and one 3-night trip. Assuming all goes well, I have plans for a longer trip for our fall vacation!
Interested in reading more about this trail?Check out Heather's (Just a Colorado Gal) two-part post on this same trail for a different perspective (in a non-flooding year).
*****************
Psst…Have you signed up for the #MoveHappy Challenge yet?? It starts Wednesday (July 1) and you'll get exclusive new workouts, recipes, inspiration, and a chance to win some amazing PRIZES! Learn more & register now.
*******************
Questions for you:
Have you been backpacking?

What summer adventures are on your list?