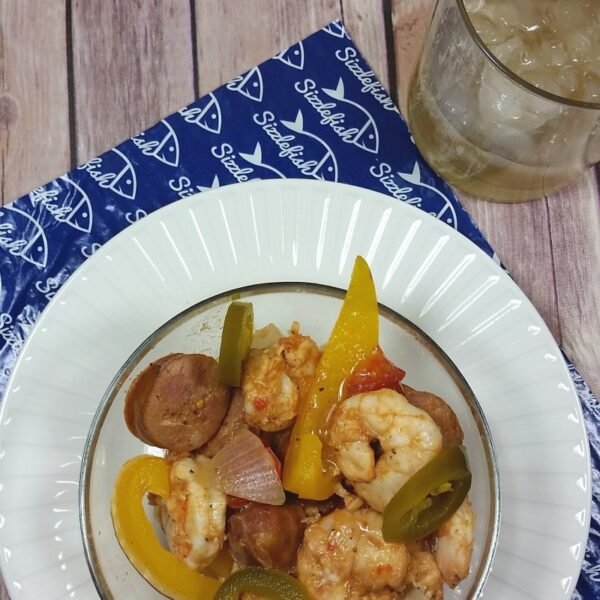 The first pescatarian recipe ever posted on FITaspire was a Lowcountry Shrimp Boil, an homage to my hometown near New Orleans. I think of it as the cousin to a crawfish boil, but a little easier to secure the ingredients outside of Louisiana.
This recipe is a simplified version of that recipe – perfect for a quick weeknight dinner that packs a ton of protein, a ton of flavor, and a ton of veggies. Those are three great descriptions for a meal, in my opinion. I tend toward more low-carb options for dinner these days, but I think this would be delicious with rice if that isn't your goal right now.
If you prefer to keep this dish pescatarian, simply replace the sausage with a veggie version (my favorite is the Field Roast Sausage – try the Mexican Chipotle for this dish). And I always recommend Sizzlefish (affiliate) for all fish & seafood, it truly is my favorite!!
[Tweet "I need to make this for dinner: Shrimp and Andouille Sausage Bowl! #recipe  @sizzlefishfit"]
Shrimp and Andouille Sausage Bowl
Cuisine:
pescatarian, shrimp
Author:
Ingredients
2 portions shrimp (we use Sizzlefish)
1/4-1/2 cup Zing Zang Bloody Mary Mix
1/8 teaspoon ghost pepper salt
1/4 teaspoon cayenne pepper
1/8 teaspoon black pepper
7 cherry tomatoes, halved
1 andouille sausage, sliced
1/2 bell pepper, diced
1/4 onion, chopped
(optional: 1/2 cup cooked rice)
Instructions
Combine bloody mary mix through black pepper and pour over shrimp. Marinate for 1 hour.
Preheat grill or oven to 400*. Combine cherry tomatoes through onion in a bowl. Add shrimp mix & veggies to a large square of aluminum foil and fold into a sealed packet. Cook for 12 minutes and serve hot. (Optional: Stir rice into shrimp & veggie mix).
There are a couple of unique ingredients in this recipe, so I wanted to share a few notes to help you replace items you may not have. Any bloody mary mix will work, but look for one with simple ingredients (especially celery salt). If you don't have ghost pepper salt, feel free to add a bit extra cayenne (if you like heat!).
Check out all my pescatarian recipes for more delicious, clean eating ideas!
*******************
Just a few more days to earn your #MoveHappy entries for week 1! Don't forget to leave your 3 comments on this week's post, then post instagram & repost on Pinterest to earn bonus entries.
Haven't joined in yet? Register by Tuesday night to join in for week 2!
******************
Questions for you:
Shrimp or Crawfish?
What did you do for the 4th of July weekend?