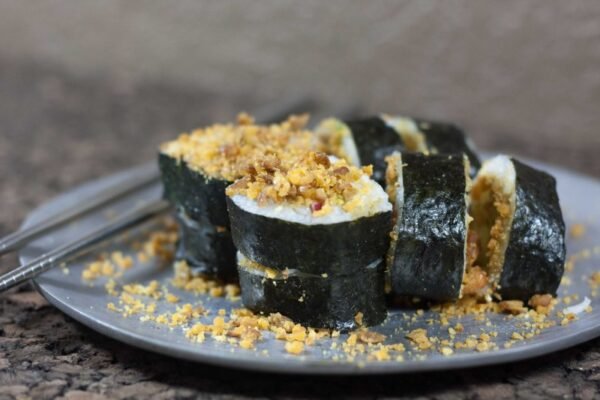 I actually created this recipe last summer for the Snack Out Loud Reinvent Your Recipe showdown. The recipe was originally shared on their blog, but I intended to post the recipe here after the contest was over.
Six months later, I am finally remembering to share this with you here! It might be a bit delayed, but you're going to love the fresh veggies and massive crunch that come with every bite. It's a great recipe to make with kids or friends who come over for dinner. And once you make these sushi rolls – you have all the skills you need to branch out to any sushi rolls you can dream up. It's so much easier than your think!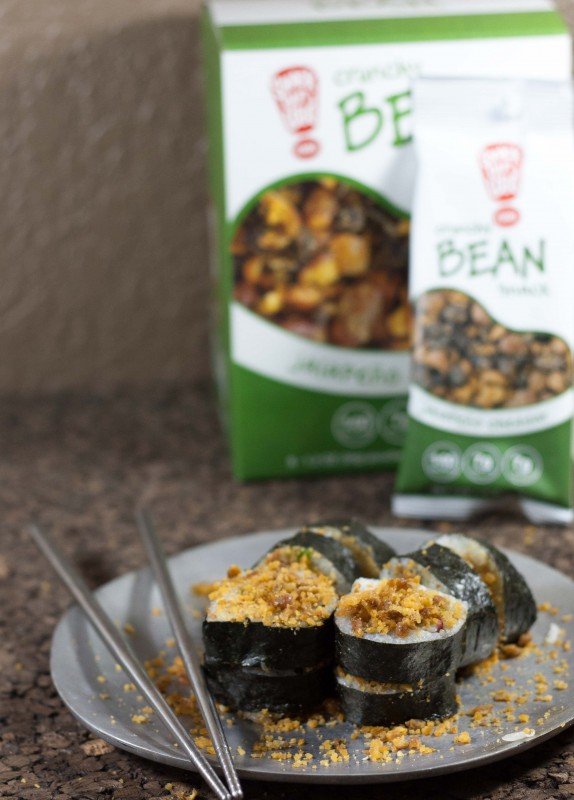 You might wonder if this is really sushi, as it's vegetarian and fish-free. Doesn't sushi need fish? Actually NO! Sushi is really about the rice and not the fish at all. I learned about the history of sushi during a trip to New York City several years ago, during a sushi class. I love learning the history of my favorite foods! Sushi is actually the vinegar-flavored rice combined with other ingredients. That can be fish (affiliate), but also can be veggies or fruits.
And as complicated as it can look watching someone else make it, the process is actually very fun and easy. With a little practice, you'll be a pro in no time! I love sharing this with friends who come to the house for dinner and now I have the chance to share it with you!!
Now it's time for the recipe. Grab these ingredients and get to rolling..
Double Crunch Veggie Roll
Author:
Ingredients
1/3 cup sushi rice uncooked
1/3 teaspoon MCT or Vegetable Oil
1 teaspoon baking stevia
Small pinch sea salt
2 nori sheets
1 bag Jalapeño Cheddar Snack Out Loud Crunchy Bean Snacks
1/4 avocado
1/4 cucumber
3-4 radishes
1/4 cup matchstick carrots
2 teaspoons soy sauce
Instructions
Cook rice according to package directons.
In a small bowl, mix together oil, stevia and salt. Microwave for 30 seconds and stir until all ingredients dissolve and a mix is relatively clear. Stir sauce into warm rice until evenly coated.
Cut a small slit in bag of Snack Out Loud Jalapeño Cheddar Crunchy Bean Snacks (this will allow the air to escape). Use hammer or tenderizer to crush beans inside the bag. Pour onto clean, flat surface (like a cutting board) and set aside.
Prepare the veggies for the sushi rolls. Slice the avocado lengthwise to make long strips (4 strips), peel & cut cucumber into thick matchstick pieces, and thinly slice the radishes. Dampen both sides of avocado slices and dip into pile of crushed Crunchy Bean Snacks to coat both sides. Repeat for remaining avocado slices. Set all veggies aside in piles, so they are easy to grab when assembling the rolls.
Place one nori sheet, shiny side up, on a bamboo sushi mat (or similar surface) covered in plastic wrap. With damp fingers, spread about 1/3 cup of prepared rice over the nori sheet to make an even layer. Leave about an inch at the far end of the sheet and 1/4 inch around other sides. Lay half cucumber, radishes, and carrots along the top (short side) of the sheet. Top with half the coated avocado.
Beginning with the top of the sheet (where all the veggies are) roll the nori over the veggies until it just touches the rice on the other side. Pull back slightly on the nori to make the roll tighter. Continue to roll along the rice, tightening as you go. When you get to the end of the sheet, dampen the excess nori with your fingers and seal the end of the roll. Repeat procedure to make a second roll with the remaining veggies.
With a sharp knife, cut the roll into 6-8 slices. Arrange on a plate or serving dish. Drizzle soy sauce over the top of each slice, then sprinkle remaining crushed Jalapeño Cheddar Crunchy Bean Snacks over the top.
Grab your chopsticks and enjoy!
Are you ready to become a sushi rolling master? Grab a mat and start rolling. I'm here if you get stuck and have any questions along the way, but I think you're going to find this is much easier than you think. Have fun!!
[Tweet "I can't wait to make my own crunchy veggie sushi with this #recipe! #vegetarian"]
Linking up with #MeatlessMonday this week, which is a great way to get lots of meatless recipe ideas!
*******************
Questions for you:
Have you made sushi at home before?
What is your favorite kind of sushi?