For the past month, I seem to have misplaced my cooking mojo. Each week I say it's time to start meal planning again. And each week I get to Sunday night without a plan in place. My motivation to get organized and plan ahead seems to be still on vacation. Last night was the first night I finally pulled a plan together since before Christmas!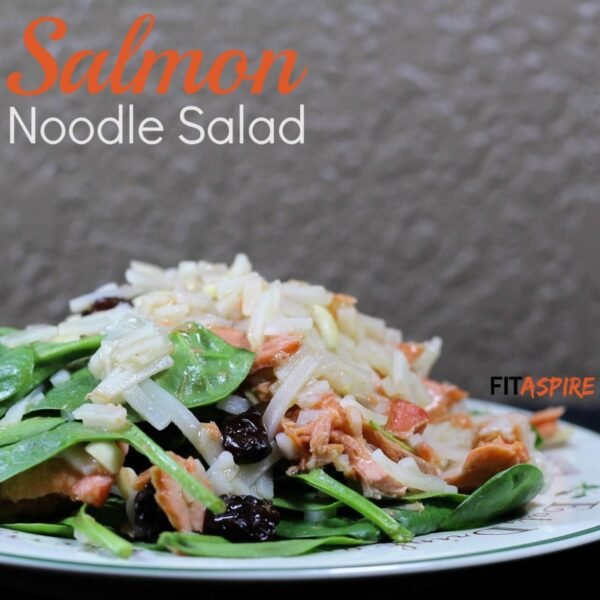 Lucky for me, Kirk has stepped in to fill the gap. Even though I'm not pulling my weight in the kitchen, he has been creative and cooking when I haven't wanted to. His creativity has resulted in another delicious recipe to share with you today. One that you can whip up on a weeknight in no time flat!
This recipe is light, fresh, healthy, and delicious. I think that's a pretty spectacular combination, don't you? This recipe is portioned for one, but you can double or quadruple it for more servings without any trouble. And if you want perfectly portioned shrimp, I recommend Sizzlefish (affiliate) who delivers my favorite fish & seafood right to your door!
[Tweet "Get #dinner on the table FAST with this Salmon Noodle Salad #recipe."]
Salmon Noodle Salad
Cuisine:
fish, pescatarian
Author:
Ingredients
2 ounces rice noodles
1 serving Salmon (we use Sizzlefish)
1 cup spinach
2 tablespoons raisins (or craisins)
2 tablespoons slivered almonds
1 tablespoon hoisin
2 tablespoons rice vinegar
1 teaspoon mirin
Instructions
Preheat oven to 350 degrees.
Cook rice noodles according to package directions. While noodles are cooking, bake salmon for 15 minutes.
Prepare dressing by mixing together hoisin, rice vinegar, and mirin.
Remove salmon from oven and coarsely chop. Drain noodles and combine with salmon. Mix in spinach, raisins, and almonds. Drizzle with dressing and toss together to coat.
This is a great recipe for a busy night – very little planning required. And with less than 30 minutes from start to finish, you don't have to spend long in the kitchen to enjoy this one. Don't forget to pin it for later, so you will have a backup plan when you need a quick dinner!
******************
Questions for you:
Do you do the cooking at your house or share the load?
Any tips to get out of a cooking/planning motivation slump?