This is a first on Better With Veggies. I have kept this blog 100% plant-based from when I started almost 2 years ago. For months, I've been debating if it was time to change that as my eating habits have changed. In fact, this recipe was actually created and photographed on Memorial Day weekend.
A very wise woman told me this week that I shouldn't be as concerned with the label and just be myself. So today, I'm doing just that.
I can't think of a better way to introduce seafood to the blog than to share a lowcountry boil! This is the type of recipe that I remember as a child, although being in New Orleans this probably would have featured crawfish.
Since that's a little harder to find fresh in Colorado, we decided to stick with shrimp (affiliate)!
Lowcountry Shrimp Boil
Cuisine:
seafood, pescatarian, cajun
Author:
Ingredients
1/2 teaspoon cayenne
1/2 teaspoon ghost pepper salt (or regular salt)
1 teaspoon mustard seed
1 1/2 teaspoon chipotle chile powder
1 1/2 teaspoon smoked paprika
2 teaspoon crushed red pepper
2 teaspoon black pepper
2 teaspoon salt
1 tablespoon Tabasco, or more to taste
2 pounds shrimp (26 ct)
2 cups water
4 ears corn, trimmed & cut in half
4
Mexican Chipotle Field Roast Sausages
, cut into 1 inch slices
4 Yukon gold potatoes, cut into fourths
4 lemons, cut in half
4 sweet onions, cut into fourths
French or Sourdough bread
Instructions
Combine cayenne through salt in a small bowl. In a large Tupperware container, combine spice mix, Tabasco, & shrimp. Top with 2 cups water and marinate for 60 minutes.
In a large pot or outdoor fryer, combine corn, tomatoes, onions, & cover with water. Bring to a simmer and cook for 20 minutes, or until potatoes are tender. Add corn and sausage, cooking for an additional 5 minutes. Finally, add shrimp and cook for enough time for the shrimp to pink and become opaque. Remove immediately so you don't overcook the shrimp.
Serve hot with a chunk of bread. Enjoy!
If you like spice (like me) don't hold back on that Tabasco. In fact, you might bring a little extra to the table to season as you eat. If spice in not your thing, the amount in this mix should be about right as written.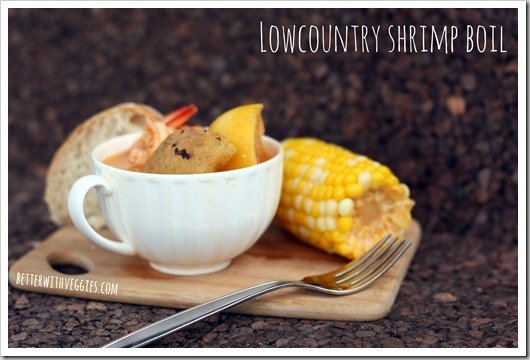 I hope you enjoy my first pescatarian recipe! If this is something you guys enjoy, I hope to share more over the next few months, particularly as I move into competition prep. Let me know what you think!
********************
Questions for you:
What's your favorite type of seafood?

Mild or spicy?

Do you want to see more or less fish/seafood recipes?