Last night we had some awesome people over for dinner, who we haven't seen in far too long. Their daughter wasn't even walking the last time we saw them, but she is now walking all over the place. You know, she also really liked my tutu! 🙂
For dinner, Kirk made the appetizers and I made the entrée and dessert.
Appetizers for the evening were a mix of sweet and savory. The sweet was a strawberry gelatin (with xanthan gum); the savory was olive tapenade. Thanks to Kirk for prepping these before I even came home from work – – he's such a great help!!
The olive tapenade was a traditional mix of olives and garlic, but the strawberries were very creative and delicious. I'd like to test this one more time before posting, but stay tuned for the recipe soon!
Dinner was a reprisal of the Walnut Crusted Tofu and Spicy Kale Salad – I think this is my favorite recipe right now and it was a hit with our non-veggie guests. 🙂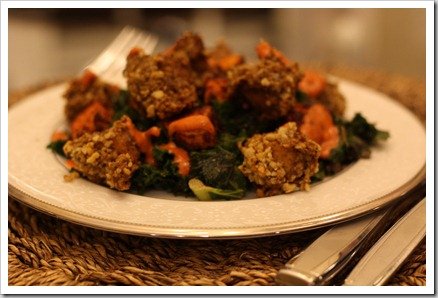 Finally, a delicious twist on Strawberry Shortcake that I found on Honest Fare. This was a fun twist on the traditional shortcake, filled with a custard-like filling that was fabulous! The crust was a little softer than I wanted – just another 5 minutes would have been perfect. Everyone's plate was empty at the end, though, so it was still a success!!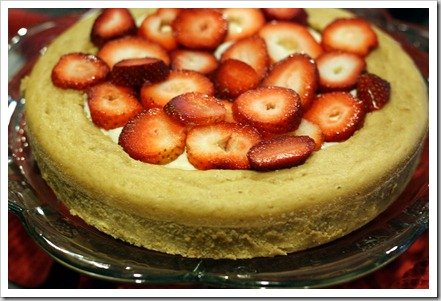 Served with a bottle of Prosecco we picked up from Whole Foods earlier this week – it was a perfect evening.
*************************
Questions for you:
What is the last dinner you made for friends?

What is your favorite beverage pairing with dessert?