This is normally the day I post WIAW, a great weekly tradition. Unfortunately, I seem to be getting worse at photographing my meals recently and after forgetting again at dinner on Tuesday night (a tasty Whole Foods Hot Bar concoction), I was out of time. So instead, let's keep on the race theme and talk about post-race brunch!!
After Sunday's race, it was time for some fun and socializing with some great friends – both "old" and new! Lindsay's hubby, Travis, captured some great pics of the afternoon. Thank you, Travis!!
First, we spent some time chatting in the sun in Centennial Park– crazy, because I remember being freezing in the park after last year's race. The weather was already in the 60s this year – very comfortable for spending some time outdoors.
Left to Right: Kirk, me, Tina, Lindsay, and Clara. Photography by Travis.
We all cleaned up – Kirk and I headed to Laura's place for a shower – then regrouped at Stone Soup Kitchen for Brunch.
Stone Soup Kitchen

I came across Stone Soup Kitchen when we were brainstorming restaurant ideas a few weeks ago. A cute little eatery in Grant Park with a covered outdoor patio that was perfect for the unseasonably warm March day. We arrived just as Travis & Lindsay grabbed a table – great timing, right?
From left to right: Laura, Tina, Lee, Kirk, me, Lindsay, and Clara. Photography by Travis.
I had forgotten how good the menu looked, so I got excited all over again about all the vegan choices on the menu. Selections were clearly marked (always a plus!) and they also had marked Gluten Free options. There were so many things to choose from!
Despite all the choices, I quickly settled on the Vegos Rancheros.

The huge pile of tofu was delicious – it was slightly crispy and very much the texture of hard scrambled eggs (from my memory). And look how big those slices of avocados are – so many restaurants are skimpy on the avocado. I topped this with salsa and hot sauce and gobbled it up.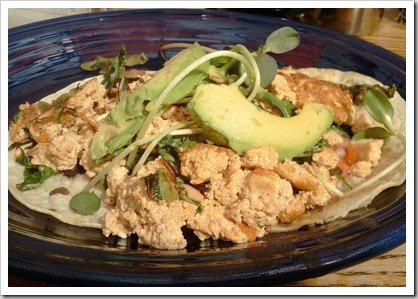 Conversation at lunch was great – it seemed like I had known the other girls forever. And I was glad to hear that Travis (who is still in IT) had similar website frustrations as me. =)
The only downside to brunch was that drinks are not served until 12:30PM on Sundays and we were almost done eating at that point. I hope that law is the next one to go in Georgia. 😉 I absolutely recommend Stone Soup Kitchen if you're in the Grant Park area – and it's worth a trip even if you're not planning on being in the area!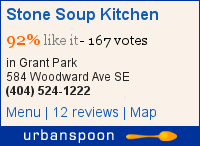 ************************
Question for you:
What is your favorite brunch drink? Mine is Bloody Mary's, spicy and peppery with pickled okra and olives.