Before I moved to Colorado (over three years ago), I wouldn't have described myself as an outdoor enthusiast. I loved to run and cycle outside, but the only time I really explored the outdoors was when I was a girl scout troop leader (in my 20s). So it's fair to say that I was a complete newbie to the adventurous, outdoor lifestyle that I've adopted recently. Everyone starts somewhere!
This past weekend, I bagged my fourth 14er – Mt Sherman. Yep, I'm even using the lingo now. Bagged is the hiking term for completing a summit. I love the accomplishment of adding a new 14er to my list. Even though it's tough, completing one gets me excited to plan the next one. I learn something new on each hike, which makes the next one just a little better. Instead of learning the hard way, I decided to share some of my tips with you, so you can skip the learning curve.
Disclosure: This post is sponsored by Vocalpoint and DICK's Sporting Goods. While I was compensated for this campaign, all opinions are my own. You can read my disclosure policy here.
7 Tips for Hiking Your First Colorado 14er
1. Start Small
If you're new to hiking, start small by planning a number of hikes of increasing difficulty to test your fitness. The distance is typically less challenging than the vertical gain, so build up to hikes with more feet of elevation gain. If you find you're struggling with your breathing during these training hikes, consider focusing on your cardiovascular fitness in training. I like to use running to prepare my lungs for the challenge of hiking, although there are plenty of cardio options to choose from. If your legs are giving out before your lungs, focus on building your muscular endurance through strength training.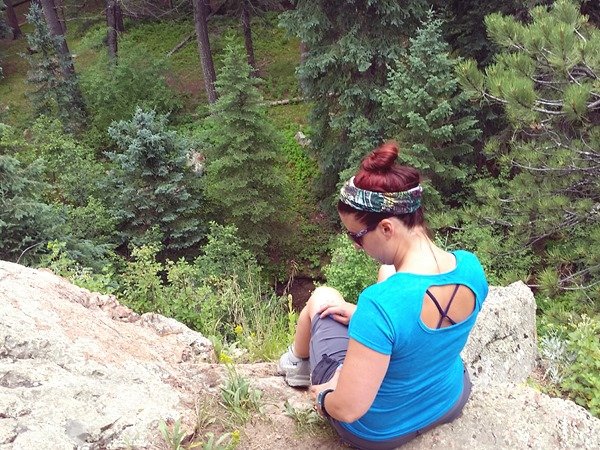 Pictured above:  The North Face Women's Hekili T-Shirt, Buff Earl Grey UV Buff
2. Get the Basic Gear
You don't need specialized equipment to climb most 14ers, but there are some basics that will make your experience more enjoyable.
Let's start with the importance of layering! The weather can drastically change from the base of the mountain to the summit. Dressing in layers gives you the flexibility to layer up or down, based on the changing weather. I like to start with a short-sleeve base layer, a light long-sleeve layer, a warmer layer (fleece is great!), then a waterproof top layer with a hood. On the bottom, I favor convertible pants that can quickly unzip to shorts. The final touch is a good pair of warm gloves and headwear to cover your ears.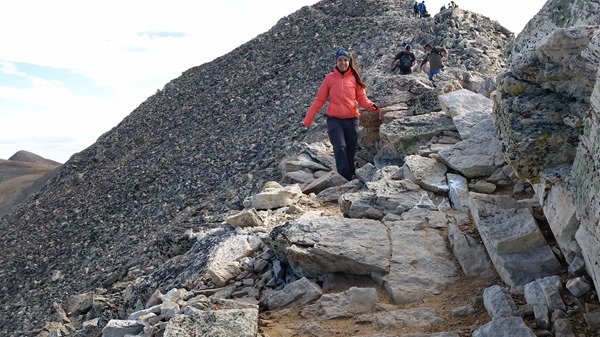 Pictured above: Columbia Women's Switchback Rain Jacket, Buff Earl Grey UV Buff
A good pair of hiking boots can make a huge difference in your comfort and traction on the trail. I hiked in trail running shoes for several years before springing for my first pair of good hiking boots. While they worked well, the difference I feel in my hiking boots is incredible. I wish I had upgraded much sooner!
An optional item to consider is hiking poles. While I haven't brought a pair on any of my 14er hikes, I regretted not having some for at least 2 of the 4. Not only do they add extra balance on the ascent, but it can make slippery descents much easier (and safer). It also keeps your hands elevated, which alleviates the swelling you'll likely experience in your hands from hiking with them by your side.
Hint: Use your test hikes to find gear that works best for you. It's always better to find something doesn't fit well on a shorter, easier hike!
[Tweet "Tip 2: Get the basic gear to #hike your first #colorado 14er. Get all 7 tips;"]
3. Choose a Class 1 route for your first
When choosing your first (or next) 14er, one of the primary considerations should be the route's class. The easier routes are rated as a Class 1 (trail hiking), with the most challenging identified as Class 5 (technical climbing). Class 1 & 2 is considered hiking, where Class 3 and above are all climbing categories. I would highly recommend starting with Class 1 to make your first experience the most comfortable.  Remember – there's no such thing as an easy 14er, but some are less difficult than others!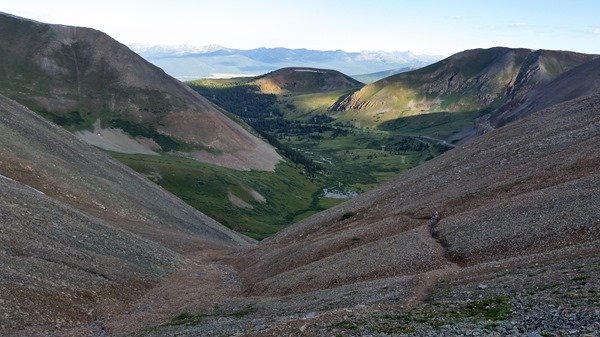 You can find descriptions of each peak on 14ers.com or in Gerry Roach's Colorado's Fourteeners book (affiliate link).
4. Pack Water & Snacks
Your 14er hike is going to last several hours, so fuel & hydration is a key consideration. Many people enjoy having snacks that they can eat along the hike – so look for something portable and easy to eat on the go. Good suggestions include trail mix, energy bars, protein balls, and beef jerky. I had a friend bring chocolate covered coffee beans on one 14er, which was pretty amazing when we were exhausted near the top of Mount Bierstadt.
For hydration, most people bring a Nalgene bottle filled with water or a hydration backpack. The longer and more challenging the hike, the more water you need. Don't underestimate the importance of this – you're going to get thirsty on a hike like this!
5. Start Early
Colorado weather is unpredictable, so the general recommendation is to aim to complete your hike and be back below treeline by 12PM. Honestly, I have only followed this advice one out of the four 14ers I have hiked. My recommendation? Do what I say & not what I do – lightning danger is very real and you don't want to get caught exposed on a 14,000+ foot mountain during a storm. So start hiking early!
If you don't want to get up too early, consider camping near the mountain. If you're not into camping, find a hotel or rental property in the closest city. This makes getting up and to the trailhead much easier when morning rolls around. My goal is to get on the trail by 7:30AM, but you may want to start even earlier depending on how long you plan on hiking.
Another perk of an early start? Less crowds on the trail and at the summit.
6. Take It Slow
Kirk and I tend to power through hikes. We are constantly reminding each other to slow down and enjoy the hike. But if you try to power through a 14er, you're going to be wiped out quickly. I've been trying different approaches to 14er hikes the last few years, but my approach to Mount Sherman last weekend seemed to work the best. Slow and steady, instead of slightly faster with many breaks.
Tackle the climb like you're climbing a hill while running – small steps and a slower pace. The small steps helps dial down the effort required for each step (you're lifting your body a shorter distance with each step) and the slower pace helps you control your breathing. I'm not holding a conversation while climbing, but I use the constant momentum to keep moving forward at a steady pace.
This is also works when you're a little freaked out from the height or crossing a ridge in windy conditions. Just focus on those small steps forward and take your time. Give this approach a try and let me know how it works for you!
7. Reserve energy for the descent
You finally reach the summit, your breathing is returning to normal, and you're starting to get a bit cold. The hard part is over, right?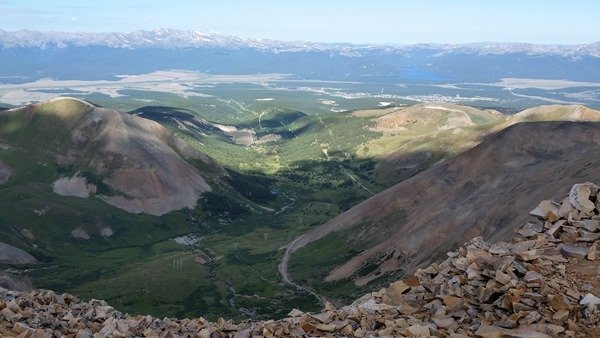 Probably not. The descent of a tough climb like this can be almost as much work as the climb up! I find descending rocky terrain a little tougher than going up, as you focus on your footing and not slipping down the mountain. Your momentum is pointed down the slope, so your legs are working to slow your descent — constant breaking. You'll feel the burn in your quads and knees – which is where those hiking poles will be most appreciated! Remember to meter your effort on the way up, so you're not out of energy for the hike back down.
[Tweet "7 tips to hiking #colorado 14ers. Great for first time planning! #fitfluential "]
******************
Thanks to Dick's Sporting Goods for providing the gear for Mount Sherman (and many other recent outdoor adventures). Be sure to check out your local store to find the right gear for your next fitness adventure. Their newly redesigned women's department makes the shopping experience much more enjoyable, even for those of us who don't love shopping. I appreciate that they carry top brands, so I know I can trust the quality of my selections.