One of the best things about creating a new recipe is taste testing. I don't always make recipes multiple times, but this was one that I enjoyed tweaking and eating several times. I was happy to eat this for lunch or dinner, paired with a kale salad more often than not. Cheesy pasta balanced with greens – yep, that's the way I roll!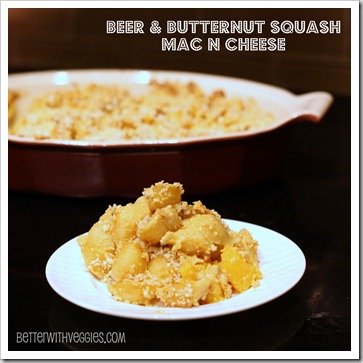 I'm apparently on a vegan cheese kick recently, which is fine with me! And Kirk isn't complaining much either. This particular recipe started a picture I saw on pinterest and knew I had to veganize it. I actually have a board devoted to those type of ideas, but they don't always turn into recipes. I'm so glad this one did!
If you're looking for a mac n cheese that is swimming in sauce, double the cashew cream and the cheddar cheese. If you're a fan of a lighter coating, I think you'll like the ingredients the way they are.
Beer + Butternut Squash Mac N Cheese
Author:
Ingredients
1 lb butternut squash, diced
9 oz pasta
2 garlic cloves, minced
3/4 cup cup almond milk
salt & pepper
1/2 cup cashews
1/4 cup water
1/2 cup silken tofu
2 tablespoons nutritional yeast
1/2 beer
1/2 cup cheddar
1 jalapeno, diced
1/4 cup bacon bits
1/2 cup panko
Optional toppings: non-dairy sour cream, salsa
Instructions
Preheat oven to 375 degrees.
Cook pasta according to package directions. Drain & set aside.
Add butternut squash, garlic, and almond milk to medium pot coated with cooking spray. Cook over medium heat for 20 minutes (or until soft), stirring occasionally.
While squash is cooking, grind cashews in food processor until reduced to a course meal. Slowly add water until paste until cream is formed. Add nutritional yeast and silken tofu and blend until smooth.
Add cashew mixture, beer, and non-dairy cheddar to pan and stir until cheddar is melted. Stir in jalapenos and bacon bits.
Add pasta and stir until evenly coated. Transfer mixture to casserole dish or 9×9 baking pan coated with cooking spray. Top with panko.
Bake for 30 minutes or until top is browned.
We enjoyed this both without toppings and with sour cream & salsa – depends on the mood I'm in. I think this is one of those recipes I could make multiple times…I mean, it is mac n cheese!
***********************
Questions for you:
Any flavors you've been eating a lot of recently?
What is your favorite comfort food?
What would you pair with the Mac N Cheese?