Last weekend Kirk and I headed to the mountains on Saturday morning for a different kind of cardio workout. Instead of heading out for a run, we headed up the mountain to conquer my first 14er. Kirk did his 14er in high school on a summer trip.
According to Wikipedia, a 14er describes a summit over 14,000 feet with at least 300 feet of prominence (distance from a higher summit). In Colorado, there are 53 summits that meet that criteria, each classified by degree of difficulty from 1-5. Class 1 is the easiest and that's where you'll find Gray's Peak.
We got to the trailhead around 9:00AM and started the long hike to the top. It's about 4 miles to the summit, with most of that being a moderate or steep grade. The beginning is fairly benign with railroad ties forming steps.
The scenery along the hike is breathtaking with rock-filled streams down near the base. It was hard not to stop constantly taking pictures, but once the hike got going I was too focused on breathing to stop as often.
This was our first difficult hike and we knew we were likely underprepared with our gear. I wore my favorite trail running shoes, the Vasque Mindbenders I got last year, and they worked out pretty well! Probably time to get some real hiking shoes.
As far as hiking clothes, I started in my Ellie Double Decker Capris and my "Stronger Than You Think" tank from Living Proof Gear. As it got colder, I added another Ellie top (It Takes Too) and a final layer of a Columbia jacket for the blowing wind.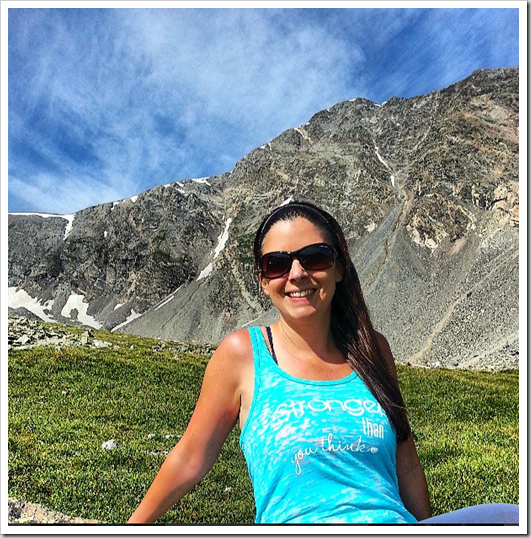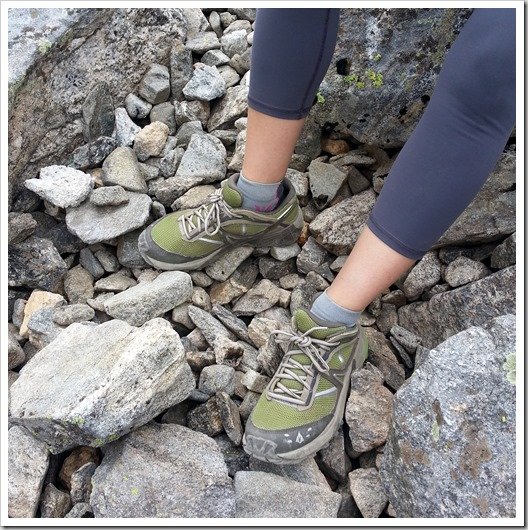 As we worked our way up the mountain, it quickly got to the point where I was breathing as heavily as if I was racing a 10K. I was surprised it was so tough so soon and there weren't as many flat sections as I had expected.
I tried to distract myself with the gorgeous views all around me…which mostly worked!
What I didn't expect at all was how the altitude effected me on the hike. I had read about this, but assumed that after living at 6000ft for the last year and many snowboarding trips to higher elevation I would be fine. Luckily, we packed a can on oxygen at the last minute.
As I started to feel dizzy, we would slow down (or stop for a few minute) and I'd take a few "shots" of oxygen. After a few minutes I would be ready to move on again.
I felt like the climb up went on, and on, and on. It was really hard near the top and I was hiking REALLY slowly to just keep myself moving forward. Eventually, we hit the last switchback and people encouraged us with promises of the top right ahead. Thank goodness!!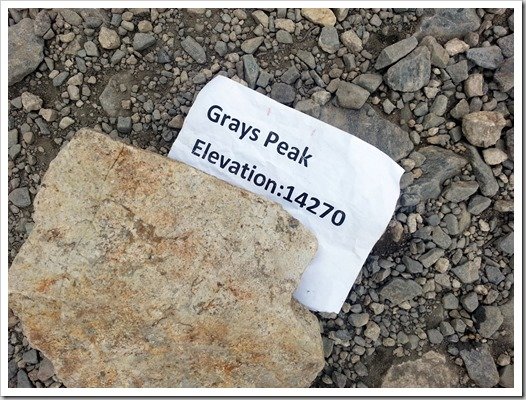 The summit was beautiful and not too crowded for a Saturday. We took a million pictures and signed the log to prove that we made it to the top!
Then we sat down and ate our lunch. Our no-planning meant that we stopped at Safeway on the way to the mountain and Kirk got this GINORMOUS sandwich that he ate along the hike. This thing was as big as his head!
I bought a package of sushi, so we likely had the oddest lunch to eat at our first summit. But hey, it's memorable!
There is also a second peak adjacent to this one that many people will summit during the same hike. We decided against that for this hike when it started hailing a little as we started back down. The weather held out, but you never know!
The way down was actually harder than I expected, as we tried not to slide on the rocks and find our footing. I would really like to get a pair of hiking poles for our next 14er – that would have made me feel A LOT steadier as we descended.
We also heard this really obnoxious, screeching noise at around the halfway point. At first I thought it was a bird, but it turned out to be a Marmot! I had never seen one of these before, but look how cute they are!
As we got closer to the bottom, we found a field of flowers that we saw others taking pictures in on our way up. I had to stop and take pictures, because it's not every day you have a scene this idyllic to take advantage of! Wildflowers all around and mountains in the background….do I really live here?!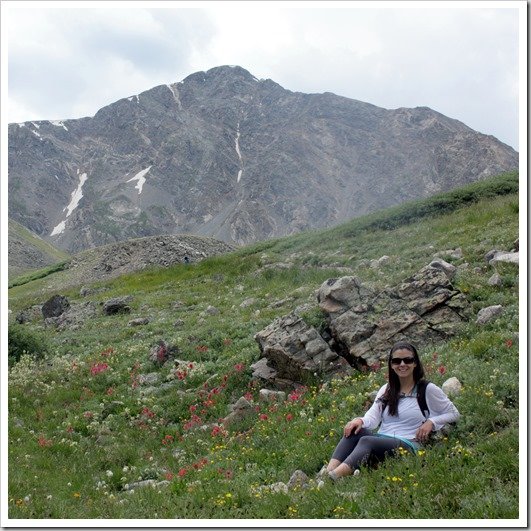 After 5 hours of hiking and a 30 minute lunch break at the top, we arrived back at the base to begin our drive home. It was a wonderful experience for our first hike, the difficulty of the ascent quickly forgotten and plans of our next 14er already underway. There are 52 other summits to check off the list, after all!
*******************
Questions for you:
Have you hiked a 14er?
If so – which one(s)?
If not – what was your favorite hike?