I've been seeing chia jelly recipes for quite some time now, but it's not something I paid much attention to. It almost seemed too easy, which can get lost in the shuffle of recipes I want to try. After enjoying a fresh Colorado peach on Saturday night (as part of my cheat meal), I knew it was finally time to give this a try.
Unfortunately, I don't have much fruit in my competition diet. So I took Kirk up on his offer to help with recipes during training and asked him to create this fresh jelly with local (Colorado) fruits. I knew that Peach & Blackberries would be delicious together, but he suggested the lime that really made the flavors pop. I may have snuck just a small taste of the finished product.
I was pleasantly surprised by how well the chia jelly sets up, although it's better described as a fruit spread versus a traditional jelly. Sweetened with just a little stevia, instead of the sugar that you find in most store varieties. And with the added superpowers of chia (omega 3, calcium, fiber, and protein are just a few), it's gotta be good for you!
Blackberry-Peach Chia Jelly
Keywords: blender raw breakfast dessert gluten-free nut-free soy-free vegan vegetarian chia summer
Ingredients
1 peach
10 blackberries
2 teaspoons lime juice
2 1/2 tablespoons chia seeds
10 drops vanilla stevia (or more, to taste)
Instructions
In a food processor or blender, liquify the peach and blackberries. Transfer to a small bowl and stir in lime juice & chia seeds. Finally, add 10 drops of stevia (more if you want a sweeter result) and stir well.
Cover bowl and allow to setup in the refrigerator for at least 60 minutes. Spread on toast, use as a topping of your favorite breakfast or dessert bowls, or just enjoy by the spoonful!
So don't be like me and wait months to try chia jelly for yourself – make it this week! You can easily mix up the fruits to find what's available in your area.
In case you were wondering, I wouldn't recommend squashes (like pumpkin) in the mix. Although they are sweeter, it doesn't seem to have enough liquid to work quite right. It's a shame, because I'm always look for fun ways to sneak in more veggies right now. Although if you find a way to make it work – let me know!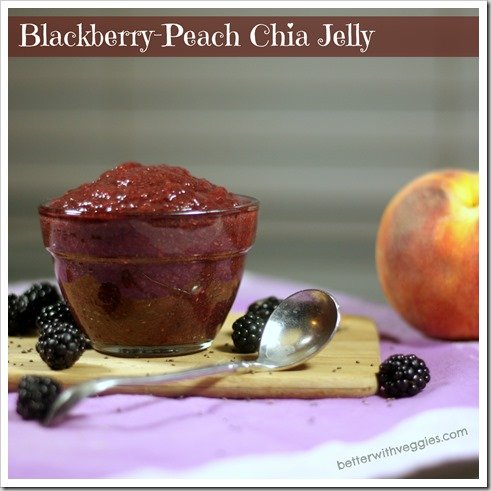 Now it's time to see what everyone else created with this week's Jelly challenge. I wonder who else created their own version of Jelly and who used it in their recipe?
In case you're new to Meatless Mondays from A-Z, check out all the details of how you can get involved (either this week or anytime in the future!). It's a great way to challenge yourself to create a new recipe or just cook an existing recipe with the ingredient of the week.
********************
Questions for you:
What fruit is tasting particularly fresh in your area?

Have you made chia jelly before?