One of the side benefits of healthy eating and following a nutrition plan is the forced creativity. I found this was true when following a plant-based diet as well, since it gives you guidelines to work within. Your perspective on those guidelines is important – do you see it as inspiration for creativity or limitations? I choose to see it as inspiration.
Disclosure: The following post and recipe is sponsored by French's Yellow Mustard as part of the #NaturallyAmazing campaign. As always, all opinions are my own and I only share things that I would recommend to my friends and family. You can read my disclosure policy here.
Along those lines, condiments are a great way to add extra flavor without a lot of extra calories. When French's Yellow Mustard asked me to develop a farm-fresh recipe, I saw it as a perfect fit! Not only is it a no calorie option, but French's Yellow Mustard is 100% natural. You will recognize every ingredient on the label!
The idea for this recipe came when I was preparing a side to go with local antelope burgers. And by local, I mean our neighbor brought it back from hunting! I was going to use my typical balsamic-honey marinade for the Brussels sprouts when I saw the French's Yellow Mustard in the fridge. A few ingredients later, a new favorite was born! Kirk get's all the credit for the addition of cinnamon, which adds a subtle spice that really makes this shine.
You can pair this side with your favorite protein – whether that be a grilled tofu or a grilled meat. Both would be excellent options, depending on your preferences or mood for the day.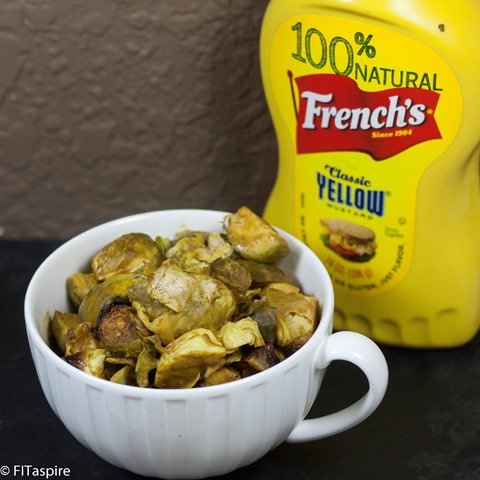 Honey Mustard Roasted Brussels Sprouts
Author:
Prep time:
Cook time:
Total time:
Ingredients
165 grams fresh Brussels Sprouts
2 tablespoons French's Yellow Mustard
1.5 tablespoons maple syrup, grade B
1/4 teaspoon ground cinnamon
Instructions
Preheat oven to 400 degrees. Coat oven-safe dish with cooking spray.
Coarsely dice Brussels sprouts. Combine mustard through cinnamon in a small prep-bowl and stir until combined. Toss diced Brussels sprouts with mustard sauce until evenly coated. Pour into dish and bake for 20 minutes.
Serve with your favorite protein for a balanced meal!
[Tweet "A #NaturallyAmazing #recipe for Honey Mustard Roasted Brussles Sprouts from @FITaspire"]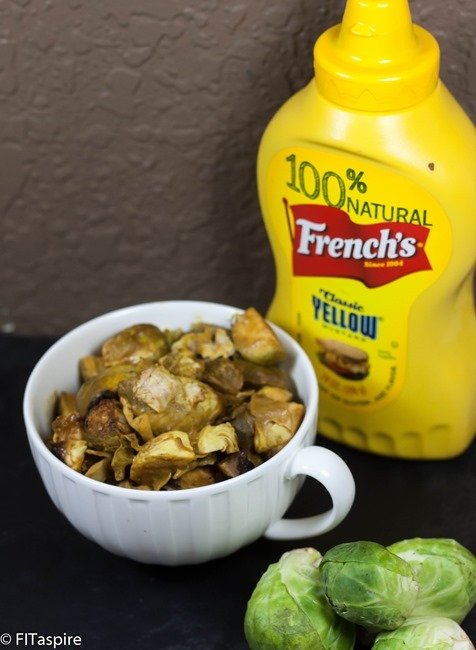 You can find more #NaturallyAmazing recipes on the French's pinterest board (lots of recipe inspiration here!).
********************
Questions for you:
What was the last mustard recipe you cooked?
Are you a Brussels sprouts fan or still wary?