One of the things we love about vacation in Utah is our West Gate Park City condo at The Canyons. It's a warm, inviting, relaxing location to spend time when we're not on the slopes. With the warm weather this year, we even used that balcony for dinner the first night!
I'm not kidding when I say I love to cook – I even enjoy cooking on vacation! It's relaxing, especially when we have no timelines, nowhere to be, and no hurry. The kitchen is small, but it comes stocked with the basic cooking needs. I did bring my own tofu press and donut pan with me…yes, seriously!
Why the donut pan? I figured vacation was the perfect time to try a new donut recipe, after the success of my first attempt (Maple Bacon Donuts)! This was another idea inspired by Doughbot Donuts in Sacramento — Peanut Butter & Jelly Donuts.
I wasn't sure if filled donuts were possible in the basic donut pan (similar to this one), but I'm glad I tried! It takes a little extra effort, but not much!
I used quinoa flour in these, because I found it at the local Whole Foods. I think you could also use Chickpea or Almond flour for a similar kick of protein in the donuts. Honestly, it's probably overkill with all that peanut butter on the top, but I love protein-rich breakfast treats.
Just two of these tasty treats kept me going strong all morning, including 2 hours on the slopes! I made the second half of this batch the morning we left Utah and topped a few with Justin's Chocolate Hazelnut Butter.
I also think you could fill the donuts with nut butter & top with jelly – that would be an interesting spin on these breakfast treats. Let me know if you try this!
Peanut Butter & Jelly-Filled Donuts
Author:
Ingredients
1 cup Quinoa Flour
1 cup Flour
1 cup sugar
3 teaspoon baking powder
1 cup non-dairy milk
1 teaspoon apple cider vinegar
1 teaspoon almond extract
8 tablespoons non-dairy butter (Earth Balance)
6 ounces jelly
1 cup peanut butter (or hazelnut butter)
Instructions
Pre-heat oven to 350 degrees.
Mix the dry ingredients together in a medium bowl (flour through baking soda).
Mix the wet ingredients together in a small bowl (almond milk through extract)
Combine wet & dry ingredients together in one bowl and mix until just combined.
Heat jelly/jam in small microwave-safe bowl for 20 seconds on high heat.
Spray donut pan with cooking spray. Transfer batter to donut pan using small spoon or tablespoon, just enough to coat the bottom of the pan. Pour thin layer of warmed jelly/jam on top of donut batter. Top jelly with remainder of donut batter, smoothing batter over jelly to ensure all edges covered.
Place pan in oven and bake for 14-18 minutes, or until donut springs back when lightly touched and lightly browed.
Allow donuts to cook completely, then use butter knife to loosen the donut edges from the pan and transfer to wire rack or plate.
Spread peanut butter (or hazelnut butter) over tops of donuts and serve!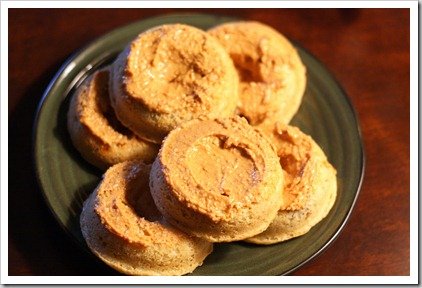 *********************
Questions for you:
Do you enjoy cooking on vacation or is it your time off from kitchen duty?

What is the strangest thing you have brought on vacation recently?