If you're like me, you find recipes several times a week that look amazing and you promise to make soon. My immediate response to a great recipe is now to add them to Pinterest, which I review every few weeks when I do my meal planning.
Some recipes I really do make really soon – some sit on a Pinterest board, begging for attention.
A great time to change that is on vacation! Not that I planned ahead of time, mind you – I actually took advantage of the wireless internet on the flight to Utah to do most of the planning. My computer died before I could finish (don't forget to fully charge your computer before boarding the plane), but I only had a few items left to plan when we arrived at the condo.
I wanted to share some of the awesome recipes I made last week, so that you can add them to your list! And a bonus dessert drink recipe that Kirk created is waiting at the end of all the delicious food.
Breakfast
I wanted at least one breakfast that we could make quickly and grab a few on the way out the door. With Laura posted her oatmeal-to-go recipe, I knew this was one I wanted to take on vacation. My tweaks were to use Ener-G for the egg replacement, maple syrup instead of extract, sugar instead of stevia, and blackberries instead of raspberries. Topped with coconut, there were a messy & delicious breakfast treat!
We made a second batch on the last morning to take with us on the flight home. They ended up a squishy mess in my purse (in baggies), so we transferred them to a small loaf pan and baked for a few more minutes the next day. Instant baked oatmeal bread! A slice topped with peanut butter was another way to make these delicious. 🙂
Raspberry Baked Oatmeal-to-Go from Sprint 2 The Table
Snacks
Being a little frugal, I really didn't want to have to buy snacks on the mountain – those things can really add up and are rarely healthy (at all!). So I picked out two snacks that would pack well in baggies, ready for stuffing in ski jackets.
First up was Tina's Crispy Chocolate Peanut Butter Bars! Tweaks included brown puffed rice (generic from WF), maple syrup for the honey, and coconut mix-in. We made these in a round casserole dish, which wasn't ideal, but what we had in the condo. Either way – they turned out GREAT and we wished we made a double-batch!
Crispy Chocolate Peanut Butter Bars from Tina Reale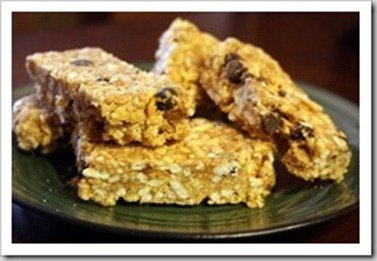 Although I have no photographic proof, we also made a batch of Peanut Butter Doughtzel Balls from Stuft Mama. Mine were not gluten free, but they were still delicious treats and also worked well in the snack baggies. Tweaks to this recipe included chia seeds instead of xanthan gum, quinoa flour instead of almond flour, and pretzel thins instead of the gluten free pretzels. This made the exact number of balls she states in her recipe, which I thought was pretty darn impressive!
Lunch
For lunch, we made Mama Pea's Thai Fried Quinoa, which may be my favorite way to enjoy quinoa right now. This is a mess of veggies, quinoa, and leftover tofu scramble – it's quick and easy to throw together (if you've already made tofu scramble), feels light, but is really filling. Another Mama Pea winner, as if there were any doubt!
Thai Fried Quinoa from Peas and Thank You
Dinner
Our first evening's dinner was the best of the week!! The Spicy Smoked Maple Tofu on Rice and Garlic Maple Kale was beautiful to look at and tasted out of this world. I think you can see from the picture how golden and crusted the tofu came out – that glaze was fantastic!! The only recipe tweak was to use truffle oil, because it was (seriously) the cheapest oil at WF when we went shopping and I didn't want to buy multiple bottles on vacation. 🙂
Spicy Smoked Maple Tofu on Rice + Garlic Maple Kale from Edible Perspectives 
Dessert Drink
And finally, a bonus recipe that Kirk created early in the week. Apparently this is a photo-less recipe, but I think you'll agree just from reading the recipe that it's a good one. A great way for those of you who aren't ready for flambé to enjoy the delicious flavors I love from Bananas Foster – in a glass!
Bananas Foster on Ice
Keywords: blender beverage dessert vegan vegetarian
Ingredients (2 drinks)
2 tablespoons Earth Balance
4 tablespoons brown sugar
1 tablespoon almond milk
1 banana
120 ml whipped cream vodka, divided
8-10 ice cubes
Instructions
Melt butter on stovetop over high heat
Reduce to medium-high, add brown sugar and stir to combined (about 2-3 minutes)
Slice banana and add to stovetop mixture
Reduce heat to medium-low and cook for 2 minutes. Flip bananas and cook for an additional 2 minutes. Bananas should be browned and softened.
Remove from heat and add 40 ml of whipped cream vodka. Return to low heat for 2 minutes.
Add mixture and ice to blended and blend until smooth.
Pour 40ml each into two highball glasses. Pour mixture evenly into glasses –adding additional ice, if desired.
************************
Questions for you:
Do you have a recipe that's been calling to you from a Pinterest board? Share a link below!

Have you tried wireless internet on a flight yet?

How do you bookmark your "to-cook" recipes that you find online?