Before you think we were disciplined (or boring) enough to eat in every meal, it's time to share some of our "Eating Out" adventures in Utah. I didn't bother to share our on-slope lunch of vegetarian chili fries or my unplanned fries for dinner at Wasatch Brewery in Park City.
Come to think of it, I had fries THREE times during our trip! It's a good thing I'm eating cleaner this week. 🙂
Of the places we enjoyed meals, here are three that I wanted to share a little more about.
Vertical Diner
The moment we landed in Utah, I was hungry. Are you surprised?
I immediately pulled up Happy Cow and found many veggie & vegan options to choose from – it was pretty impressive, actually. The one that had the best reviews was Vertical Diner and it was less than 10 miles away. Perfect!
We pulled into the restaurant in a fairly industrial part of town and walked in to see a cute diner with traditional booths and ski photography on the walls.
I stared at the menu for a solid 15 minutes, which was good because the service was S-L-O-W. I think the reason this restaurant gets mediocre reviews is because of the service – they are way too laid back and it took forever to place our order with a server. We expected that, however, based on the comments on Foursquare for this restaurant.
Putting that aside – the food & drink was delicious! All food was 100% plant-based and 100% tasty. We split a large format Gallaway Porter and started with a plate of Chili Cheeze Fries. Some of the best fries we've had in a while – might even be better than my homemade cheeze sauce!
Kirk ordered the Jalapeno Burger, for which he chose the Mexi-Cali (black bean) burger base. You can choose from 3 different burgers for each of their burger selections – very cool!
After intense internal debate, I opted for the biscuits & gravy with tempeh bacon & fried chikn. I realized how out of practice I am with a huge menu of choices, I was literally frozen with indecision – so much to choose from!
We split both entrees and I'm not sure which was better. They were both delicious – just different. With so many other amazing options on the menu, I wish we had time to go back for another meal during the week. Highly recommended for anyone in Utah!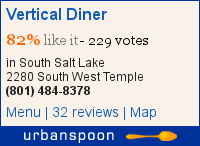 Indochine Vietnamese Bistro

Next up was a South East Asian restaurant near the University of Utah, called Indochine Vietnamese Bistro. One of the things that attracted me to this restaurant was a clearly marked menu for Vegetarian, Vegan, and Gluten Free options – I love marked menus!
We walked in for a very late lunch, so we were part of a very small crowd, but the service was good. I ordered the Crisp Tofu and Rice Paper, which was immensely better than I expected. Don't you love when you order something that is even cooler than you realize?
They brought me a HUGE bowl of hot water, which I dipped the rice paper in to make them soft & pliable. Then I piled on the peanut topped tofu, cucumber, carrot, mint, lettuce, and peanut sauce you see in the picture above – generally making a HUGE Asian "burrito". They were stuffed full and DELICIOUS!
A great selection of Asian treats here and very aware of any food preferences or allergies.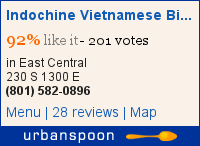 The Farm
The Farm is a popular restaurant on the property at The Canyons, which made it very convenient for us to visit for dinner. No driving, just walking is a win!
I called ahead, since the menu wasn't even vegetarian-friendly and was pleasantly surprised with how accommodating they were. They promised that although their menu didn't reflect any plant-based options, the chef would be able to create something delicious for me.
When we arrived at the restaurant, we ended up waiting another 20 minutes to be seated, which isn't my favorite, but I understand you can't always tell with other diners will finish their meals. I reminded them of my eating preferences and agreed to be surprised with whatever the chef had created.
When dinner arrived, I was very pleased to see all the veggies and the grains, all cooked in a light oil. It was delicious, although a sauce would have been a nice addition. The variety of veggies was fantastic though!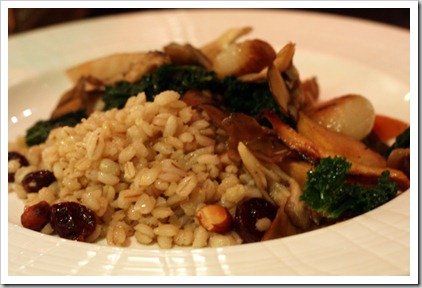 I have to say, that although the food was good, I think this was a bit overpriced. My entrée was in the mid-20s, which probably should have been priced in the mid-teens. Good, but not quite the overwhelming experience I was hoping for.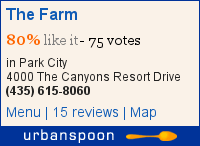 And that's covers the highlights of our week in Utah – a week of posts for a week on the slopes! I hope you have enjoyed my vacation recaps, photos, and stories this week. It was fun reliving and sharing my experiences with you and I hope it was somewhat interesting for you too. 🙂
***************************
Questions for you:
What is the best restaurant you have visited recently?

What vacation plans are you looking forward to next?

It's Friday!! What are you most looking forward to this weekend?