I'm back with the next course of the Tour of Europe Pairing Dinner – Mushroom Tortellini Soup! Homemade pasta is one of my favorite dinner treats and it earns you some serious bragging rights with many people. Not a quick weeknight meal, but it's not hard if you have a little extra time!

I took some time to take pictures of the assembly process on this one, because I wanted to be sure the steps made sense.
Once you get one of these down, the rest are easy-peasy.
And the cooking time – only about 30 seconds! Fresh pasta makes such a difference.
You might recognize the base for this soup from last week's Meatless Mondays from A-Z. I told you I'd be making more with this amazingly flavorful broth and I wasn't kidding! To be honest, I cooked a second batch the next day to make sure I had plenty for both recipes.
When we made these, the broth went straight from the crockpot to the bowls – no seasoning at all. Oops! But honestly, I didn't think any was needed. In the recipe, however, I did note that you should season to taste. Everyone is a little different in the amount of salt and pepper they like in their soup.
This soup would be great as an appetizer or entrée, and pairs very well with the unique drink Kirk created for the evening: Smoky Truffle Vodka. Yes, there is liquid smoke is this drink. And it rocks!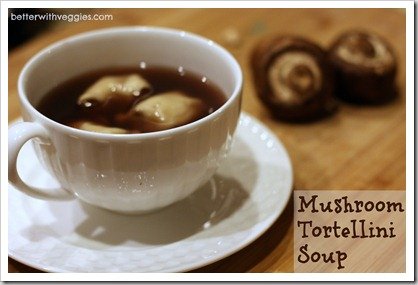 Mushroom Tortellini Soup
Recipe Type
:
Appetizer. entree
Author:
Serves:
4 appetizers (or 2 entrees)
Ingredients
1/4 cup non-dairy cream cheese
8-10 Porchini Mushrooms, finely diced
1-2 garlic cloves
salt and pepper, to taste
1 batch of basic pasta dough
4 cups mushroom stock (I use this recipe)
Instructions
+To make Filling
Combine all ingredients in a bowl and stir well with a fork. Set aside.
+To Make Tortellini
Roll out dough using rolling pin or pasta machine. If rolling by hand, roll to 1/16 of an inch thick. By machine, roll through 3-4 settings, aiming for one long sheet about 2.5-3 feet long and 6 inches wide.
Cut pasta sheet into 16 even rectangles. Top each pasta rectangle with 1 heaping teaspoon of filling. Fold each rectangle diagonally to create a triangle. Fold two ends of triangles together, then fold the third down where the other corners meet – press firmly to seal. You've made tortellinis!
Boil water in a large pot. Carefully drop in tortellinis and cook for about 30 seconds, or until they float. Set aside until ready to serve soup.
+To Assemble Soup
Ladle hot mushroom stock into bowls, seasoning with salt and pepper, if desired. Add four tortellinis to each bowl and serve hot!
Smoky Truffle Vodka
Author:
Ingredients
125ml Vodka
10ml White Truffle Oil
5ml Liquid Smoke
Instructions
Combine all ingredients in a shaker filled 3/4 with ice and strain into martini glasses. Breathe deeply and enjoy the smell – it's almost as good as the drink!
In case you want to make extra mushroom stock with this recipe, this would be a great time to also make the french onion soup!
********************
Questions for you:
What's the best soup you've had so far this year?

Have you made homemade pasta? If not, would a video help you get started?