I've been making three of the same breakfasts over and over for the past month. Although breakfast is my favorite meal, it's also the one I tend to repeat the most. Why? Because when I get up early to workout before my day job, I don't want to think too much.
Current Breakfast Staples
1. Fried Eggs, Ezekiel Cinnamon Raisin Toast, and Steamed Spinach
2. Kodiak Power Cakes topped with Nut Butter, NuNaturals Chocolate Sause, and Maple Syrup
3. Loaded Greek Yogurt Bowl (recipe at end)
Other Breakfast Ideas
There are so many other healthy breakfast options that you can enjoy. Just a few more ideas to help make your next meal plan.
4. Microwave breakfast sandwich (with my microwave poached eggs!
5. Kodiak Pancakes with a runny egg and maple syrup
6. Breakfast Smoothie
7. TVP Oats (like my PBJ "oatmeal")
8 . Egg White Omelet filled with Veggies and a side of toast
[Tweet "8 #healthy #breakfast ideas, plus #recipe for Loaded Greek Yogurt Bowl from @FITaspire."]
Loaded Greek Yogurt Bowl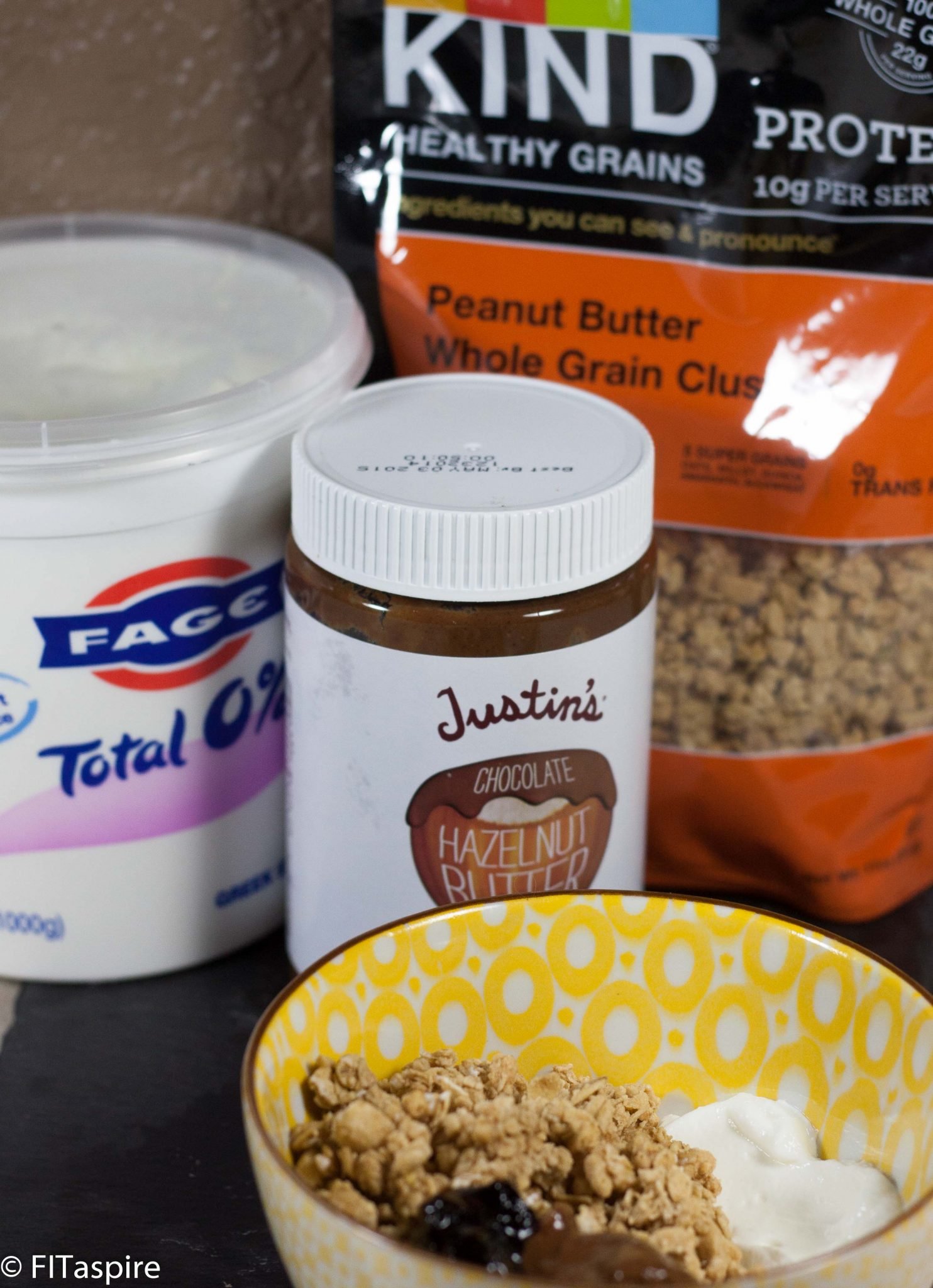 And now it's time for a recipe! Yogurt bowls are certainly now new or unique, but since I've gotten such great feedback on the simple recipes, I though you might enjoy my version. You could also make this with dairy-free yogurt to make a vegan version, although you will want to stir in a little protein powder to get similar protein stats.
Loaded Greek Yogurt Bowl
Author:
Prep time:
Total time:
A high protein, healthy breakfast that is easy to customize to fit your nutritional needs.
Ingredients
1/2 cup greek yogurt (I use [url href="http://products.usa.fage.eu/fage-total-0-greek-yogurt-6-oz" target="_blank"]FAGE Total 0% Greek Yogurt[/url])
1/2 cup granola
1 tablespoon hazelnut butter (I use [url href="http://justins.com/item/chocolate-hazelnut-butter/" target="_blank"]Justin's chocolate hazelnut butter[/url])
1/2 tablespoon jelly
8 drops Nunaturals lemon stevia
Splash of coconut-almond milk
Optional toppings: Nunaturals Chocolate Syrup, sprinkles, pitted cherries, sliced peaches
Instructions
Start by scooping greek yogurt into a bowl as the base, then stir in lemon stevia. Spread granola over half the bowl, add the hazelnut butter and jelly. Top with any optional toppings, as desired. Finally, pour a splash of almond milk to coat the granola and allow for easy stirring and extra creaminess.
One of my favorite things about all these breakfast options is they are easy to add and subtract from to find the breakfast that fits your nutritional needs! I hope this inspires you to add a new healthy breakfast into your own rotation.
*****************
Questions for you:
What is your favorite healthy breakfast right now?

What toppings would  you add to your healthy greek yogurt bowl?