How do you like to turn up the flavor on your meals? For me, I love to add lots of extra veggies, seasonings, and often a little extra heat. I'm always looking for ways to put my own twist on things and make it my own.
Recently, I had the opportunity to try
Green Giant Seasoned Steamers
and was pleased to taste how well seasoned these already were. I chose the Backyard Grilled Potatoes, which come seasoned with bell peppers and spices in the bag, ready to cook!

The preparation couldn't be easier, just pop in the microwave (directly from the freezer) and cook for about 8 minutes. After cooking, I just cut off the corner of the bag and poured them onto a serving dish.
The flavor of the potatoes straight out the bag was great! Eating this straight out of the bag would be no problem at all. I would definitely buy these again for those evenings when you're a little short on time.
Since I do love to make things my own, I thought a creamy dressing would turn up the flavor even more! Topping the potatoes with this optional dressing adds a little something extra, when you're in the mood to do something different.
Green Goodness Dressing
Author:
Ingredients
3/4 cup non-dairy, egg-free (vegan) mayo
3/4 cup non-dairy sour cream
3 tablespoons green onions, diced
1 tablespoon tarragon
1 tablespoon Italian seasoning
2 tablespoons lemon juice
Instructions
Combine all ingredients in a blender and mix until smooth. You may need to scrape down the sides to make sure it all blends thoroughly.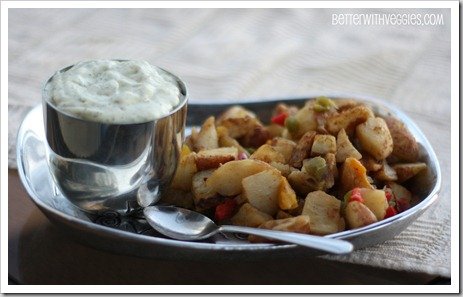 Another idea is to use these Backyard Grilled Potatoes as part of a brunch meal. Maybe paired with some Kale Sausage Balls?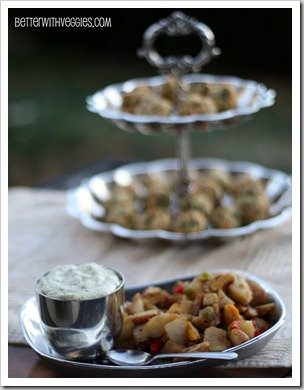 Currently, Green Giant Seasoned Steamers Brussels Sprouts with Sea Salt & Black Pepper, Backyard Grilled Potatoes and Honey Roasted Sweet Corn do not contain any dairy ingredients.
Seasoned Steamers™, a new line of Green Giant® vegetables, gives you unexpectedly delicious taste in every vegetable bite.  These chef-inspired, seasoned vegetables come in six new varieties ranging from smoky roasted cues to ethnic inspired flavors.  By roasting, seasoning and freezing individual pieces, our vegetables lock in flavor so delicious, your family will ask for more.  In less than 8 minutes, your family can enjoy new Seasoned to Delicious™ Seasoned Steamers™.
You can find Green Giant on their website, twitter, and facebook. You can also see all the Seasoned Steamers here.
Disclosure: Compensation was provided by General Mills via Glam Media. The opinions expressed herein are those of the author and are not indicative of the opinions or positions of General Mills.
*******************
Questions for you:
What was your latest semi-homemade creation at home?

I'm starting to appreciate that not

everything

has to be from scratch. 😉

What's your favorite way to turn up the flavor on your meals?

Which is your favorite creamy or light dressing?