We're almost halfway through the year – how are your fitness goals going so far? Are you slogging through the same-old workout or enjoying most of your workouts? Everyone has those days that are less than fun, but for fitness to be part of your life long-term, it should be FUN! And that's why I'm excited to announce the third #MoveHappy challenge is back to inspire and motivate you in July!! Click here to register now
What is the #MoveHappy Challenge?
The #MoveHappy challenge is a way to encourage everyone to find a way to MOVE in a way that makes you HAPPY! You are encouraged to try new things throughout the month to find what makes your smile. This year, I'm so excited that Paige (from Your Trainer Paige) is co-hosting the fun – we're making this the best year yet!!
Don't Forget Prizes!!
Everyone is motivated differently, but I know many of us like to win STUFF! With that in mind, we've got some amazing prize sponsors lined up this year – giving you even more reason to take the challenge and enjoy your fitness.
To keep you motivated for the full 4 weeks – we will choose one winner every week for some awesome prizes. The challenge lasts from July 1 – 28, so that's FOUR chances to win! And with hundreds of dollars in prizes up for grabs, you're going to want to win:
NOW Foods
Finish Line
Vega
Sizzlefish (affiliate)
Quest Nutrition
Momentum Jewelry Wrap & FootNote
Gnarly Nutrition
Not all prizes can be shipped out of the US, but several are available to participants internationally. We will specify the shipping restrictions for each prize. 
How to Participate
This year, you'll want to register (form at the end of this post) to join the challenge! When you register, you will get exclusive access to the #MoveHappy challenge info through email each week.
[Tweet "The #MoveHappy Challenge is back with tons of prizes! Details & FREE registration: "]
Included in each email will be:
Tip of the Week
Weekly Workouts
Weekly Recipes
Prizes up for grabs this week! (And the previous week's winner)
Private post to record your #MoveHappy workouts throughout the week
And more!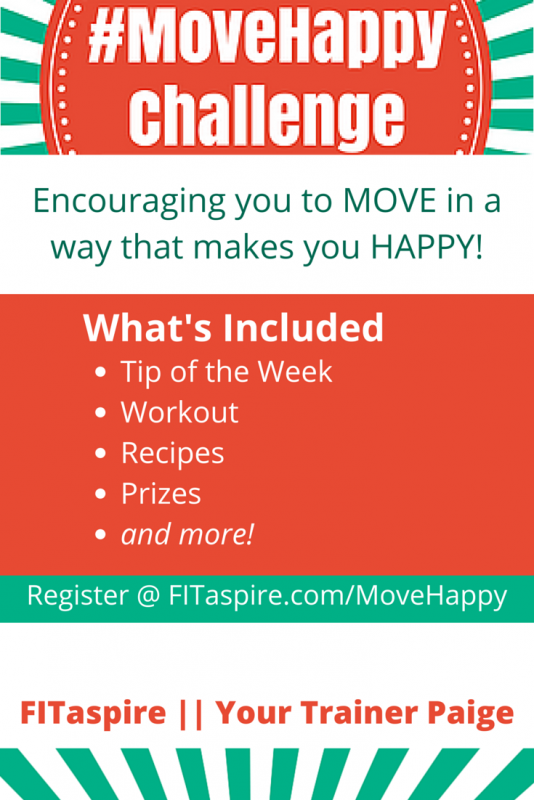 Throughout each week, you can earn prizes through a number of ways:
Required: Leave a comment of the official #MoveHappy post for the week with your #MoveHappy workouts! 3 comments qualifies you for that week's prizes! Remember that this is an exclusive post for challenge registrants – it will not be available on the public blog. 
Optional: Share your #MoveHappy workout photos on Instagram throughout the week, including #Movehappy, @FITaspire, @TrainerPaige for bonus entries (remember to follow both @FITaspire & @TrainerPaige, so we can see your posts!)
Optional: Re-pin photos from the #MoveHappy Challenge Pinterest board each week to share that you've done that week's workout or made the recipe for another bonus entry!!
Remember, 3 comments on the official blog posts are the key. Any extra comments, instagram photos, and pinterest shares are bonus entries!!
Register for the #MoveHappy Challenge
Registration is closed

Let's spread the word and make fitness fun this summer with #MoveHappy!!
*******************
Questions for you:
What does #MoveHappy mean to you?