A few weeks ago, Kirk and I were invited to spend the weekend exploring Estes Park & Rocky Mountain National Park thanks to the team at Visit Estes Park. Even though we've lived in Colorado for over 2 1/2 years, this was our first visit to the area and Rocky Mountain National Park. With the warmer temperatures this year, our adventures crossed the seasonal boundaries to include a little snow and a little water. It worked out to be a great way to see how you can enjoy this area any time of the year
Our weekend started by checking into to our condo right on Fall River. The condos had the feeling of your own private cabin, made even better with the sound of the river rushing outside the windows. We slept with the windows open every night to let in the sound, my favorite way to fall asleep!
We met our hostess, Brooke from Visit Estes Park, for dinner at Rock Inn. The menu is focused on health and planet conscious foods, which was immediately speaking my language. The atmosphere is casual and a local bluegrass band (Chain Station) added a bit of fun after dinner. From the look of their calendar, they have bands most weekends – definitely a place to visit when you're in town. See my full review on Yelp.
On Saturday, we slept in a little before heading out to meet for a guided snowshoe trek through Rocky Mountain National Park. We were a little surprised to hear that the guide suggested overpants and gloves for the mild weather. We were happy to borrow both from our hosts as The Warming Hut and more than a little curious to see why they would be needed. We drove up to Bear Lake to start our hike – following our guide across four frozen lakes on our way up to Dream Lake for lunch. Along the way we found out why the pants & gloves were needed.
Apparently this is called "glissading" and it's a whole lot of fun! If we hadn't had a guide on this trip, I certainly wouldn't have tried this. In the future, I'll be looking for hills to slide down when I go snowshoeing. We hiked about 2 miles to reach the other side of Dream Lake, where we stopped for lunch. We enjoyed sandwiches, hot tea, & hot chocolate on a rock surrounded by some amazing views! After refueling and chatting, we took the long way down to see the sights and slide A LOT! We explored areas of the park that would be hard to repeat without our guide – this is the perfect place to be led by someone with years of experience in the area!
After our hike, we spent some time wandering around downtown in the cute shops. I bought a new scarf in one of the shops, but mostly window shopping. At the edge of town, we made some time for the Dancing Pines Distillery Tasting Room. This is a Colorado distiller, although their main operations are in Loveland. We had the chance to try a good portion of their offerings (lucky us!). Their Vodka is unique, as it's distilled from Chardonnay (instead of potato) — we picked up a bottle of that and the Bourbon to bring home.
After a bit of downtime, we headed to dinner complements of Twin Owls Steakhouse. This was the most elegant restaurant we visited, a perfect date-night location with fantastic food and service. The menu included many Colorado favorites, including venison and elk. This was my favorite meal of the weekend and I will be back when we visit again next year. See my full review on Yelp.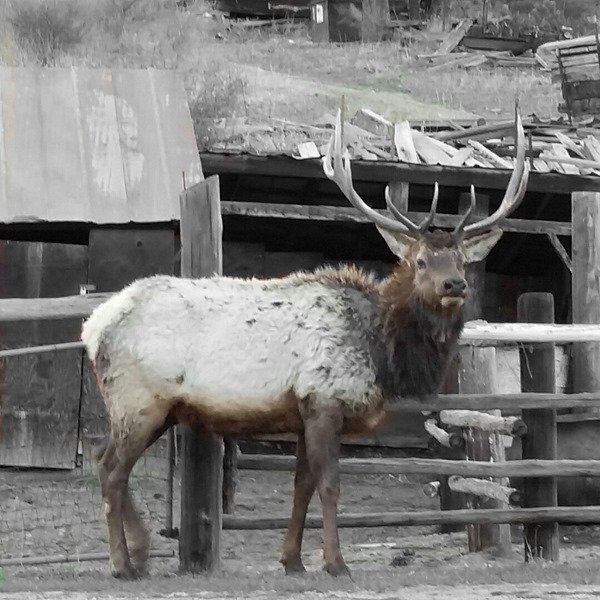 Sunday started with breakfast at The Egg & I. They are known for their eggs benedict, so I had to try the Parisian Benedict, while Kirk ordered the Crab Cake version. Both were delicious and I was impressed that their hollandaise was lighter than most, making it one of the closest to Kirk's homemade version. After fueling up with breakfast, it was time for Fly Fishing 101!
My dad and grandpa taught me to fly fish when I was younger – I even used to tie my own flies! That was at least 20 years ago, however, and I had no idea what I was doing. I was very happy that Kirk's Fly Shop (no relation to my hubby) offered to show us the ropes on a guided fly fishing trip. Our guide, Jerry, was perfect for the job. He's been fishing since he was 3, self-taught how to fly fish, and left the 9-5 over 6 years ago to fish full-time. How fun does THAT job sound!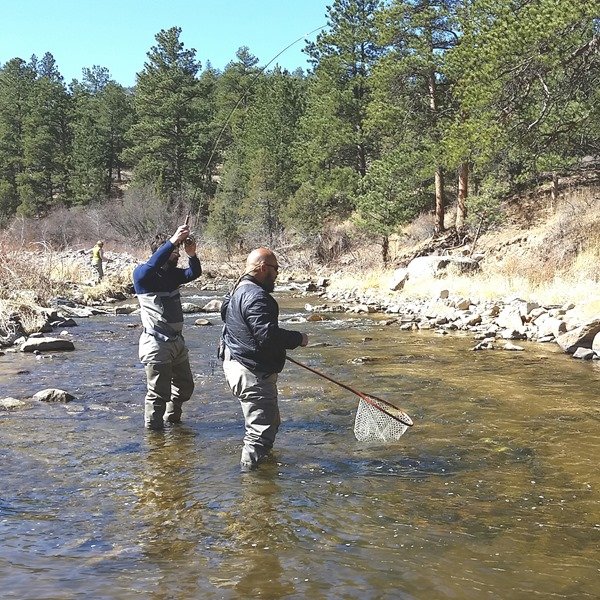 After an intro on the land, we got right to the hands-on application at the river's edge. We learned to cast, set the hook, and reel in the fish – with plenty of repetitiion to help us understand. It's a very therapeutic exercise – listening to the rushing water, watching the indicator for movement, and repeating the motion until you set the hook. Although the water was still pretty cold through our waders, it was warm enough to make for a thoroughly enjoyable day! Between the three of us (me, Kirk, and Brooke) we caught and released 11 fish through the half day. The repeated motion with one arm makes for a tough shoulder workout – I'll have to learn how to switch when I try this again (which I fully intend to).
After fishing, we refueled (and then some) at the Estes Park Pie Shop. It has the feel of a 50s diner and they are known (obviously) for their delicious pie. We foolishly ate all our our sandwiches, before ordered and devouring the homemade pie for dessert. Word of advice – eat half the sandwich and save all the room for that amazing pie! See my full review on Yelp.
One last stop on our action-packed weekend getaway – a hike to Gem Lake. This was on the other side of town from our snowshoe trip the day before, which drastically different conditions. The lake was melted and no snow on the ground! We hiked up the 1.5 miles a little slower than I would have liked (need to get my endurance back!), but were rewarded with breathtaking views of the lake at the top. What a way to end the weekend!
[Tweet "I need to plan an #EstesPark and #RMNP getaway. Who's coming? #travel"]
And with that, we packed up our things and said farewell to Estes Park & Rocky Mountain National Park. But not without deciding we would be back – and this time we won't wait another 2 1/2 years.  A big THANK YOU to Visit Estes Park for inviting us on such a wonderful weekend to experience the area! If you're interested in checking out any of the places we visited along the way, I've included links to each below, making it a little easier for you to find.
Lodging: Estes Park Condos
Food & Drink: Rock Inn Mountain Tavern, Dancing Pines Distillery Tasting Room, Twin Owls Steakhouse, The Egg & I, Estes Park Pie Shop
Guided Excursions: The Warming Hut, Kirk's Fly Shop
Disclaimer: As mentioned throughout this post, this trip was hosted for us by Visit Estes Park in exchange for sharing my experience with you. As always, my opinions are 100% my own and writing this blog was not even requested. I simply had a great time and wanted to share this with you! As always, I only share things that I would recommend to my family and friends. You can read my disclosure policy here.
*******************
Question for you:
Which would be you choose: snowshoeing or fly fishing?