Cheers!! I'm so thankful you've come back today to read more about the Blend Retreat!
To reward your patience with my recap, we're going to be focusing on food and drinks today (since that's what we did the rest of Saturday!). And if you make it to the bottom of today's post, you'll even get a new recipe!!
We left off yesterday with a hike – which means I was starving after a morning filled with awesome workouts! After getting cleaned up and looking a little more presentable, a group of us headed out to Mountain Sun Pub & Brewery for some food and beer.
They had a long wall of beer taps (my favorite!!) and I loved that they let you sample any and all the beers you wanted. Our waitress recommended a number of delicious options, but I ended up with a Belgian Double – a style I've been enjoying a lot recently. There were a ton of amazing beers to choose from, so it was a hard decision.
The menu was also fantastic – so many choices, so little time! Laura pointed out the tempeh reuben (with vegan 1000 island!!), which made my decision easy. I asked them to replace the cheese with the hummus far a perfect sandwich – yum! I know others didn't like the raw veggie side, but I was really craving some fresh crunchy vegetables and it was just what I wanted. 🙂
********************
After lunch, we headed for Avery Brewery's tap room for more beer fun!
We got there too late for an official tour, but they were kind enough to agree to a special tour for our group. It's always interesting to see how the "big guys" are brewing and compare it to our backyard equipment.
Whenever I visit a brewery that I am familiar with, I focus on the beers that I can't get at home. They had a large list of those local-only options & I covered most of them. Pictured above, you see the Dry-Hopped IPA & Hand of Buddha. The IPA was average, but the Hand of Buddha was much better!
I also got the chance to sip & sample several others throughout the day and can't say there was a bad beer in the bunch.
After the tour, I got my first taste of my new favorite Avery beer – the Eremita III. I love sour beers and it's not a style I run across very often. After this initial 5 ounce pour…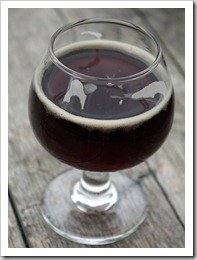 I may have gotten another 10 ounce pour to be sure I really liked it…
And I did – yum! If you're a fan of sour beers, it is fantastic!! I chased the beer with some sweet potato tots and a hummus/guacamole/hot sauce dipping sauce. I think that mixture was much better than the non-vegan-friendly option on the menu. I do love getting creative with a menu!
********************
Finally, most of the Blends regrouped for drinks & snacks at Rio Grande. I put up a bit of a fight against this one (I'm not one for chains on vacation), but it turned into a fun evening and even had free shots – that does make a restaurant more attractive!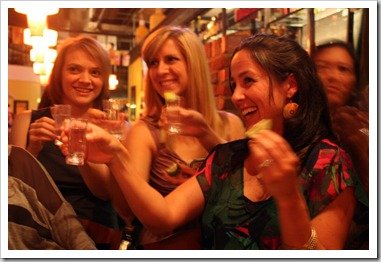 I think that Tina, Allysa, and Lindsay agreed! =) I enjoyed a chance to get to know Katy (Lindsay's sister) and Elizabeth a bit more throughout the evening. And don't forget about Janetha & Bobbi across the table! I seriously can't get over how many amazing girls were at Blend this weekend.
******************
And that was the "short" version of the rest of Blend Day 2!! Are you still with me? Did you skip straight to the bottom for the recipe? It's okay, I forgive you. 😉
This meal is just one more reason my hubby and I are perfect for each other. He texted me a photo of this creation while I was in Utah – that's right, Kirk is photographing his food!! And he made enough that I got to enjoy my own when I landed on Sunday night.
And now to share the love with you!
Mexican Crumble Tostada
Author:
Ingredients
+For Tofu Crumble
1 teaspoon chili powder
1 teaspoon chipotle chili powder
1/2 teaspoon cumin
1/2 teaspoon coriander
1/4 teaspoon cayenne
1 block tofu, extra firm
1/4-1/2 teaspoon salt (to taste)
1 teaspoon Bragg's
1/2 teaspoon worchestershire sauce (vegan)
dash of Torani Bacon Syrup
1 can vegetarian black beans
1 poblano pepper
1 serrano pepper
1 cup rice
4 pitas, whole
1 cup cheddar Daiya, shredded
1/4 cup non-dairy sour cream
1/4 cup salsa
1/4 cup guacamole
Instructions
Prepare rice according to package directions. Put aside and keep warm.
+For Tofu Crumbles
Press Tofu for at least 1 hour, using tofu press or between two cutting boards & topped with heavy objects.
Crumble tofu by hand into mixing bowl.
Combine chili powder through cayenne in small prep bowl. Sprinkle half of mixture over crumbled tofu & stir to combine. Add remaining mixture over tofu & stir to combine.
Combine Bragg's through bacon syrup in small bowl.
Heat medium-size sauté pan over medium-high heat. Add tofu to dry pan and immediately add Bragg's mixture to pan. Reduce heat to medium and sauté for 5 minutes.
Remove from heat & keep warm.
+For Peppered Beans
Place whole peppers over open flame (I used gas stovetop in kitchen, but you can also use the grill) for 2 minutes each side. After cooling slightly, dice peppers and stir together with canned black beans. Mash mixture gently with potato masher or 2 forks.
Add mixture to saute pan over medium heat for 5 minutes, stirring occasionally.
+For Assembly
Toast pita on high heat over open flame, browning each side for 15 seconds (or so). Don't burn the pita, just brown it.
Place Pita on plate and divide toppings evenly between 4 plates. We started with peppered bean mixture, rice, tofu crumbles, cheese, guacamole, sour cream, & salsa.
If you haven't bought any Torani Bacon Syrup yet, I recommend you head over and buy a bottle NOW! I have a few more recipes planned to share over the next few weeks that you're going to want some on hand. And really, who doesn't want vegan-friendly bacon flavoring?! 😉
********************
Questions for you:
What style of beer have you been enjoying most recently?

Are you for or against tequila? I'm guessing there's a story behind it if you're against tequila – there always is. 😉

What did you eat for dinner on Cinco de Mayo?