Saturday at Blend came bright and early – although the 7AM start wasn't so bad when it was 9AM back home. We started the day off right with a HUGE bootcamp, lead by the awesome duo of Lindsay and Tina!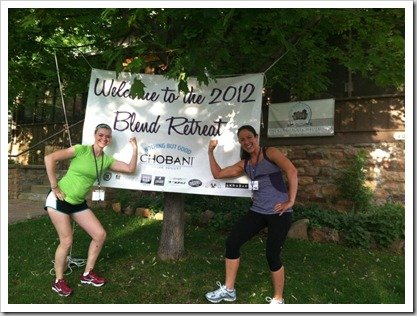 Photo from Lindsay
With the mountains of Boulder in the background we got things started with a few laps around the park. I'm in the dark blue shirt & black cropped pants.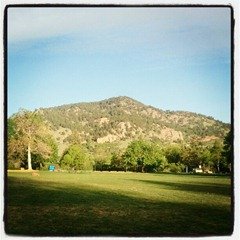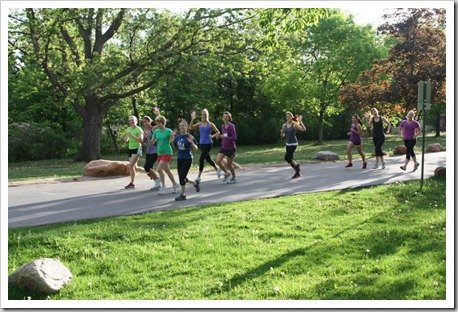 Photo from Janetha
We all quickly warmed up and were put through a fun & challenging series of cardio & strength exercises. I was happy to not fall over and make it through unscathed. Okay, I was incredibly sore after, but I survived!!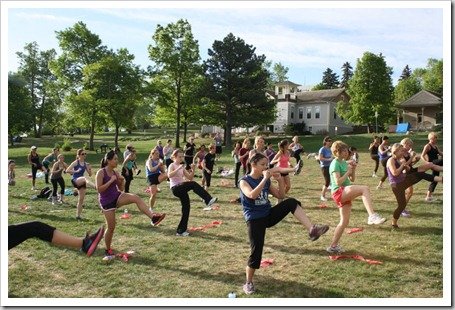 Photo from Janetha
We finished up with a great game that brought out the competitive spirit in us all. We split into teams and elected one person to be our sprinter (not me!). Our sprinter ran to grab a tennis ball from the center of area – each one with a different exercise written on it. We had 1 minute from the whistle blown to grab a ball and every complete as many reps of the exercise as possible. The winner was the group with the highest total!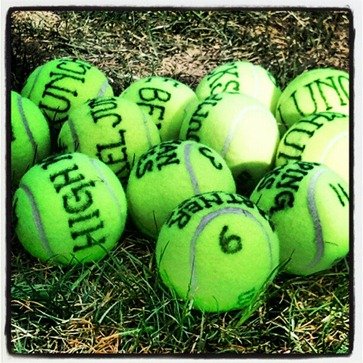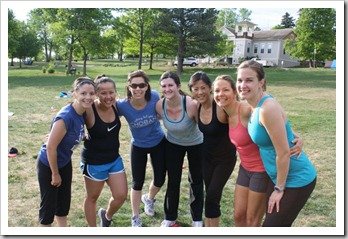 Photo from Janetha
We didn't win, but we had an awesome group anyway!
*******************
After burning all these calories, I think everyone was more than ready for lunch. Lucky for us, Xagave created an amazing spread of breakfast treats – and decorated with flair!
I made myself a huge bowl of oatmeal, sweetened with Xagave and topped with dried fruit, mango, and a huge dallop of peanut butter. This was my first taste of Xagave and I was impressed! I already like Agave Nectar, but this one had a very neutral flavor that I really enjoyed! I think you'll see this popping up in my recipes soon, since I brought home a lot to enjoy at home too. 🙂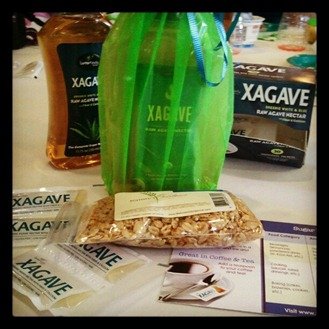 *******************
After breakfast, we got ready for our second workout of the day – a hike to the Royal Arch! It started out as a nice, peaceful hike with gorgeous scenery…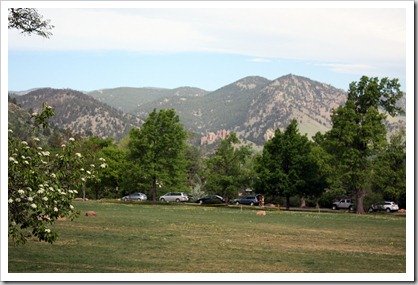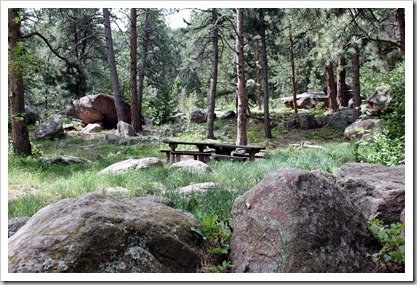 And turned into a pretty hard hike with lots of climbing, rocks, and gorgeous scenery… Can you believe that Lindsay did this earlier in the week with a child on her back?!
Above & Below – the photogenic Lindsays (Lindsays List & Lean Green Bean) were great sports and posed for some photos! Below right, you can also see Laura & Katy (Lindsay's sister)
We were seriously climbing forever, I was huffing & puffing like I was do hill repeats on the bike. My legs were jelly by the time we finally climbed our way to the top!
And check out this view!
Lindsay celebrated at the top with a Simply Bar, who sponsored this fantastic hike! I was so full from breakfast I didn't pack mine for the hike, but I surely devoured on when I got to the bottom. And Sunday morning for a pre-bootcamp breakfast. Yum!!
Wow – this is a long post and we've only gotten to about 1PM on Saturday! I think this is a good point to stop, we'll pick up with breweries & margaritas tomorrow. I know you don't want to miss that!!
********************
Questions for you:
Have you ever done an outdoor bootcamp? 

Do you enjoy hiking? Any trails that you recommend in your area?