As you probably remember, Friday night was the start of Blend. The event that I had been looking forward to for MONTHS was finally here!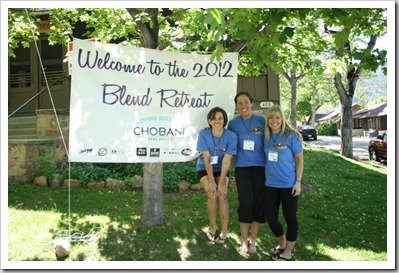 (photo from Janetha)
These lovely ladies (Katie, Lindsay, & Janetha) did a marvelous job planning a flawless weekend packed with fun. And it kicked off with cocktail hour – I started with a Gin martini,  Laura enjoyed a Manhattan, and Lauren had a glass of wine. Yes, I remember whose drink is whose.
Other than eyeing the Beanitos, I really didn't make it far enough to get to the snacks – I was too busy chatting away!
When we worked our way into dinner, I tried to sit down with a few people I knew and I few I hadn't met yet. I promise I'm in this picture, although you can barely see me behind Kelly. 🙂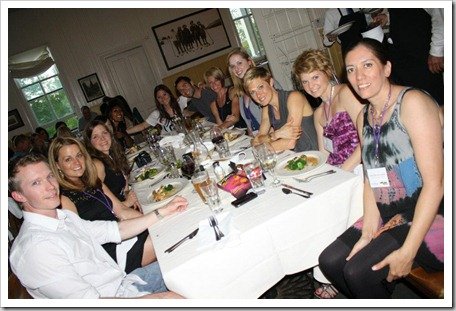 (photo from Janetha)
You probably recognize some other faces in this photo – Greg & Lauren, Kelly, Elizabeth, Laura, Calee, and Christine. At the end of the table, I sat next to a few of the sponsors from the weekend from Core Power & Fitmixer.
One of the things that made my life VERY easy, was that there were vegan (and gluten-free) options at every meal. You know I'm pretty good at finding vegan-friendly options when I'm out, but catered meals can be tricky sometimes. Not at Blend!!
A green salad & vegan/gluten-free pasta were pretty good (okay, I wanted more "stuff" in my pasta. But seriously, NOT complaining!!). The highlight?
CUPCAKES!!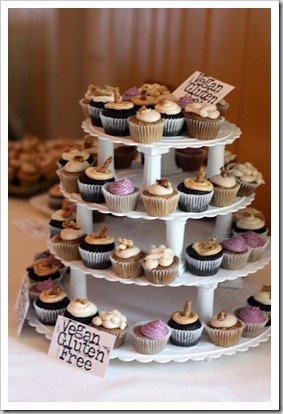 The tower of cupcakes were all vegan & gluten free – every flavor available that evening. So good, especially as desserts are tough to find out of the house. I sampled three different flavors: Lavender Raspberry, Peanut Butter, and S'more.
Of the three, the Lavender Raspberry was my favorite by far.
Edited to add: The awesome bakery that created these cupcakes is Street Fare Bakery, a local Boulder business that benefits the Boulder Shelter.
At this point, most of us from the East Coast were starting to feel the time change, so we headed back to get some rest. We did have Bootcamp at 7AM the next morning, after all!
*********************
Questions for you:
Which cupcake flavor do you think (or did you) like the best?

Favorite pasta toppings?

What did you do last Friday night?