I promise this is the last Blend Recap post of the year. I am specifying the last post of THIS year, because I will be going next year. I have no idea when Blend will be in 2012, but I WILL make it happen. 🙂
Sunday morning came early after a really fun evening. I slept terribly for some reason (actually, it's because I stayed up late – that always happens with me). When we woke up, Katie and I sat in bed for a while and played on our phones. My initial thought was "No way am I going to bootcamp!". I was so incredibly sore – there was no way I could survive another bootcamp.
Peer pressure is a good thing. I went to bootcamp anyway. =)
We did a million squats (okay – 50 at the beginning and 50 at the end – but that's a LOT!). I'm the one with the pink arrow hovering over her head.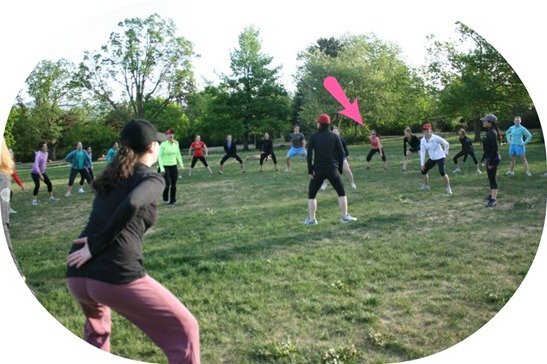 Photo by Janetha
After the squat warmup, we split into groups and worked through several stations. I think we did walking lunges, oblique work, pushups, rows, & stepups (see below)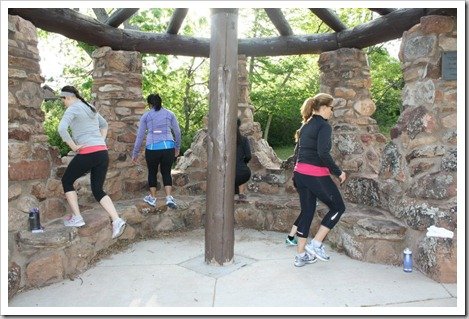 Photo by Janetha
I was surprised I survived, but bootcamp workouts really do fly by. I'd like to do them more often – they were surprisingly awesome!
I headed back for a very quick shower and then joined the group for breakfast. This morning's breakfast was another oatmeal bowl and two strong cups of Green  Mountain coffee! I learned that if you adjust the settings on the Keurig to the smallest setting, you can almost pretend it's espresso instead of coffee. Almost.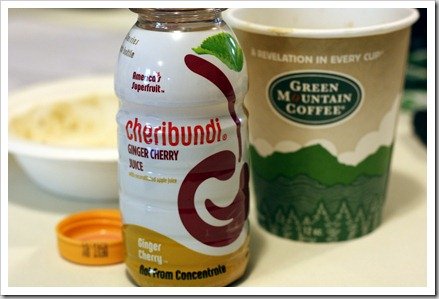 I also had the opportunity to try the Cheribundi Ginger Cherry juice. I have to admit, this juice didn't sound good to me, but I asked the reps there which was their favorite and I went with their recommendation. It was delicious!! I could tell that all the sponsors this weekend were handpicked, because they were all amazing!!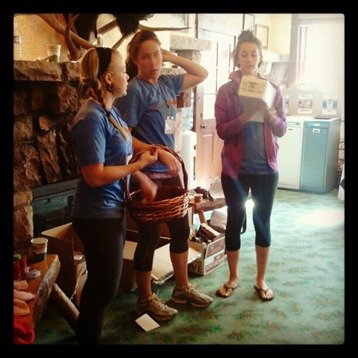 After breakfast, it was giveaway time! I really wanted to win the Healthy Bites gift card (seriously, my first order was that delicious!), but I was also pretty excited to get a huge basket of NuNaturals. I have honestly never tried their products, but I do trust Laura's opinion and she promises they are awesome. I hope so, because I have a LOT between the swag, raffle prize, and the giveaway I won recently on Laura's blog. I bet you'll start to see NuNaturals in my recipes soon. 😉
After all the awesome prizes were distributed, it was time for a group photo: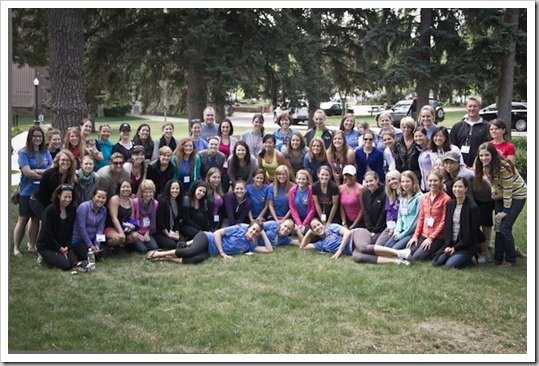 This was when things started to get sad. You knew that Blend was almost over – booo!! I am terrible at goodbyes and most sad things like this, so I chose to focus on the friendships that grew stronger over the weekend and that I would see these ladies again.
To end on a slightly sappy note – I love my Blends! It was an amazing weekend mostly due to the women who attended and how loving, open, friendly, and fabulous they all were. I am so proud to be included in this group and hope we can all get together again soon!!
Thank you again to Lindsay, Janetha, and Katie for putting on an AMAZING event. I'm so glad to have met all three of you!!
In case you missed any of the previous recaps, you can read all about Blend here:
********************
Questions for you:
What is your favorite bittersweet memory from the last year?

Coffee, Tea, Espresso, or other?