On Friday evening, my parents were in Atlanta and we were able to go to dinner. Sushi dinner, to be exact, where the sushi chef made me a special (and delicious) veggie sushi! I was a bad blogger (and daughter) and didn't take any photos to share of that celebration (sorry Mom!!).
On Sunday evening, I went to a painting class at Just for Giggles with my Mother-in-law, Jean! Although my camera issues continued (dead battery this time), my phone filled in to capture the action! 🙂
The photo is the professional version that served as our "finished" example throughout the night. This is what we started with:
Well almost. This was one of the few classes where the instructor sketched an outline for us to start from: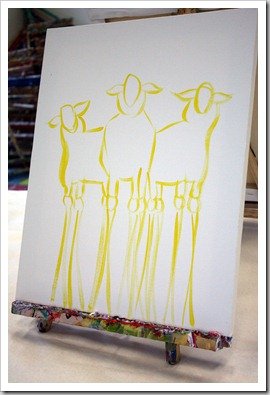 I took pictures of both of our paintings through the process – my painting will be on the left, Jean's on the right.
I decided to go with a brighter blue background for my painting and Jean went with a more muted pallet of green & blue. We started by painting the background, going as close to the sheep outline as possible (and painting over the legs).
After the background, we filled in the sheep's body with peach color. Then we went over the body with white swirls to add texture and depth. I wish I had taken a photo after the flat peach color – it was so boring that point. It's amazing to watch the painting come out through the 2 hour allotted time.
After the swirls, we filled in the ears, face, knees, and legs with black paint. I also My legs turned out a little thick – perfection is not required, right?! 🙂
Then we added in the face details. I went with a very subtle color difference (in case I screwed it up!).
Finally, we added in the hearts. I was a little unsure about this step, but it really did give it a more finished feel.
I think this was a wonderful way to spend a few hours on Mother's Day! The finished products are so cute and I love that they have their own personalities. Now I just need to find a good home for this painting, because it doesn't quite fit in my décor. 
Sometimes it's more about the activity than the result. 🙂
********************
Questions for you:
How did you celebrate Mother's Day?

Have you taken a painting class in your area?