Remember that apple recipe drought? I think it's officially over…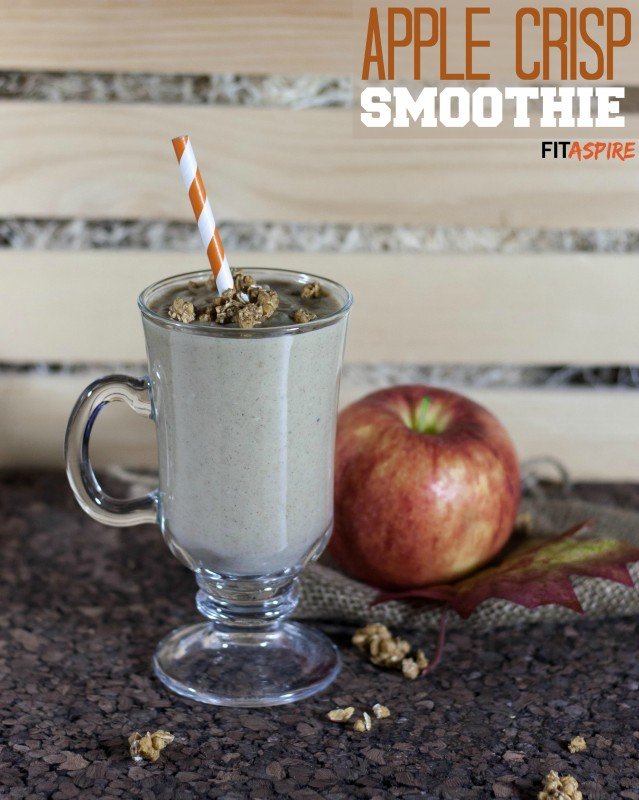 I'm currently coaching my Mom and she complained that I didn't have enough smoothie recipes on the blog. In fact, I really have only created a few. Surprised? So was I! After thinking about it, I realized that my smoothie creations are typically a quick creation using whatever is lying around. I'm usually in a rush to get to work and taste is not the primary focus.
Today that changes.
[Tweet "Apple Crisp Smoothie to enjoy after a #workout or as a #snack featuring @VegaTeam. via @FITaspire"]
I am so out of practice that I failed more times in creating a Fall smoothie than I want to admit. Finally, I decided to use the last few apples I bought for this week's dinner creation. Paired with a fresh tub of Vanilla Performance Protein, supplied by my friends at Vega, I finally had a recipe I was excited to share!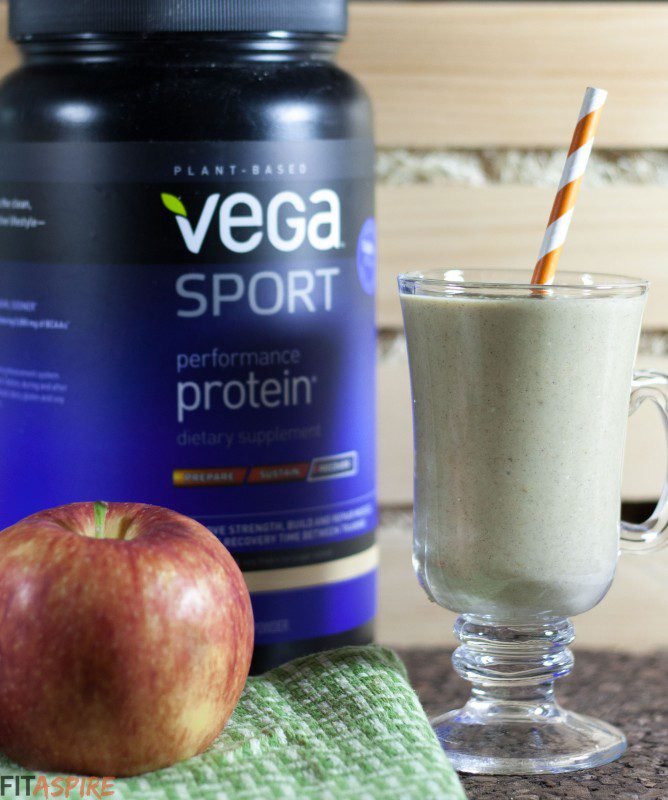 If you are enjoying Fall flavors as much as I am, you're going to love this smoothie. And who doesn't love apple crisp? This dessert in a glass will also help you recover from a workout. Although you don't need to wait until post-workout to enjoy this drink – it would also make  a great afternoon snack!
Apple Crisp Smoothie
Recipe Type
:
breakfast, snack
Author:
Prep time:
Total time:
Ingredients
1 honeycrisp apple
2 scoops[url href="http://fitaspire.com/fuelyourbetter.com?utm_campaign=BloggersFuelBetterSideBar&utm_medium=link&utm_source=blogger&utm_content=BloggersFuelBetterSideBar0″ target="_blank" title="Vega Protein"] Vanilla Vega Performance Protein[/url]
1/4 – 1/2 tsp almond extract
6-10 drops unflavored stevia (I used NuNaturals)
1/2 tsp ground cinnamon
1.5 cups coconut almond milk
4 tablespoons apple crisp protein granola
Optional: additional granola for garnish
Instructions
Core apple and place in a microwave safe dish with a splash of water. Microwave on high for 3 minutes.
Roughly dice baked apple and transfer to blender. Add protein through milk and blend until smooth. Add granola and process until coarsely combined, leaving a bit of crunch in the smoothie.
Top with extra granola if desired and serve room-temperature. Enjoy!
I don't know about you, but I have developed a new appreciation for apples this month. Now if I could only develop a taste for the pure, raw variety.
********************
Questions for you:
Do you usually take the time for delicious smoothies after a workout?
Any smoothie flavor requests?