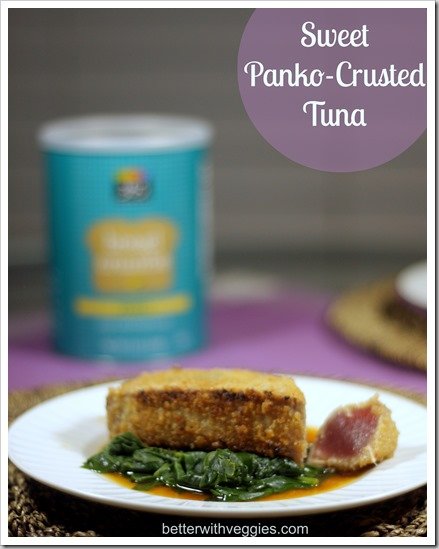 A few weeks ago Kirk made the best fish dinner (affiliate) yet! I shared a photo on Instagram of the meal and you guys asked for the recipe. This was one of those unexpected creations where we didn't take photos, write down the recipe, or expect to repeat it.
Fortunately, there weren't many ingredients & he was able to recreate it!
This fish dinner tastes almost sinful, with the sweet flavor (from the agave) and the crispy panko crust. But it's clean enough to fit in my competition diet!
Sweet Panko-Crusted Tuna
Author:
Ingredients
8 ounces yellowfin tuna
1 tablespoon plum vinegar
1 tablespoon soy sauce
1 tablespoon mirin
1 teaspoon agave
1/2 cup panko
1 tablespoon sesame oil
Instructions
Combine plum vinegar through agave in a shallow dish. Add tuna and flip a few times to coat. Allow to marinate for 2 hours in the refrigerator. Reserve the marinade for drizzling, if desired.
After marinating, coat the tuna in panko.
Heat oil in a pan over medium heat until it smokes. Add fish and sear on all 4 sides to your preference. We like ours very rare, so we sear for 30 seconds on each side.
Drizzle with reserved marinade (if desired) & serve with veggies and a grain. Enjoy!
Although you can serve this with any veggie, we found that steamed spinach really soaks up the extra marinade.
I hope you enjoy the recipe as much as I did! And if you make it – please let me know. Tag me on instagram or twitter, because I love to hear what you think of our recipes.
********************
Questions for you:
What was the last meal you ate that you wanted more of immediately?

Any fun plans for the weekend?