This weekend was the first in a month that we haven't had company at our house. It started with friends for GABF (the biggest beer festival in at least the US), followed by Kirk's parents first visit (his Mom had been afraid of flying), and ended with my parents last weekend (when my Dad ran his 6th marathon). We love having company and enjoyed them all, but it was wonderful to have a bit of break this weekend.
After everyone left last weekend, I decided to try a recipe I've had in mind for a few weeks. Sizzlefish (affiliate) asked me to create a Fall-themed recipe this month, the request coming the day after we attended an apple festival. They sent me a shipment of sablefish to play with, after I predicted it would pair nicely with the one of my favorite flavor combinations — apples and sage!
[Tweet "A delicious Fall #recipe –> Apple Sage Sablefish featuring @sizzlefishfit from @FITaspire."]
You can enjoy this recipe with any vegetable, but I highly recommend artichokes for a nice pairing. Take the time to marinate the fish, so that the apple flavors will really soak through the fish. It's worth the wait!
Apple Sage Sablefish
Author:
Prep time:
Cook time:
Total time:
Buttery-white fish served with an apple-sage relish. Pairs well with any green vegetable, especially artichokes.
Ingredients
3/4 cup apple cider, divided
1/4 cup water
1 honeycrisp apple, diced
5 leaves sage, diced
1/2 teaspoon ground cinnamon
2 sablefish filets, thawed
Instructions
Place fish in a small dish and cover with 1/2 cup apple cider. Allow to marinate for 30 minutes to 1 hour.
In a small saute pan, combine remaining apple cider (1/4 cup), water, apple, sage, and cinnamon. Stir to combine. Bring to a simmer and cook for 30 minutes. Liquid will reduce, but not evaporate and apples will be tender.
In the last 15 minutes of simmering, preheat grill to 500 degrees. Grill skin side down for 5 minutes, directly on the grill rack. Flip and cook for an additional 1-2 minutes on a pre-soaked wood plank.
Transfer fish to a plate and cover with apple sage sauce. Serve with a green vegetable (i chose artichokes).
This is a great month to try Sizzlefish (affiliate) for yourself, as they have a $10 off discount in October with promo code OCTBONUS. You can pick up some sablefish and try out this recipe!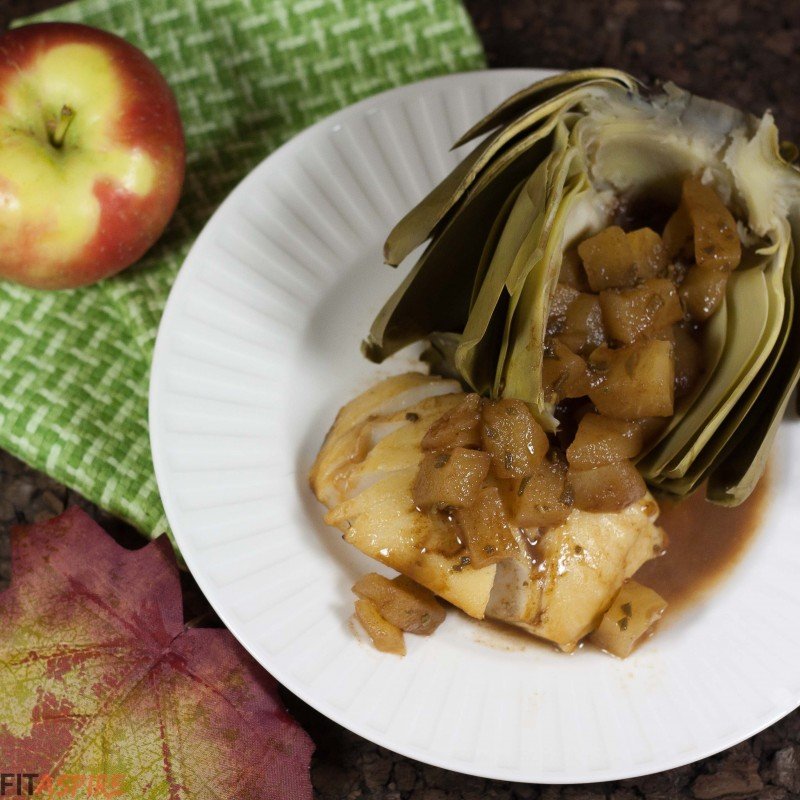 Looking for more fish recipes? Check out a few of my recent favorites: