Happy Halloween! Although I'm not the girl who creates a haunted house for the neighborhood kids OR watches a scary movie every night of October (or any night), I do love this holiday. Who am I kidding, I love any excuse to celebrate.
My celebrations actually started last week with festivities at work. Since it was a week early and no conflicting family celebrations, almost everyone was in costume and brought their kids to do some trick-or-treating in the office. We are a competitive crew and there were prizes for both the best department and best individual costumes. Our department chose the theme of Where's Waldo and it was pretty amazing to see about 20 team members in the spirit. We didn't win, but it was a fun day!
Halloween Leg Workout
Before you start your own Halloween celebrations this weekend, I thought I would share my own fitness treat with you! No tricks here, I'm warning you now that your legs will be shaking after this Scary Good Leg Workout.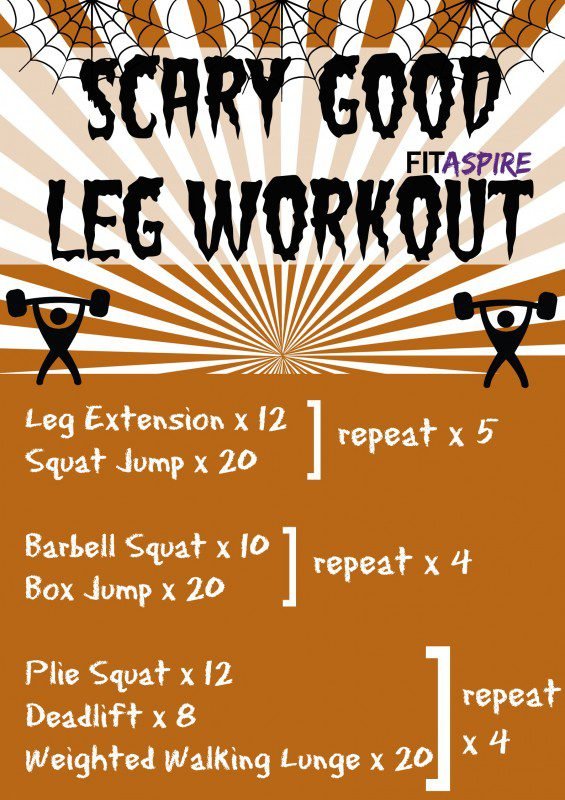 Make sure you concentrate on good form throughout the workout (don't be ashamed to take a break if needed). This workout is intended for individuals who have been exercising regularly for at least 2 months & can perform all exercises with good form.
[Tweet "Make your legs shake w/ this scary good #legday #workout from @FITaspire. #FitFluential"]
About the Workout
This workout is made up of three supersets, each indicated by brackets. A superset is one exercise performed right after the other, with no rest in between them. After each superset, rest for 30-60 seconds before starting the next set.
You can watch video explanations of each exercise below:
If you try this workout, make sure you tag me & let me know! I'd love to hear what you think and how you feel the next day.
********************
Questions for you:
Are you dressing up for Halloween?

What is your favorite #legday exercise?