The temperature is hot almost everywhere right now, which means we are all spending more time in tank tops and bathing suits right now. This is a great time to show off your strong arms from your hard work in the gym. I love a good arm workout, because my arms tend to build muscle more quickly than other areas and it makes me feel strong!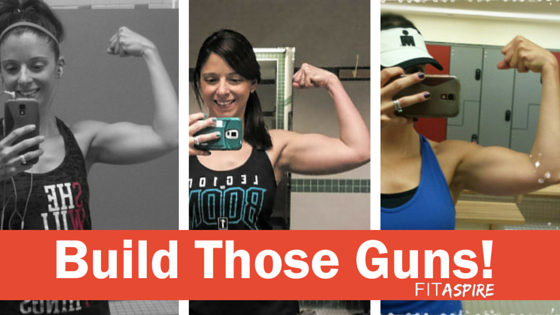 If you're looking to build muscle and strength, I've got an arm workout to share that you're really going to enjoy. This workout targets not only your biceps and triceps, but adds in a little shoulder work to help add shape and definition to the entire upper arm region.
You'll also notice the addition of plyometric exercises (jump rope and box jumps) in this workout. These exercises will activate several muscle groups at once & increase your heart rate – which helps to improve fat loss and endurance. Combined with a proper nutrition plan, this will help you be able to see those muscle gains more clearly.
Ready for the arm workout?
This workout is intended for individuals who can perform all exercises with good form. Remember to consult a physician before beginning any exercise program.
Workout Details
As usual, this arm workout follows a super-set format, which means you will complete one set of each exercise with the same number before resting. To help adjust the workout to your experience level, use the guide below to determine your rest interval at the end of each super-set:
Beginners: 60-90 seconds
Intermediate: 45 seconds
Advanced: 30 seconds
If you're at an intermediate level, start with Bicep Curl 21s, followed immediately by 30 seconds of jump rope, followed immediately by 12 overhead extensions – then rest for 45 seconds before starting that set again. Repeat for a total of 4 times before moving on to the second super-set.
You can watch video explanations of each exercise below:
 [Tweet "Build sexy, summer arms with this upper body #workout. #fitfluential"]
Looking for more workouts? You can browse all workouts here, including options for the gym & home. Or reach your goals faster by joining the group coaching program and receive new workouts customized to your goal and experience level every month!