This weekend I made a very important purchase. My competition bikini! I searched every website that sells bikinis for hours (and I'm not exaggerating). If I had an unlimited budget, this wouldn't have been so tricky, but I was determined to find a suit that looked expensive, but under $200. These things are pricey!
I narrowed down my color options to reds, blues, or greens early last week. Each person I talked to had a different opinion about what color I should choose. I decided that any of these colors would be fine, but I think my preference was always for red. I've always loved red. It's a good thing I found Pink Label Bikinis on Etsy!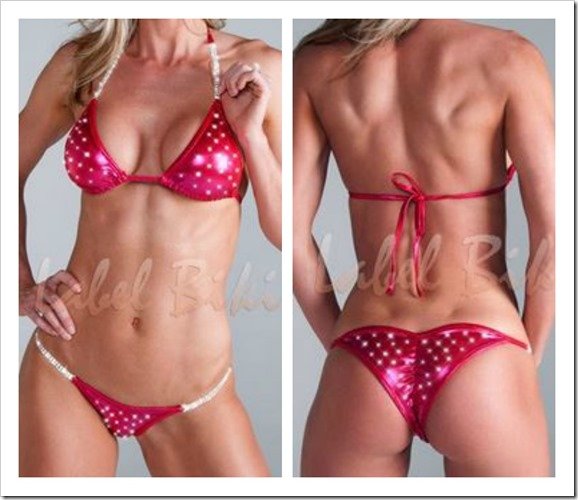 I bought this beautiful (tiny!) raspberry suit and some extra padding for the girls. I have never bought anything with padding that I can remember, but some of these girls have HUGE boobies and I don't want to be the small one in the group. There's a statement I never thought I'd make! 🙂 Now it's time to work on the body to fit into this little suit.
The Workouts
This week is the beginning of "cutting", which means the focus shifts from muscle building to leaning out. I didn't notice a difference in my progress photos this week, but according to my measurements last Thursday I am down another 2% body fat. That's 4% loss since I started 9 weeks ago, with 5 more weeks to really lean out.
This new group of workouts is in a 4-day cycle, similar to the first group:
Group 4: (weeks 10-?) is an hour of strength, plus 45 minutes of high speed cardio intervals. This workout is a 4 day cycle, followed by a rest day.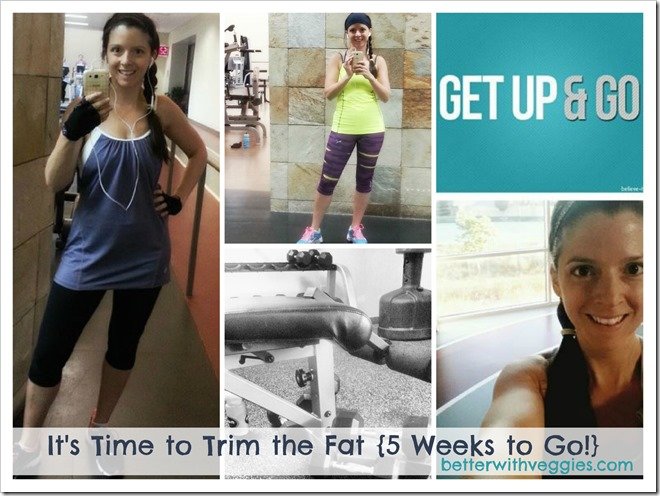 I split the workouts yesterday, but I have the option to do them both in the morning. I'll play the timing by ear and based on what my schedule for the day looks like. I'll share more about my latest nutrition plan tomorrow.
What's Left on My List?
Do you remember my list of what goes into a competition? I went back to that list last night to make sure I wasn't missing anything and here's where things stand:
Got it Covered:
Workouts – ideally with a coach
Nutrition– ideally with a coach
Posing Practice– ideally with a coach
Competition Suit (bikini)
Shoes
Makeup
Hair
Competition Fee
On My To-Do List:
Jewelry
Tan
Nails
NPC Fee
Did you notice the last one on the "Got it Covered" list? That's right – I officially signed up for the competition last night! I would have paid my NPC fee, but it looks like the only way to register is to print & mail a form. Who makes you mail in a form in 2013?! I'll pay that the night of the event.
The big expenses are paid, there's no turning back now! Not that there really was before, but it's even more official now. Just need to keep putting in the work in the gym and eating exactly on plan. And pray.
********************
Questions for you:
Thoughts on my final suit selection? 🙂

Any recommendations for great costume jewelry?

When was the last time you remember mailing in a registration form for something?