One of my favorite parts of MMAZ is Cook week. I get a little breather from being creative and I get to try someone else's creation. The only problem is right now I'm also having to find a way to fit the recipe into my nutrition plan. It makes things a little more complicated each week right now, but so far I've been lucky with the recipes linked up each week!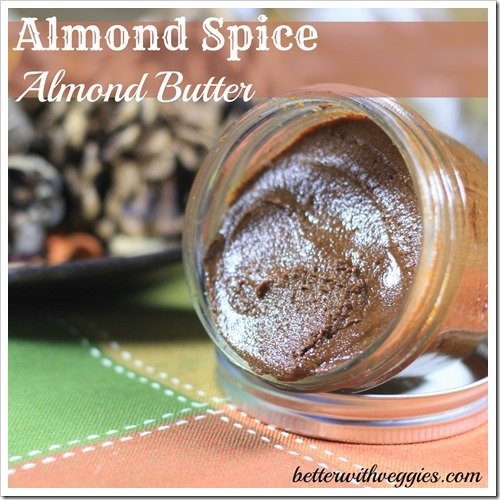 Last week Kaity and I made very similar recipes. I made Fall Spice Nut butter and she created this Autumn Spice Almond Butter. I knew there was a good chance several of us would make nut butter, but it's funny how similar ours looked! And if you accidentally roast your almonds for too long, Kaity's version turns out pretty dark too! 🙂 Actually the one person I was sure would make a nut butter did NOT!
The only problem with this recipe is that I snuck way too many almonds during the cooking process. Oops!
 Edited to add: I forgot to mention I added a teaspoon of maple syrup to my version for just a touch of sweetness. I tasted both before & after and both are great! 
I plan to enjoy this with my morning egg whites as often as possible this week, since I suspect nut butter may be off limits any day now. I am savoring every bite. Luckily, since I'm under 2 weeks to competition day, any nut butter restriction will be short lived. Thank goodness!!
In case you missed any of the other nutty recipes created last week, head over to last week's post and check them out!
******************
Did you accept the MMAZ challenge and cook a meatless meal with Nuts this week? If you're new to the fun, you can find all the details here (or click the "MMAZ" link in the menu bar above). Post what you cooked for Meatless Mondays from A-Z, add the logo to your post, and link up here. And don't forget to tag your tweets & instagram post with #mmaz!
********************
This is usually the time I reveal the next group of Meatless Mondays from A-Z challenge ingredients. I hope you'll forgive me, but I need a little break! With the competition just around the corner, followed shortly thereafter by Thanksgiving festivities (we will be celebrating early with Kirk's family), I'm afraid time might be a little short. So a short hiatus is in order for November, but it will be back soon!
********************