On Sunday morning, I ran race with a Yeti! The Yeti Chase 10K was the second of three races in the Running Underground's Winter Running Series. The first was the Stocking Run 5K in December (that I never blogged about).
After flying back home from Austin on Saturday night, I was very happy that the race started a little later – 10AM!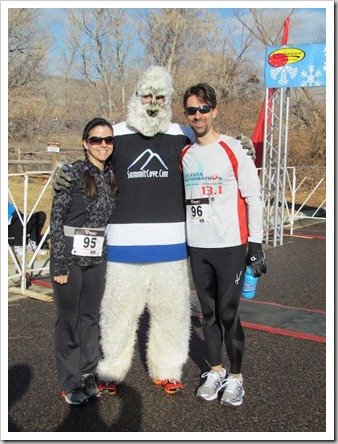 The temperature was strange on Sunday – starting in the 30s and ending in the 50s by the end of the race. Yes, I was overdressed. I didn't realize it was going to get that warm! The course around the lake was filled with sun, I need to remember that always makes it feel warmer than it is.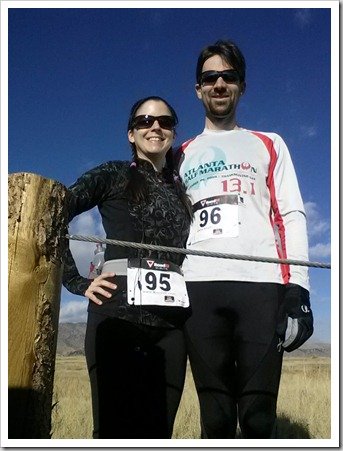 The race course was a 6 mile loop around Bear Creek Lake with beautiful views of the mountains. But as is typical here in Colorado, it also included several tough hills! As the race went on, I focused on refusing to walk no matter how much I wanted to. Just slow down and keep moving became my mantra about halfway into the race.
After running 13 miles on Thursday, my legs were already pretty shot before the race started. I hoped they would loosen up as the race went on, but they got tighter instead. As we crossed the 5 mile mark, I tried hard to hold my pace and push through, but my legs pushed back pretty hard. I did the best I could for the day, but the final time was nothing exciting for me.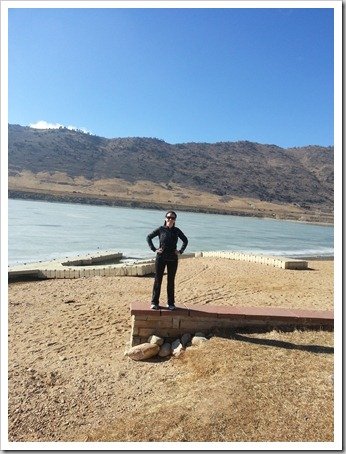 These types of races can be tough. I was tired from 2 tough weeks of training, no taper (a fun race or C race), but I still wanted to do a good job. So my effort level was high, but my race time is about 5 minutes slower than my PR. I know that's okay and to be expected right now, especially since my PR time was done at sea level. But man I felt like I had run hard! Finish Time: 54:12
The race itself was very well run, although we did start late to accommodate a number of late arrivals who had to be shuttled to the start. There were plenty of volunteers, easy to follow course, and great traffic control. I do wish they had veggie cup of noodles, as well as the chicken cup of noodles they provided. BUT, they get a pass, since they had gender-specific shirts that are actually cute!
Too many races don't pay attention to the shirt and it seems like something easy to provide for pre-registered races. Thank you Racing Underground!