Have you missed my weekly training recaps? I hope so, because I'm back this week! I'm back in Colorado and finally moving forward with LiveFit Trainer!
I wish I could say that I completed all of my LiveFit Trainer Week 9 workouts, but the reality is I did my best. Work is extremely busy right now and I'm struggling to get in the full hour strength workout and the 30 minute runs. Last week I actually talked with Kirk about whether I should continue LiveFit right now.
In the end, I decided I am really enjoying the workouts, I think they are what I need right now, but I need to alter them to fit my schedule. Instead of the prescribed 6 strength workouts + 4 cardio workouts a week, my goal is 5 strength workouts + 3 cardio workouts a week. If I can get more that would be awesome, but I'm trying to keep a realistic balance.
Last week, I got 5 strength workouts in (yay!) and they are killer!! 99% of the workout is either superset or active rest. That means my "active rest" between sets of hammer curls is jump squats. Ouch!!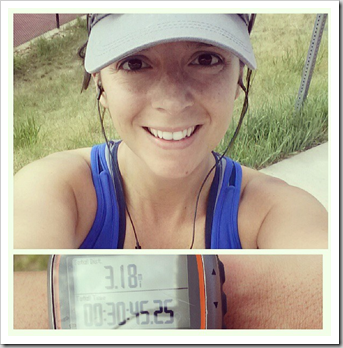 For cardio, I'm excited to use the interval runs a springboard to get back into regular running again! I run the intervals 100% by feel. Last week, I only got 2 runs in (boo!), but I loved getting back outdoors and remembering what it feels like to run.
So this is my version of LiveFit Trainer right now! I'm learning that life isn't quite as easy to plan right now and I need to find new ways to make my fitness complement life (not add stress on top). I'm up for the challenge!
********************
Disclosure: I received entries to The Color Run in exchange for spreading the word, but all opinions are my own. See my full policy here.
Since I'm getting back into regular running, I was thrilled to hear from the folks at The Color Run™ this week. You might remember my first "color" event last year where I was so covered even my teeth were pink!
This is the perfect event for the summer, since it's usually SO HOT at races. Instead of trying to go fast in the heat, these fun run events are so much easier to get excited about!
The Color Run™, also known as the Happiest 5k on the Planet, is a unique paint race that celebrates healthiness, happiness, individuality, and giving back to the community. And (as I learned at a similar race last year) it's not about time – it's about the time of your life!
This year, Kirk and I were lucky to be given free entries to The Color Run AND I have a discount code to share with you!
You can use the promo code COLOR5OFF during online registration for ANY city that is not sold out. And if you get a team of 4 or more (round a few of your adventurous friends maybe?), you get $5 off your registration automatically AND can add this code on top of that. That's a total of $10 off for the math challenged…like me.
These races do tend to sell out, so make sure you sign up soon if you want to be covered in color too. 🙂
And if you sign up for the Denver event, let me know!! I'd love to meet you there!
********************
Questions for you:
How do you feel about your balance in life right now?

Have you done a running event like The Color Run before?