Before the marathon last weekend, Kirk and I picked out a celebratory wine that we would open only after I broke the 4 hour barrier. If I didn't make it this race, that bottle would remain unopened until I did (talk about motivation!). We chose a 2001 Pas Dose' Extra Brut from Bisol – a sparkling wine from the Prosecco region of Italy, but  made using the traditional Champagne method. This is a bottle we got at the winery during a trip a few years ago, which makes it even more special!
Lucky for us, I crushed that 4 hour barrier, so last night we cracked opened the bottle as part of a celebratory dinner at home!
If we're going to drink good wine, we like to pair it with good food. After a quick mental survey of what we had in the house, I decided to remake a meal we had a few weeks ago and share the recipes with you!
The menu for the evening: Whiskey Marinated Tofu Steak, Mushroom Risotto, and sautéed Rainbow Chard.
Today I'm going to share the recipe for the Whiskey Marinated Tofu Steak – this is another recipe that Kirk created (I can't take credit for it!). With a third of the ingredients list coming from the liquor cabinet, this is a great entrée to pull out for a nice meal at home.
Whisk(e)y Marinated Tofu Steak
Keywords: grill entree vegan vegetarian tofu
Ingredients (2-4 servings)
1 package extra firm tofu
3 teaspoons whisk(e)y (we used a Scotch whisky from the Highlands region)
1 teaspoon bourbon (we used Four Roses)
1 teaspoon chipotle chile powder
1 teaspoon cinnamon
1 teaspoon sea salt
1/2 teaspoon fennel
Instructions
Press the tofu for at least 30 minutes, preferably an hour. If you don't have a tofu press, place the tofu between two cutting boards lined with paper towels and stack books or cans on top.
Crush fennel seeds with a mortar and pestle (or use back end of spoon or other round heavy object). Combine crushed fennel and remaining ingredients in small bowl and stir to combine.
Cut the tofu in half lengthwise and place in a shallow dish (I used Tupperware). Pour half whiskey mixture over the top of the tofu and rub in to coat. Flip tofu and pour remaining whiskey mixture over tofu and rub in. Coat all sides of tofu with extra marinade in the dish. Allow to sit for at least 30 minutes, preferably an hour.
Optional step for smoky flavor: Add hickory chips to grill pan and place under grates before lighting grill – should be between the fire and grill grates, directly beneath where you will place the steaks.
Heat grill to 500 degrees. Spray grill grates with cooking spray and place tofu "steaks" on top. Cook for 5 minutes on each side.
Optional step for smoky flavor (continued): After cooking, turn off the grill and allow to sit for an additional 5 minutes with grill cover closed. Hickory chips should have ignited during cooking and will now smolder to produce the additional smoke flavor.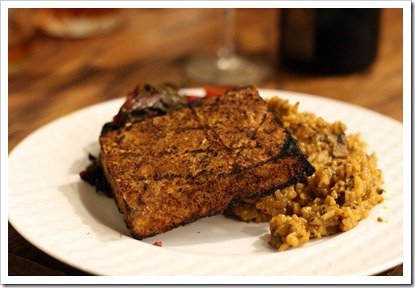 I love this tofu steak served over a bed of risotto, but it would also go nicely with rice or a bed of greens.
Next week I'll share my recipe for the mushroom risotto, including a video for anyone who hasn't cooked risotto at home before. It's much easier than you've heard – it just takes some time and a LOT of stirring. =)
*************************
Questions for you:
Do you create your own rewards/incentives for reaching a goal?

Do you enjoy cooking with spirits or do you prefer to save them for drinking?

What is one goal you have accomplished this year or one goal you are working toward?