I love risotto!! It's one of those side dishes that we make fairly often, but most people we know don't cook it at home. I'm not sure how it got the reputation for being difficult, because it's NOT! It just takes some time and a good arm for stirring – yes, there is a lot of stirring.
To help you get started making risotto at home, I filmed this video demonstrating the cooking process on Thursday night. Don't worry, it's edited down from the original 30 minute length to just over 10 minutes.
I have a new appreciation for Food Network stars now, making this video took a lot of work and a lot of editing. 😉
Are you in the mood for Mushroom Risotto yet? Now that you've seen the video, it's time to share the recipe so you can get in the kitchen and make your own. Remember that you can always switch out ingredients – like olive oil for truffle oil – as needed.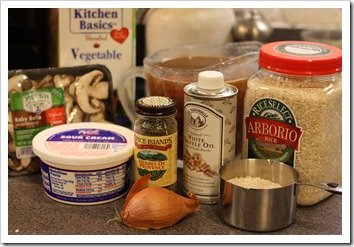 Mushroom Risotto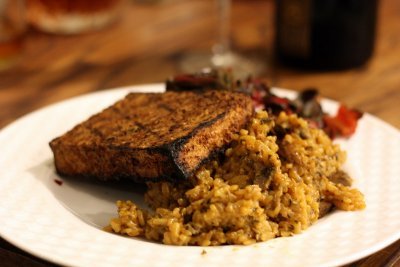 Keywords: side vegan vegetarian
Ingredients (4 servings)
1 tablespoon truffle oil
1 cup arborio rice
4 cups vegetable stock
1-2 shallots, diced
2 tablespoons herbes de provence
1 1/2 cups portobello mushrooms, diced
1 tablespoon non-dairy sour cream
Sea salt & pepper, to taste
Instructions
Pour vegetable stock into large container (I use a 4-cup pyrex measuring cup) and heat in the microwave for 2 minutes, or until very warm.
Add truffle oil to saucepan and heat over medium. Once oil is warm, add arborio rice to the pan and stir to coat. Heat until rice begins to pop slightly.
Add 1/4 cup vegetable stock and stir until liquid absorbed. Continue adding vegetable stock, about 1/4 cup at a time, stirring until liquid absorbed.
After 10-15 minutes, add shallots to the pan and stir to to combine. Add herbes de provence to and stir into risotto.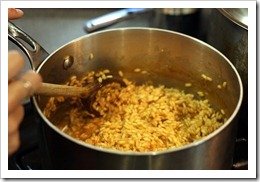 With 1 cup of stock remaining, add mushrooms to the pan and stir to combine.
With 1/2 cup of stock remaining, add sour cream to the pan and stir to combine.
With a few minutes remaining, add a pinch of salt and pepper to taste. Continue stirring until final liquid is absorbed, be patient as the rice absorbs the liquid a little slower toward the end of the cooking process.
Served with the Whiskey Marinated Tofu Steak and sautéed chard, this makes a delicious meal (if I do say so myself).
*************************
Questions for you:
What is your favorite side dish?
Have you made risotto at home before? If not, I hope you're inspired to try it now!
Any other how-to cooking video requests? =)