Can you believe it's less than 4 weeks until my next bikini competition?! Some days that still feels far away, but my nutrition and training schedule say otherwise. We're getting close – so the workout are longer and nutrition is stricter. I'm feeling good about my progress and taking things one day at a time.
I've been focusing on the basics this prep. To make things easier to plan and cook, I've been planning meals in groups – low, medium, and high carb – using my meal planning template.That means I'm repeating those meals several times throughout the week (and usually two-three weeks). Dinner is different each night and Kirk still retains his role as master of that meal. This makes my life a million times easier!
I'm still not doing a big meal prep day, but preparing a group of meals at a time. I made 3 days of these low-carb meals on Monday morning before work. It takes me about an hour to prep a group of meals, so spreading that out is still helping my sanity!
Low Carb Meals for the Week
In my current plan, I have 3 low-carb meals each week. The low-carb days take some creativity to find high-protein meals that get their carbs from vegetables. Plus, my choices for protein and veggies are limited right now based on how close the show date is on the calendar.
Putting these things together, I spent some time on pinterest looking for fresh ideas this weekend. The result is one of the best low-carb days we've planned in a while! That's why I'm linking up with Jenn's WIAW party again this week – I had to share!! Hop on over and check out a few more fun days of eats after getting today's recipe!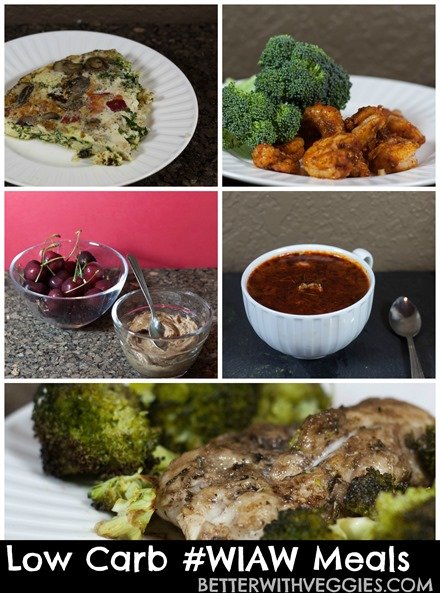 Meal 1: Chocolate Eggy Oats (unpictured)
Meal 2: Baked Egg White Frittata (based on Sunday Fritatta)
Meal 3: Baked Shrimp & Asparagus
Meal 4: Cioppiono (recipe below)
Meal 5: Chocolate Peanut Butter Pudding & Cherries (recipe to come!)
Meal 6: Italian Spiced Cod with Broccoli
Not bad right? Lots of flavors, spices, variety, and plenty of food!!
Simple Cioppino
I can't believe I haven't made Cioppino before, because it's the perfect low-carb meal option! I started with this recipe and then started adding and subtracting to fit my target macros or the meal. Cioppino is a fish stew from San Francisco, typically made with the catch of the day. My favorite includes a mix of seafood and fish (affiliate), although you can choose whatever you have on hand. This means you can make this meal a little different every time!
[Tweet "Check out this simple #recipe for Cioppino Stew. #lowcarb"]
Simple Cioppino
Author:
Ingredients
2 tablespoons MCT Oil
3 ounces tilapia
4 ounces bay scallops
1/2 small sweet onion, sliced
2 teaspoons Italian seasoning blend
1-2 teaspoons hot paprika
1/4 teaspoon salt
1/4 teaspoon freshly ground pepper
1 cup vegetable broth
1/2 cup water
2 tablespoon minced fresh parsley, (optional)
Instructions
Heat 1 tablespoon oil in a large pan over medium-high heat. Add tilapia and scallops, cook until opaque. Set aside.
Add tablespoon oil and onion to the pan and stir until onions are coated and sizzling. Cover and reduce heat to medium low. Cook or another 7 minutes or until onions are starting to brown, stirring frequently. Pour in seasonings and stir to coat. Add broth & water and return to a simmer. Stir in tilapia and scallops and cook for another 5 minutes or until onion is tender. Divide into bowls for serving and top with parsley, if desired.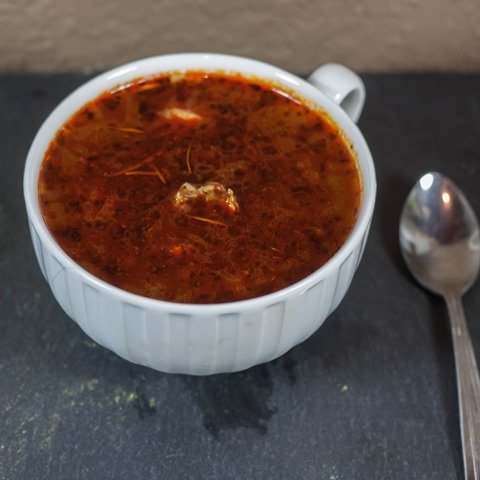 *******************
Questions for you:
Do you have a favorite veggie-focused, protein-packed meal to share?
What was your favorite meal in the past week?