Choosing nutritional supplements can be complicated! There's a ton of information available and when you research your options, you find that the information is often confusing and even studies can be biased. A few years ago, I started sharing my daily nutrition supplement routine and it continues to be a question that I hear frequently. This year, my updated guide focuses on the six staple supplements that will benefit you.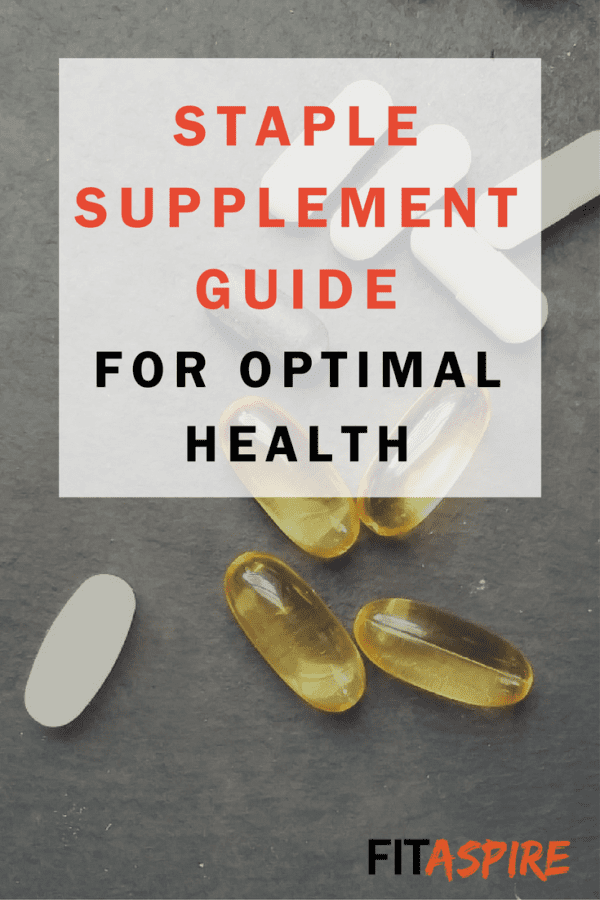 How do you choose which supplements include in your routine? I started with a combination of research and personal experience to determine the best approach. During my certification to become a nutrition coach, supplementation was one area that I focused on to help separate the hype from reality.
Staple Supplements for Health
Although no supplements are absolutely required, these six will improve most nutrition programs, helping you feel & perform your best. In addition the type of supplement, I have also included recommended frequency & my favorite brands. You'll notice many items on this list are recommended for daily use, but there are a few that you should include when whole foods are not readily available or for convenience.
These are general recommendations and should not be taken as specific health advice. I recommend working with a nutrition coach and/or doctor to find the supplements that are best for you. 
1. Multivitamin
Most Americans are at least marginally deficient in several micronutrients, due to the quality of our food, growing conditions, etc. A multivitamin helps fill in the nutritional gaps due to diet or these environmental factors to help provide the best support to your body. When choosing a multivitamin, look for a supplement that contains a balanced dose (versus mega dose) of vitamins & minerals to avoid negative side effects.
Frequency: Daily.  For best absorption, you may want to split into two portions throughout the day.
My favorite: doTERRA Microplex VMz
2. Omega-3
Our bodies work best with an equal balance of  Omega-3: Omega-6 (1:1). Unfortunately, our modern western diet typically has shifted to a 16:1 -20:1 ratio, due to our consumption of oils, corn-fed meat and other omega-6 rich foods, with a lower intake of fish, walnuts and other omega-3 rich foods. This balance is important for brain health, insulin sensitivity, reducing inflammation, memory, and immune health. In order to maintain/restore the ideal balance, most people can benefit from an Omega 3 supplement.
Frequency: Daily.  For best absorption, you may want to split into two portions throughout the day.
My favorite: doTERRA xEO Mega vegan option available
3. Probiotics
The gut is another area of our bodies where balance in important, because good bacteria helps displace bad bacteria. In this case, the good bacteria can influences our immune system, digestive support, metabolism, and overall health. The trick with probiotics is to make sure enough of these good bacteria can survive the hostile environment of our digestive system to reach our intestines – where they are needed. You can find probiotics in yogurt, kefir, sauerkraut, kimchi, kombucha, and other fermented foods. If you're not eating enough of these foods daily, a supplement can help support your gut health. Look for a supplement that delivers at least 5 billion bacteria delivered to intestines daily.
Frequency: Daily.  For best absorption, you may want to split into two portions throughout the day.
My favorite: doTERRA PB Assist+
[Tweet "The six staple #supplements to improve your overall health. #fitfluential"]
4. Protein Supplement
Ideally, choosing whole food sources for our protein needs is best, but when not available (or more convenient), a protein supplements can be very helpful. Protein powders are commently used as a convenient pre or post-work snack or meal replacement. I also use protein powders in baked goods to help boost the protein level. I recommend no more than 1-2 servings of a protein powder daily, keeping the focus on whole foods sources.
Frequency: As needed.
My favorite: 1st Phorm Phormula-1, Vega Natural
5. BCAAs (Branched-chain amino acids)
If you are lifting weights, you should be taking BCAAs. Especially during high-intensity exercise sessions when fat loss and muscle preservation or performance is desired. Adding 5g BCAAs per hour of training will help you make the most of your workout time, help manage body fat, spare muscle mass, and regulate glucose/insulin balance. Look for a supplement that contains leucine, isoleucine, and valine to get the most benefits.
Frequency: During workouts, especially strength training.
My favorite: 1st Phorm BCAAs
6. Greens Supplement
This is another supplement that is intended to support your ideal nutrition plan. Green supplements are helpful when whole-food veggies are recommended in your nutrition plan, but not available. I find this extremely helpful during travel, when finding high quality veggies can be more challenging.
Frequency: As needed.
My favorite: doTERRA TerraGreens
You will notice that I recommend quite a few doTERRA supplements in this list. Not only do I personally use these supplements, but I have also partnered with doTERRA to provide the highest quality essential oils and natural health products to you. If you would like to more about any of these products and how to they can support your overall health, check out the getting started guide I created or send me an email.