I've talked a lot about my nutrition plan & how it's laid out, but I haven't shared how I meal plan now!
It all starts with a spreadsheet!
If you don't already know this, I'm a big nerd. Spreadsheets are how I organize my mind in many ways. I even plan vacation itineraries in spreadsheet format at times. When you don't get to see The David while in Florence, because you visited on the day the museum was closed…you start to plan to in more detail!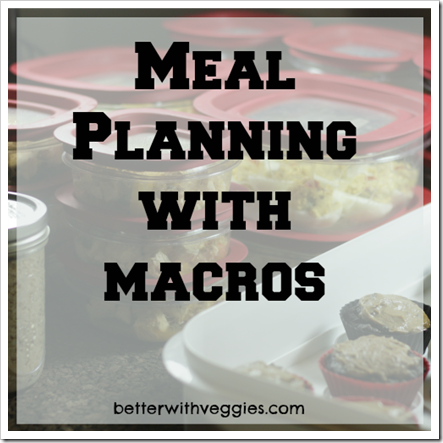 Now that you know I'm a nerd, you won't be surprised to hear that there were several iterations of this spreadsheet over the first few weeks. Now I have it down to a science & I print out a fresh copy every week to hang in the kitchen. Yes, I do. You can download a copy of my meal planning template.
Sample from last week's plan
Each week, I sit down and brainstorm ideas that might fit into the macros I need for each meal. This is the point where I browse my Pinterest boards for recipes I want to make or recipe inspiration. Instead of obsessing at this point about if the recipes actually fit the model, I just think about the big buckets. Things like:
Does this recipe have carbs? Then I can only plan it for meals I get carbs.

Does it have a good amount of protein?

Could I add more protein?

What vegetable can I stomach eating at 5:15AM? This is why I started eating a LOT of pumpkin, before it was "cool" again.
With the way my meals are split out, I'm typically bringing 3 meals to the office each day. For me, it's easiest to cook everything on the weekend and portion them out into individual serving containers. Then I just grab the right container out of the fridge in the morning to pack for work.
Dinner is one meal we don't plan. I just add up the macros I need for this meal for the week & figure out what looks good at the store. This is our measure of creativity throughout the week. Each night, Kirk has been making dinner with what whatever we bought & inspires him. He's been SUPER creative with our fish dinners, which you have seen on Instagram and all the pescatarian recipes I have posted recently.
Bulk cooking this way takes a lot more time than I'm used (usually about 3 hours in the kitchen on Sunday nights), but then I'm done for the week! As much as I sometimes complain, it means I have no reason to miss a meal or mess up the macros. No guesswork, no excuses.
Now that I have my recipes planned out, I add them to Plan To Eat and lay them out on the weekly calendar. Kirk chooses which meals he wants to eat (usually he picks a smoothie, lunch, 1 snack, and dinner) and I adjust the servings. At the grocery store, I use the mobile site to check off as we shop. Yes, I realize I am super type-A!
********************
Now it's time to share what Tuesdays meals looked like! I'm joining Jenn's weekly food party again this week, always a great way to get inspiration for next week's meal plan and discover a new blog. Don't you think?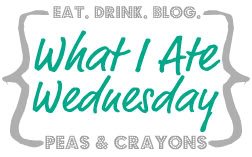 Meal 1: Sweet Pumpkin Eggs
This meal is a simple pre-workout breakfast staple during training. A mix of canned pumpkin, egg whites, maple extract, almond extract, and vanilla stevia that I microwave for 2 minutes & 30 seconds. It's nothing fancy, but it tastes good and doesn't feel heavy in my stomach during the workout.
Post-Workout: Smoothie + MixMyOwn Granola with Almond Butter & Prickly Pear Jelly
Yesterday morning's smoothie was a little different and pretty good. I even think it qualifies as #strangebutgood! I admit that my smoothies are typically the result of little-to-no planning, I just grab things from around the kitchen and blend them up. In this mix: Vega Protein Powder (Berry), roasted acorn squash, 1/2 banana, ground flaxseed, almond milk, and extra water (for consistency).
On the side, I made a bowl of my new "Grain + Superfood" bag of MixMyOwn, topped with a tablespoon of almond butter and a teaspoon of prickly pear jelly (made by one of my team members). I ordered two new bags recently and created them to be all whole grains & lots of extras (like spirulina and bee pollen). Yummy!!
Meal 3: Seasoned Mushroom Soup + Artichoke Power Dip on Toast
I'm currently testing out The China Study cookbook and the mushroom soup fits perfectly in my plan as a veggie-filled option. The flavor on the soup is great, although I may add a pinch of salt if I make it in the future.
For protein, I decided to make my Artichoke Power Dip and serve it on a slice of toast. Great in theory, although the amount of dip needed to fit my macros is way too much for the bread. 🙂
Meal 4: Squ-Hash Browns & Egg Whites
Have you seen all the delicious kabocha squash recipes that Kristina (aka Spabettie) has shared recently? Even outside of the MMAZ challenge, she's on a roll! I was out of Kabocha, but I used Acorn Squash to create her Squ-Hash Browns with a side of spiced egg whites. Delicious!!
Meal 5: Roasted Kabocha Custard with Oat Crust
You saw lots of photos of this delicious custard created by Sarena (aka Non Dairy Queen) on Monday's MMAZ challenge post. I used a oat crust on the bottom of my treats, which weren't quite share-worthy. Baking recipes are not my strong point, it usually takes me several attempts to get it right.
Meal 6: Asian Tofu with Snap Peas & Beans
When I got home from bible study, Kirk whipped up dinner! He made a sautéed tofu marinated in Asian spices, these were served over a big pile of snap peas and beans. Great flavors and mix of textures.
********************
Questions for you:
What was the best veggie that you ate yesterday?

What is your favorite winter squash?