Whether you're training for an endurance event (like running & triathlon) or a fitness competition, tracking your progress is important for both motivation and refining your training. I've talked earlier this year about why and how you should be tracking your workouts. This time I want to talk about how you can measure your progress along the way!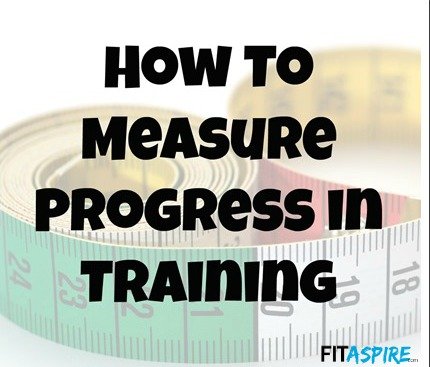 If you're like me, it can be hard to see progress in yourself. You see yourself everyday, so it's often easier to see the results of your hard work by finding objective measurements. Here are a couple of ideas that have worked for me:
1. Progress Photos
As I've been training for the competition, my trainer has had me take regular progress photos to help her track my progress. What I have found (and she likely knew) is how much this helps me! I haven't really noticed much in the way my clothes fit, but looking at the photos of myself from week 1 to week 6 I can SEE the changes.
A few tips to make this most effective:
wear the same outfit (bathing suit or tight shorts & sports bra)
take photos at the same time of day (I have chosen 7-8PM at night)
stand in the EXACT same spot. Your goal is the same lighting, same background, everything the same. You don't want other variables (different shadows) to impact what you see.
Use the same angles or poses each time for an equal comparison
I took my progress photos and created a collage in PicMonkey, so that I could have week 1 on top & week 6 on bottom. I placed the same poses in a row, making it really easy to compare. This was SO motivating for me as I could see the changes.
By the way – you never have to share these with anyone! These progress shots can be just for you.
2. Measurements
Another objective mark of progress is measurements. I found that JEFIT has tracking capabilities that allow me to enter my measurements, so the days I take progress pictures I also take my measurements. I use a basic tape measure and record the stats for bust, waist, hips, thighs, bicep, and calves. I think these are easier with a friend to help.
In addition to the measurements I take at home, my trainer uses calipers to track my body fat on an infrequent basis. We've only done this twice so far. This is not an accurate way to track your true body fat, but it does help you track progress. During my last measurements a few weeks ago, I found that I was down 2%!
Seeing the raw numbers from measurements really keeps me motivation to keep working hard!
3. Benchmark Testing
The last test I use to track progress is called benchmark testing in endurance training. Basically, it's a repeatable test that you execute at various intervals throughout training to measure improvement.
For strength training, it's as easy as watching for your weights to increase. If I started being able to curl 5 pounds for 20 reps, I want to curl a heaver weight for the same number of reps.
For running, I often use a race distance (usually a 5K) as a benchmark. This doesn't have to be an official race, but I'm looking for my times to improve throughout the training cycle.
In swimming, there are a few benchmark tests that I use, depending on the goal-distance race. I shared one the benchmark test I use for long-course swimming back in January. I use a similar (shorter) test for short-course events.
What Do You Do With This…
Once you start measuring your progress, you can start to make some decisions based on your results. Are you seeing the changes in your body measurements that help you meet your goals? Are you lifting heavier or getting faster?
If yes – congratulate yourself and use this encouragement to stick with your plan and work hard! Look back at this when you start to get discouraged or need some extra motivation when things are tough.
If not – it may be time to evaluate your training. Use this in conjunction with your training records (since you've also been tracking your training) to see where you might need to make a change. Review the information with your trainer or coach to help tweak your plan to make the progress you would like to see. If you don't have a coach, this might be a sign that it's time to give that a try.
I hope these tips help you in your training!
The Workouts
Last week I started a new group of workouts. So far, each group has lasted 3 weeks and coordinates with a new schedule of nutrition, as well. The look of these workouts has really changed again this time.
Quick Review:
Group 1: (weeks 1-3) was an hour of strength, plus 20 minutes of moderate (steady) cardio. This workout was a 4 day cycle, followed by a rest day.
Group 2: (weeks 4-6) was 1-1.5 hours of strength in the morning, followed immediately by 30 minutes of cardio intervals. In the afternoon, I had a second 30 minutes of cardio intervals. This workout was a 3 day cycle, repeated twice in a row, followed by a rest day.
New Plan:
Group 3: (weeks 7 – ?) is 1-1.5 hours of strength in the morning, followed immediately by 20 minutes of high speed cardio intervals. In the afternoon, I have a second 30-60 minutes of strength. This workout is a 3 day cycle, repeated twice in a row, followed by a rest day.
This last week was really tough! The new workouts kicked my butt (which Ashley was happy about) and I was hobbling around for most of the week. I haven't been so sore in ages! It was a good feeling, though, as I know it's a good sign.
How am I fitting it in? I am still getting up for morning workouts (did you see the morning workout tips I shared last week) at around 5AM. I'm home by around 7:30AM to make my post-workout shake & get ready for work. Depending on my work schedule for the day, I typically get the second strength session done during the day in the work gym.
********************
Questions for you:
Do you measure your progress? What would would add to this list?
Any other training topics or questions you would like me to cover?