When we finally got to dessert at our pairing dinner, we really didn't need another course. But sometimes it's not about needing another course – it's just good! Luckily, this recipe is quick and easy I decided to wait until after dinner to make it. That gave us a nice break to make a little extra space in our stomachs for the final touch!
I was so happy with the way this turned out – simple and delicious! It was the perfect ending to a fantastic evening.
The next morning, Kirk had another idea – what about heating up the croissants for breakfast (without the sauce)? This might not be the most nutritious breakfast you can enjoy, but it is a fantastic treat to enjoy on a Saturday morning!
Chocolate Pumpkin Croissants
Author:
Ingredients
+Rolls
1 container Pillsbury Big & Flaky Crescent Rolls
1/4-1/2 cup pumpkin
1/3 cup vegan chocolate chips
olive oil cooking spray
2-3 tablespoons sugar
+Sauce
1/3 cup vegan chocolate chips
1 teaspoon powdered sugar
1 tablespoon Frangelico, optional
Instructions
Preheat oven to 375 degrees.
Spread out rolls on a clean surface and spray with olive oil spray. Sprinkle with a dusting of sugar and top with pumpkin. Sprinkle chocolate chips evenly and roll into crescent, starting at the wide end and rolling toward the tip.
Arrange rolls on cookie sheet covered with cooking spray.
Bake for 12-15 minutes, or until golden brown.
While baking, prepare sauce (if desired). Melt chocolate chips and stir in powdered sugar and Frangelico, if desired. Pour warm sauce over rolls just before serving.
Serving tip: To serve as dessert, top with sauce. To serve as breakfast, no sauce is necessary.
Powered by
Recipage
Whether you choose to enjoy this treat as dessert or breakfast, I don't think you'll be disappointed at all! Sharing these with a good friend or loved one is even better.
[Tweet "Breakfast or dessert? You decide with this chocolate pumpkin croissant #recipe!"]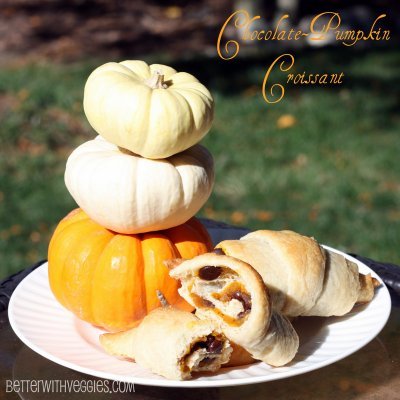 ********************
Questions for you:
Which is better – chocolate or pumpkin?

What other dessert treats have you also enjoyed for breakfast?

Favorite pumpkin treat you've enjoyed so far this Fall?