This weekend was full of fun – a wonderful way to celebrate Easter! We were so busy all weekend, but it was a good kind of busy. Luckily, Instagram was launched for Android last week, so I was able to chronicle some of the action via photo throughout the weekend. If you're also on Instagram – FOLLOW ME!! – and let me know your Instagram name, so I can follow you. 🙂
1. Olde Rope Mill 6.5M
My second trail race of the season didn't go quite as planned. I caught my foot on something before the 2 mile mark and fell hard (again) and ended up with two ugly bruises, lots of scrapes, and a banged up right knee.
        Right after the race                                        Sunday morning (left thigh)
After some good reflection, I realized I haven't really been giving trail running the attention it deserves – with two very painful outcomes. The first one was fair – since it was my first trail race. This weekend, I should have known better and I paid for it.
S0 – it's time to either admit defeat (yea right…have you met me?!) or take it seriously. I'll be getting some trail running shoes and making trail running training a priority – hopefully at least one run per week.
Just a reminder that you should respect trail racing – trying to "fake it" can be painful. I should know! 🙂 If you have any tips to help me stop falling, I'd love to hear them!!
2. Kirk and I went to The Masters on Saturday afternoon!
The worst part – we weren't allowed to bring any cameras (no phones – no cameras) into the event. The best part – we went to The Masters!
This was my fourth experience and it's always an amazing event. The course is gorgeous and just looking at the views of the greens makes you want to sit in the middle and just soak up the views!  I had a hottie chaperone to take me to and from the event! =)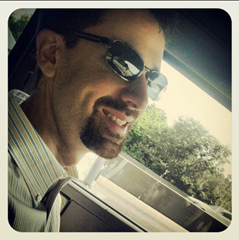 3. A Masters Party with a fabulous host!
After a morning run and a wonderful Easter service at church, we headed straight over to our friends' house (Matt & Melody's) for a Masters party with a better-than-the-original spread of sandwiches and chips. Melody even made us special tofu-based "egg" salad sandwiches – pretty awesome, right?! I know it's been a while since I've had eggs, but these tasted pretty much like the originals to me! We spent Sunday afternoon watching golf with a few other members of our golf pool – watching my favorite (Phil Mickelson) lose the match and one of Melody's players (Bubba Watson) win the day. Dang!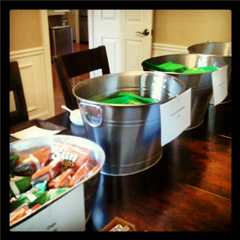 4. Would you like to start the week with a new recipe?
Remember the vegetable lasagna I made a few months ago and posted on Facebook? I finally had a moment to re-create this dish, so I could share the recipe with you! This was one of those meals that was a happy accident originally – we just had to figure out how to replicate it. 🙂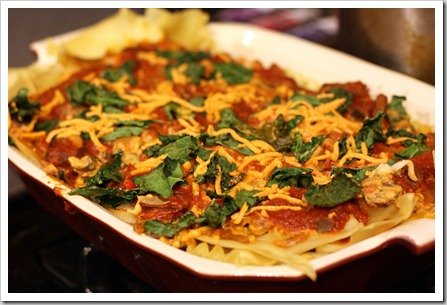 This version was every bit as good as the original and is packed with veggies!  The veggies satisfy my desire for nutrients, while the pasta sauces satisfy my Italian cravings. Pile everything together and you have multiple layers of goodness!
Vegetable Lasagna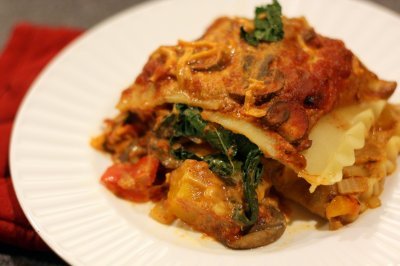 Ingredients (8 servings)
Roasted Veggies
1 red pepper, diced
1 orange pepper, diced
1 onion, diced
1/2 small butternut squash, diced
Cream Sauce
1 cup cashews
1 cup water
6 chipotle peppers
2 tablespoon chipotle sauce
1 tablespoon crushed red peppers
1/2 cup nutritional yeast
Tomato Sauce
4 cups mushrooms, diced
28 ounce can fire roasted diced tomato
1 tablespoon oregano, diced
Pasta
12 lasagna noodles, cooked according to package directions
2 handfuls kale, washed and torn free of ribs
1/2 bag of Daiya Pepperjack Cheese
Instructions
Preheat oven to 350 degrees.
Place diced veggies in roasting or jellyroll pan coated with cooking spray. Roast in oven for 350 degrees for 25 minutes. Increase heat to Broil and cook for an additional 5 minutes. Flip and cook for a final 5 minutes. Remove from oven.
Place diced mushrooms in large skillet and sauté until tender (about 5 minutes). Add tomatoes and oregano and cook until warmed (about 5 more minutes). Set aside.
Meanwhile, pulse cashews in food processor until ground into a powder. Add water, a little at a time, until cashews form a paste. Add chipotle peppers, chipotle sauce, nutritional yeast, and crushed red pepper until smooth. Set aside.
In a large casserole dish, spread tomato sauce in bottom of dish. top with three lasagna noodles, overlapping. Top noodles with a layer of cream sauce, followed by roasted veggies, followed by tomato sauce, and finally kale. Sprinkle with a layer of Daiya cheese.
Repeat layers twice more, finishing veggies after 3rd layer of pasta. After 4th layer of pasta, top with cream sauce, tomato, kale, and Daiya cheese.
Bake for 40 minutes – cheese should be melted and bubbly.
******************************
Questions for you:
How was your weekend?

Do you trail run? Any tips to help me stop wiping out during races? 🙂