Here in Colorado, our mailboxes are not at the end of the driveway, they are in a group down the street (like an apartment or something). It really annoys me for some reason, so I usually avoid getting the mail.
Except this week, because I was expecting a box of treats from Neil (Naturally Family) as part of the RWT Fourth Annual Care Package Swap. You might also know Neil as Lindsay's hubby.
I was thrilled when I opened up the box to find this awesomeness: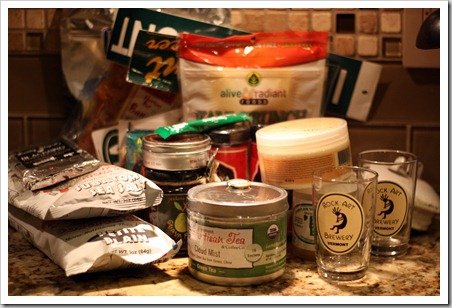 The only problem? A jar of honey broke open in shipping and coated things. I always image people playing catch with our shipments when things like this happen…
I was able to clean up most everything and I'm looking forward to enjoying it all, sticky or not!
What was in the box? Popcorn, chocolate, nut butter, teas…
Red Beans & Rice, Banana, Kale Chips, Jams, spices, honey…
Lotion, Brewery glasses, bumper stickers…
A cookbook (that I've wanted for a year!), recipes, and a magazine!
Neil sent the best box of goodies I have ever received – holy moly!!!! As for my part, I had even worse luck with packing (did we do something to anger the post office) and put too much faith in bubble wrap. TWO jars broke in the box I sent Neil, including local hot peppers I was most excited about sending… hopefully he still enjoyed his box! I'm thinking of sending more….
********************
I'm flying up to Michigan for my grandmother's funeral today. I really appreciate everyone supportive words when she passed away on Tuesday morning. She was a wonderful woman who taught me a lot during her life! She had been in so much pain for many years and I'm glad that she's now spending her days in heaven with Jesus! I'm so happy that I'll get to hang out with her again in heaven one day!
********************
Questions for you:
Any cookbooks that have been on your wish list for a while?

Have you hugged your grandparents recently?